An armed robber who tried to hold up a convenience store in Brevard County, Florida, likely didn't know who was the behind the counter.
That's because the clerk was an Iraq War veteran who showed he knows a thing or two about fighting off people with guns. The incident, which happened Jan. 26 around 11 p.m., was captured on surveillance video that was posted Tuesday, the Brevard Times reported.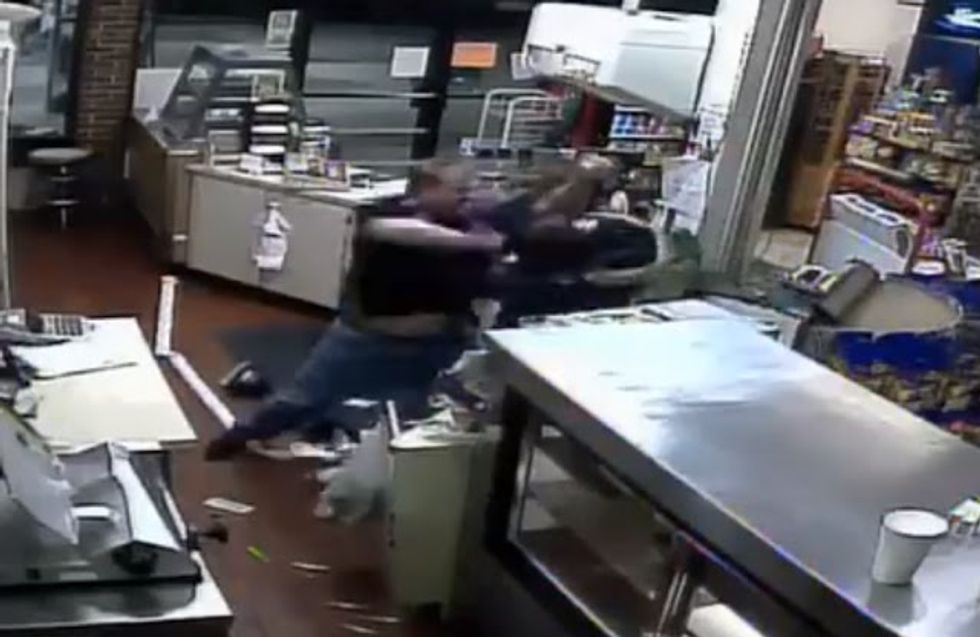 Image source: YouTube
The footage shows the suspect wielding a black and brown replica revolver-style air-soft gun while handing the clerk a plastic bag, demanding he put money in it. That's when the clerk saw an opportunity to disarm the suspect, punching him several times in the face.
The struggle resulted in the unarmed suspect running out of the store and getting away in a large four-door car.
The suspect is believed to be a white male with a medium build, 5 feet 8 inches tall and between 19-22 years old. He was last seen wearing blue jeans, a blue jacket with fur lined hood and purple latex gloves. A Chicago White Sox baseball hat was also left at the scene, along with a white bandana, which covered the suspect's nose and mouth.
Brevard County Sheriff Wayne Ivey said that while he doesn't encourage anyone to actively engage criminals over money or personal possessions, he's betting that this suspect "thinks twice before taking on a U.S. veteran again."
(H/T: Brevard Times)