While many Democrats swear against super PACs, former Vermont Gov. Howard Dean, who supports Democratic presidential front-runner Hillary Clinton, said Friday that labor unions are, in fact, "super PACs that Democrats like."
The question of campaign finance came on the heels of increasing scrutiny over Clinton's history with Wall Street and the high-price speeches she has delivered to several big banks. MSNBC reporter Andrea Mitchell asked Dean about the issue.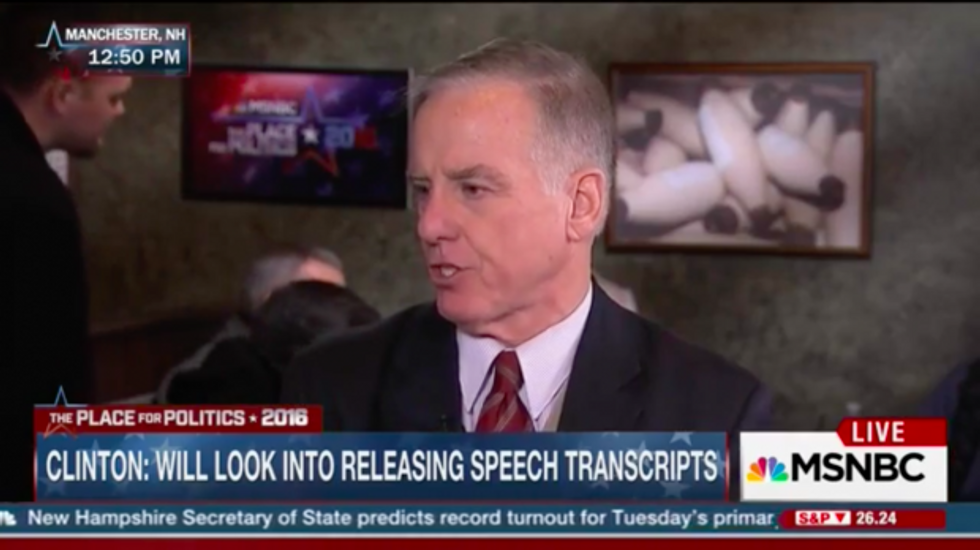 Image source: YouTube
"Was it a mistake politically to show herself to be so closely tied financially to the Wall Street interests?" Mitchell asked.
The former Vermont governor and one-time presidential candidate, seemingly frustrated by the question, said that Clinton had not been influenced by big donors and that it is a "double standard" to criticize the former secretary of state because her Democratic rival Bernie Sanders has the support of labor unions.
"Why does Hillary Clinton have to put up with a double standard?" Dean asked. "I don't hear anybody asking Bernie Sanders for his transcripts for some speech he made with a labor union."
"Frankly, for Bernie to say he doesn't have a super PAC — labor unions are super PACs. Now, they're super PACs that Democrats like, so we don't go after labor unions, but this is a double standard," he continued.
Dean went on to tell Mitchell that Clinton has been the victim of double standards "for the last 25 years," all of which he says are "unwarranted."
"I am tired of the attacks on Hillary Clinton's integrity. I think they're unwarranted, and there has not been a single time for the last 25 years where the right wing has gone after it, and the media has dutifully followed up on the inquiry, where they have found one thing," Dean said, using the suspicious death of President Clinton's Deputy White House Counsel Vince Foster as an example of a baseless Clinton scandal.
According to the Clinton surrogate, the two Democratic candidates should be talking about the "issues," adding that he believes it is a "mistake" for Sanders to attack Clinton's integrity.
(H/T: Free Beacon)
—
Follow the author of this story on Twitter: