When asked if she thinks she could win New Hampshire, Democratic presidential candidate Hillary Clinton had a blunt answer — "I don't know."
"I'm just going to work as hard as I can," Clinton told CNN's Jake Tapper smiling. "I love the New Hampshire primary. I love it because interactions you have with voters in any setting is so rewarding, and voters in this state take a first, second, third, fourth look at you. They're constantly evaluating."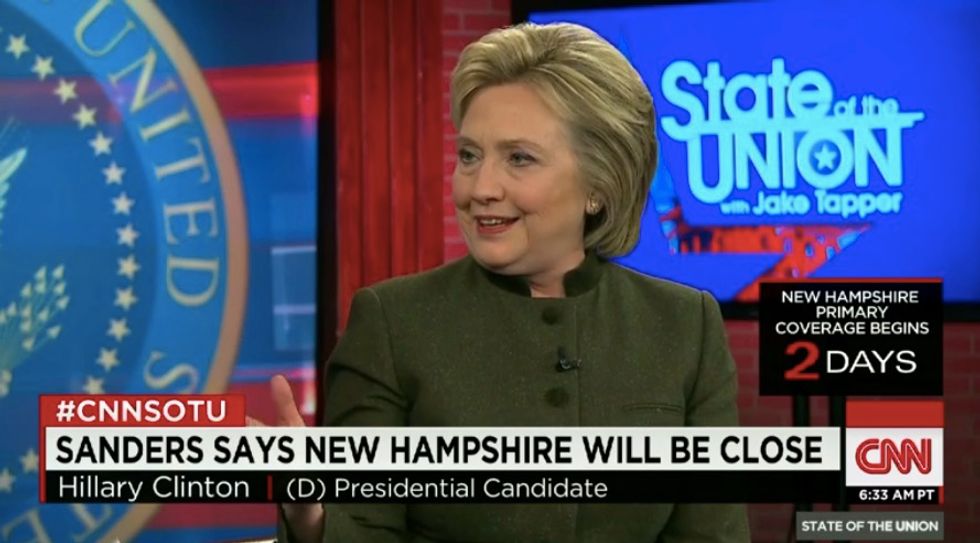 Image source: CNN
"I have been telling voters across the state, this is the biggest job interview in the world," she continued. "You've got to really think hard about what the job is, who can be president, who can be commander in chief, and then you have to really judge us. I don't know what's going to happen. I know I'm behind, and I'm in very good spirits about that because I love the process."
Clinton narrowly defeated Sen. Bernie Sanders (I-Vt.) in the Iowa caucuses last week. According to Real Clear Politics' polling data, Clinton is polling 15.2 points behind Sanders among New Hampshire primary voters.
The former secretary of state said she planned to visit Flint, Michigan — the city embroiled in a contaminated water controversy — later in the week.
"That's not the only Flint in our country," Clinton said.