WASHINGTON (TheBlaze/AP) -- President Barack Obama is asking Congress for more than $1.8 billion in emergency funding to help fight the Zika virus. In an announcement Monday, the White House said the money would be used to expand mosquito control programs, speed development of a vaccine, develop diagnostic tests and improve support for low-income pregnant women.
Zika virus disease is mainly spread by mosquitoes. Most people who catch it experience mild or no symptoms. But mounting evidence from Brazil suggests that infection in pregnant women is linked to abnormally small heads in their babies - a birth defect called microcephaly.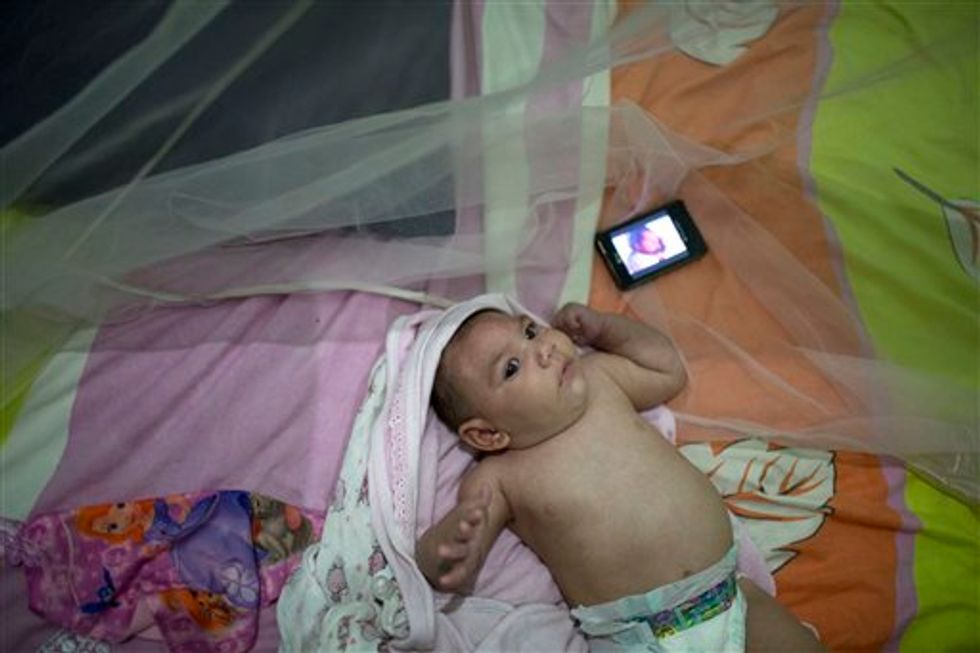 Luiza, who was born with microcephaly, listens to music playing from a mobile phone at her grandmother's house in Santa Cruz do Capibaribe, Pernambuco state, Brazil, Saturday, Feb. 6, 2016. The Zika virus, spread by the Aedes aegypti mosquito, thrives in people's homes and can breed in even a bottle cap's-worth of stagnant water. The virus is suspected to be linked with occurrences of microcephaly in new born babies, but no link has been proven yet. (AP Photo/Felipe Dana)
"What we now know is that there appears to be some significant risk for pregnant women and women who are thinking about having a baby," Obama said in an interview aired Monday on "CBS This Morning."
The White House said that as spring and summer approach, the U.S. must prepare to quickly address local transmission with the continental U.S. Obama added, however, that "there shouldn't be a panic on this."
"The good news is, this is not like Ebola. People don't die of Zika. A lot of people who get it don't even know that they have it," Obama said.
The Pan American Health Organization reports 26 countries and territories in the Americas with local Zika transmission. To date, there has not been transmission of the Zika virus by mosquitoes within the U.S., but some Americans have returned to the U.S. with Zika infections from affected countries in South America, Central America, the Caribbean and the Pacific Islands.
The Centers for Disease Control and Prevention reports 50 laboratory-confirmed cases among U.S. travelers from December 2015- February 5, 2016, the White House said. So far, the only recent case that has been transmitted within the U.S. is believed to have occurred in Texas through sex.
Zika usually is transmitted through bites from infected Aedes aegypti mosquitoes, which are common in Florida, along the Gulf Coast and states that border Mexico.
.@POTUS on #NorthKorea and the #Zika virus during extended interview with @GayleKing: https://t.co/KtorRMxHpRhttps://t.co/biyI2ItPnJ

— CBS This Morning (@CBSThisMorning) February 8, 2016
–