A young voter seemingly unsatisfied with Democratic presidential hopefuls Hillary Clinton and Vermont Sen. Bernie Sanders found her way to a New Hampshire town hall with Republican candidate John Kasich and asked the Ohio governor to tell her why she should vote for him in the "Democratic primary," a comment that went uncorrected.
"I'm still an undecided voter. I'm choosing between you, Hillary and Bernie Sanders. So my question is, why should I vote for you in the Democratic primary?" the voter asked.
"Isn't that interesting," Kasich responded as the audience gasped, without correcting her misspeak or mentioning his own party affiliation.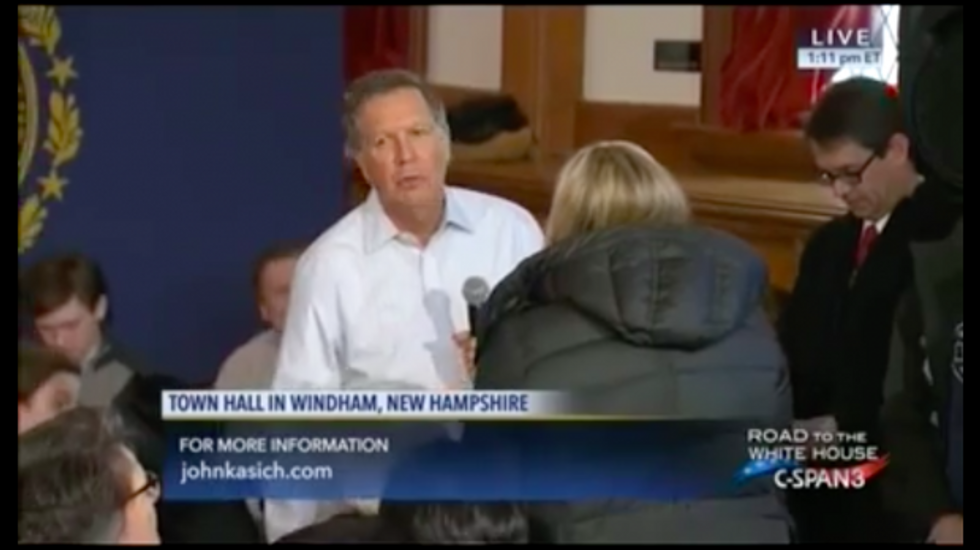 John Kasich fields questions at New Hampshire town hall Monday, Feb. 8. (Image source: YouTube/C-SPAN)
Instead, the Ohio governor, who is currently polling at 10 percent in the Granite State, went on to tell the undecided voter that he is the right compromise between Sanders, a self-avowed Democratic socialist, and Clinton.
After interjecting some comedy into his answer, suggesting that he supports Sanders for president of ice cream brand Ben & Jerry's, which is headquartered in Vermont, Kasich said he is the "right temperature" between "hot" and "cold" Sanders and Clinton.
"Bernie's a socialist — that ain't gonna happen," Kasich said, adding that Clinton would "run America with pollsters."
"Hillary's too brittle. Bernie's way out here on the extreme. I'm the right porridge. One of them's too hot, the other one's too cold. But I've got the right temperature," Kasich said with a smile as the audience started to laugh.
Though the voter was not fully convinced by Kasich's pitch, she told the GOP hopeful that she would tell him tomorrow how she voted.
"I'll let you know tomorrow night," the voter said.
—
Follow the author of this story on Twitter: