Republican presidential hopeful Florida Sen. Marco Rubio defended his Saturday debate performance during an interview on ABC's "This Week With George Stephanopoulos" Sunday.
Since the Saturday evening GOP debate, Rubio has drawn criticism from both his fellow candidates and from viewers for his "robotic" and repetitive statements concerning President Barack Obama's political agenda, in which he said, "Let's dispel with this notion that Barack Obama doesn't know what he's doing. He knows exactly what he's doing."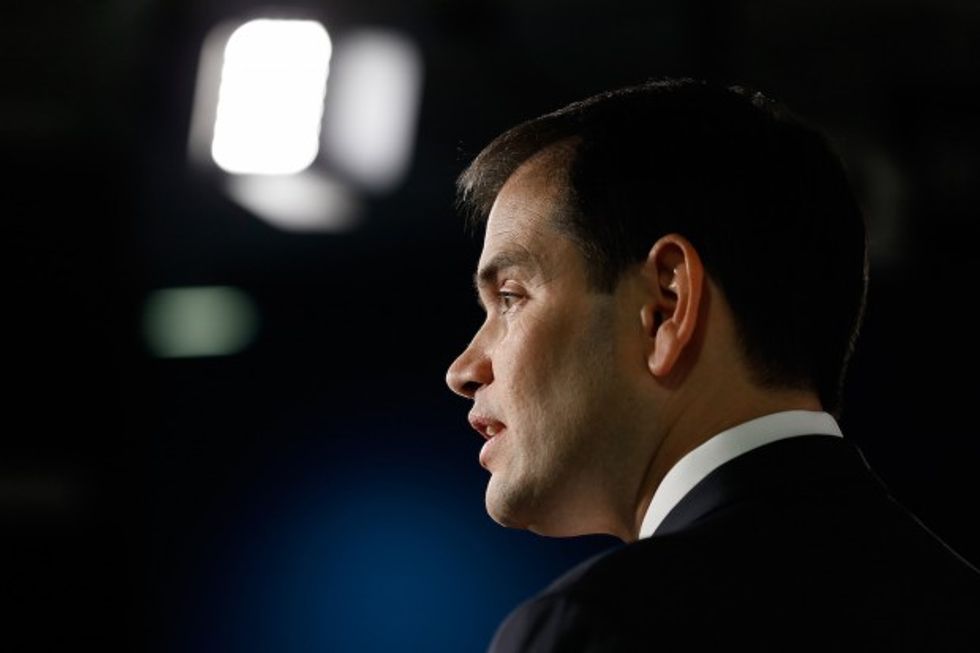 GOP presidential candidate Florida Sen. Marco Rubio (Win McNamee/Getty Images)
Rubio's statements — which were repeated in variations four times — led fellow candidate New Jersey Gov. Chris Christie to say, "The memorized 25-second speech. There it is, everybody."
But when Rubio appeared on ABC's "This Week" with George Stephanopoulos, he defended his debate performance and touted it as a success after Stephanopoulos played a video clip of Rubio's repetitions put together for him.
"Actually, I would play them to keep running that clip, because that's what I believe — passionately," Rubio said, adding, "We raised more money last night in the first hour of that debate than any other debate," according to CBS. "It's one of the reasons why I'm not running for re-election to the Senate and I'm running for president."
After Stephanopoulos brought up the criticism leveled at Rubio for his emphasis and repetition, Rubio firmly stood by his defense.
"I'm going to keep saying it because it's true," Rubio insisted, according to the Business Insider. "It is at the core of our campaign. ... It's what I believe and what I'm going to continue to say. ... This is the greatest country in the history of mankind because of a certain set of principles. Barack Obama wants us to abandon those principles, and he has spent 7 years putting in place policies that rip them from us — undermining the Constitution, undermining free enterprise, undermining our standing in the world, weakening America, apologizing for us on the global stage. The reason why I'm running is if we elect someone like that for the next four years, I think it may be too late for America to turn around."
—
Follow Kathryn Blackhurst (@kablackhurst) on Twitter