Republican presidential candidate Marco Rubio found himself in an awkward back-and-forth with a middle-aged gay man during a campaign event at a New Hampshire diner on Monday afternoon after the individual asked Rubio, "Why do you want to put me back in the closet?"
Rubio responded to the New Hampshire resident — identified as Timothy Kierstead — by saying that people have the right to live as they chose, but that he personally embraces a traditional view of marriage, the Washington Post reported.
"I don't," he responded to the "closet" question. "You can live any way you want. I just believe marriage is between one man and one woman."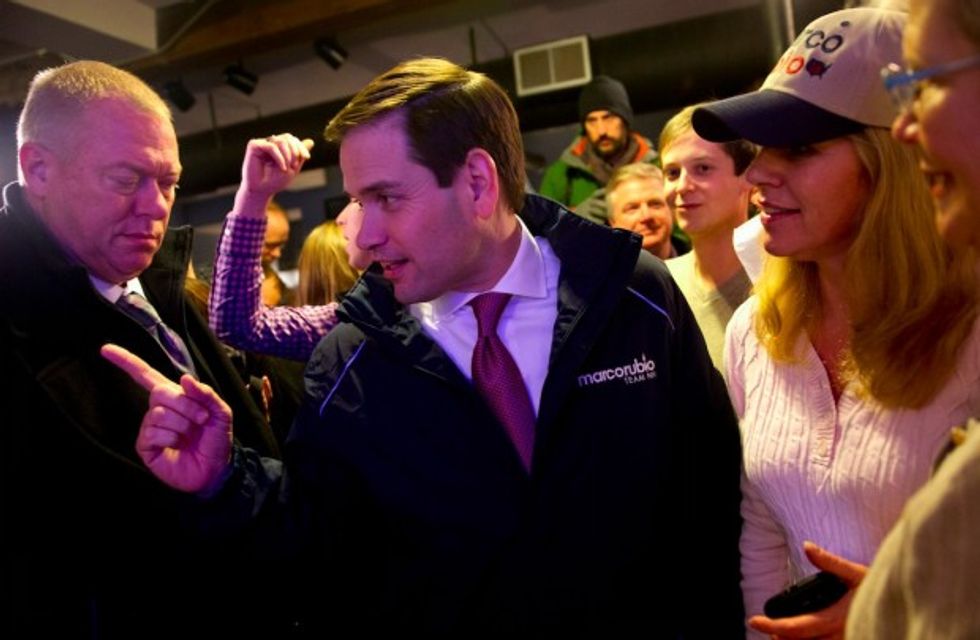 Republican presidential candidate, Sen. Marco Rubio, R-Fla. greets people during a campaign stop at Village Trestle Restaurant, in Goffstown, N.H., Monday Feb. 8, 2016. (AP Photo/Jacquelyn Martin)
But the dialogue didn't end there, with the man continuing to push back.
Kierstead, 50, who said that he has been married for quite some time, accused Rubio of saying that gays "don't matter," according to the Post.
"No, I just believe marriage is between one man and one woman," Rubio reiterated, to which Kierstead said, "But that's your belief."
When it was clear that the two wouldn't come to an agreement, Rubio said, "I respect your view" and then proceeded on to talk with others in attendance — a response that left Kierstead — who said he would likely not be voting for a Republican — to call him a "typical politician."
"Walk away," Kierstead added.
In an interview with the New York Times after the encounter, Kierstead, who was at the diner with his mother and husband, said that he believes that people like Rubio want to take his rights away.
"Love is love," he said. "People don't choose who they are going to love."
(H/T: Washington Post)
--
Follow the author of this story on Twitter and Facebook: