President Barack Obama's final budget proposal was unveiled today, and it includes $4.1 trillion in spending and a total of $2.6 trillion in tax increases.
Of those tax hikes, $955 billion will aimed at high earners, with additional tax targets on banks and oil companies.
The 10-year forecast never estimates a balanced budget.
"The budget that we are releasing today reflects my priorities and the priorities I believe will help advance security and prosperity in America for many years to come," Obama told reporters. "These are proposals reflected in the budget that work for us and not against us. It adheres to last year's bipartisan budget agreement, it drives down the deficit, and includes smart savigs on health care, immigration and tax reform."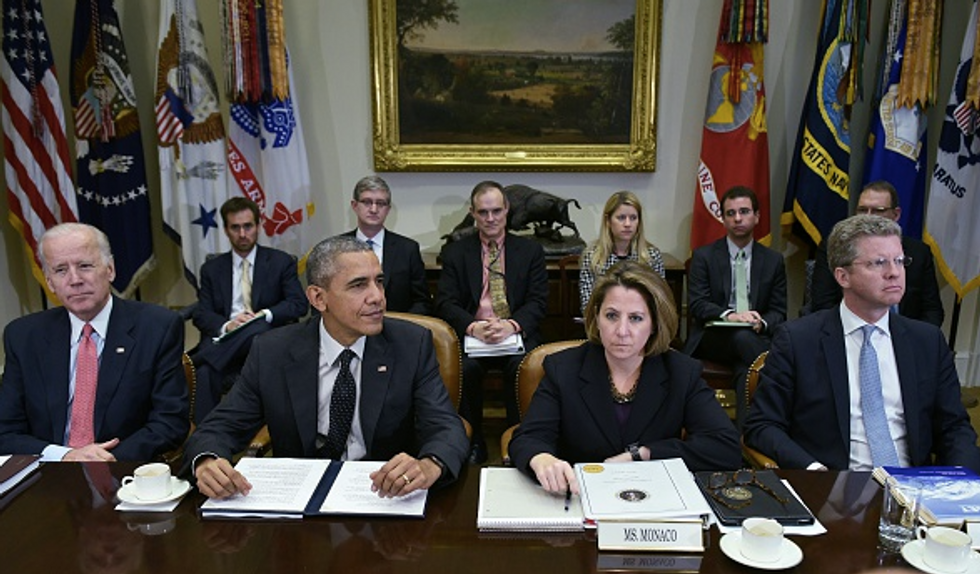 President Barack Obama speaks during a meeting with members of his national security team Tuesday in the White House. (Mandel Ngan/AFP/Getty Images)
The White House "fact sheet" asserts that $2.9 trillion in deficit reduction over the next 10 years would come from the tax hikes and savings incurred by Obamacare.
The tax hikes include increasing the top rate on capital gains, creating a new fee on banks, implementing the "Buffett Rule," which would require millionaires to pay at least 30 percent of their income in taxes, and establishing a $10 per barrel tax on oil to raise $300 billion to spend on green energy and mass transit.
The proposal comes after the non-partisan Congressional Budget Office estimated soaring deficits and debt for the next decade.
"The budget proposes a number of reforms — including a detailed international tax reform plan — that would modernize the business tax code to make it fairer and more efficient, and to create jobs," the White House news release says. "The Budget also finishes the job the past two bipartisan agreements started by preventing the return of harmful sequestration funding levels in 2018 and beyond, replacing the savings by closing tax loopholes and reforming tax expenditures, and with smart spending reforms."
The release said the proposed budget would keep deficits below 3 percent of the gross domestic product and would stabilize the debt.
The administration's Office of Management and Budget says that deficits will grow to 2.8 percent of GDP and the debt would balloon from $19 trillion to $27.4 trillion over the next 10 years, USA Today reported.
"The Budget achieves more than $955 billion in deficit reduction from reducing tax benefits for high-income households, helping to bring in sufficient revenues to make vital investments while also helping to meet our promises to seniors," the release continues.
House Speaker Paul Ryan (R-Wis.) immediately reacted in a statement:
President Obama will leave office having never proposed a budget that balances — ever. This isn't even a budget so much as it is a progressive manual for growing the federal government at the expense of hardworking Americans. The president's oil tax alone would raise the average cost of gasoline by 24 cents per gallon, while hurting jobs and a major sector of our economy. Americans deserve better.