A gun shop owner in Southern California was subjected to a raid by the federal government in 2014, but he has just now decided to voluntarily forfeit the more than 3,000 parts the agents took two years ago.
Christopher Cook, the owner of The Armory in Southwest Bakersfield, California, told KERO-TV that it was simply a clerical error and wrong information given to officials with the Bureau of Alcohol, Tobacco, Firearms and Explosives by a former lawyer that led to a raid of his business in 2014, during which officials took 3,804 parts.
Cook told KERO that he designed a piece for AR-15 lower receivers in his store that allowed for an easier way for the rifles to be built — and subsequently more difficult to trace.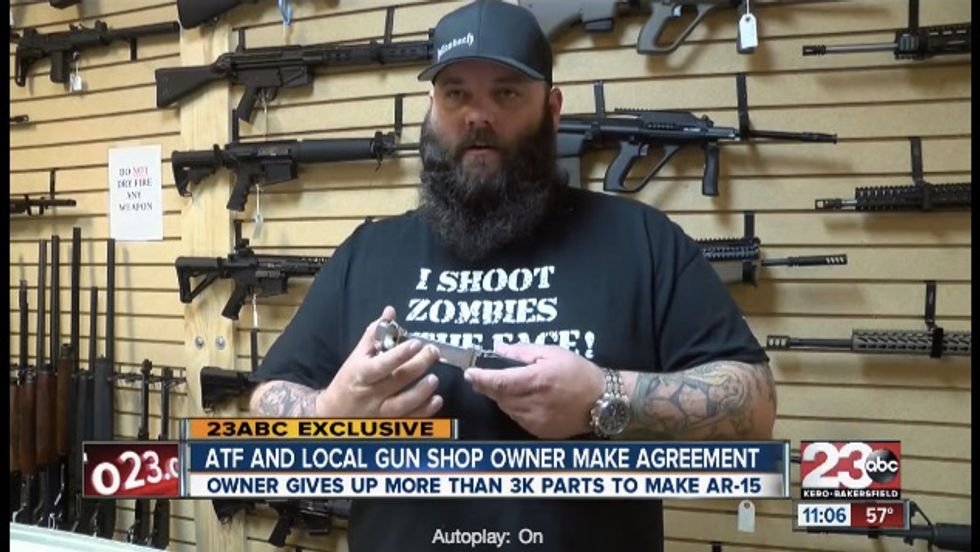 Image source: KERO-TV
"At no time was it ever a firearm, at no time was I doing anything illegal and at no time should they have been in here and actually taken my parts," Cook said of the raid.
According to KERO, more than 50 agents showed up to the business owner's store in 2014.
"They were under the impression that what we were trying to do was actually manufacture a firearm or an unlicensed, unserialized firearm, and then revert it back to what would be considered an 80 percent blank," Cook told KERO.
"What I was actually doing was manufacturing a core, so a core piece that was actually inside, so there would have been a puck," he said.
Cook contended that his former lawyer gave ATF officials the wrong information regarding how the pieces were made that led to the raid as well as his eventual forfeiting of the more than 3,000 parts taken from him.
"The reason that I quit fighting is because it's a battle that I don't believe that the U.S state attorney, the DOJ or the ATF office would be able to say they were going to give our stuff back," he said.
According to KERO-TV, the Department of Justice said in an agreement with Cook that the agency will ensure that the receivers stay out of the hands of criminals. The agreement also states that Cook will never be criminally prosecuted for this incident; he is also not allowed to sue the ATF for wrongfully taking his property.
Cook asserted that if he had done anything illegal, he would have been put in jail and not allowed to continue on with his business.
(H/T: KERO-TV)