Republican presidential candidate Donald Trump told a French magazine that had he been present at the Paris concert hall when Islamic State attackers arrived, he would have opened fire on them. He also claimed that the Middle Eastern migrant crisis could spell "the end of Europe."
Reuters on Wednesday posted several quotes from Trump's interview with the French conservative weekly Valeurs Actuelles which included harsh criticism of German Chancellor Angela Merkel's decision to allow in so many asylum seekers.
"I think Angela Merkel made a tragic mistake with the migrants," Trump was quoted as saying.
"If you don't treat the situation competently and firmly, yes, it's the end of Europe. You could face real revolutions," he added.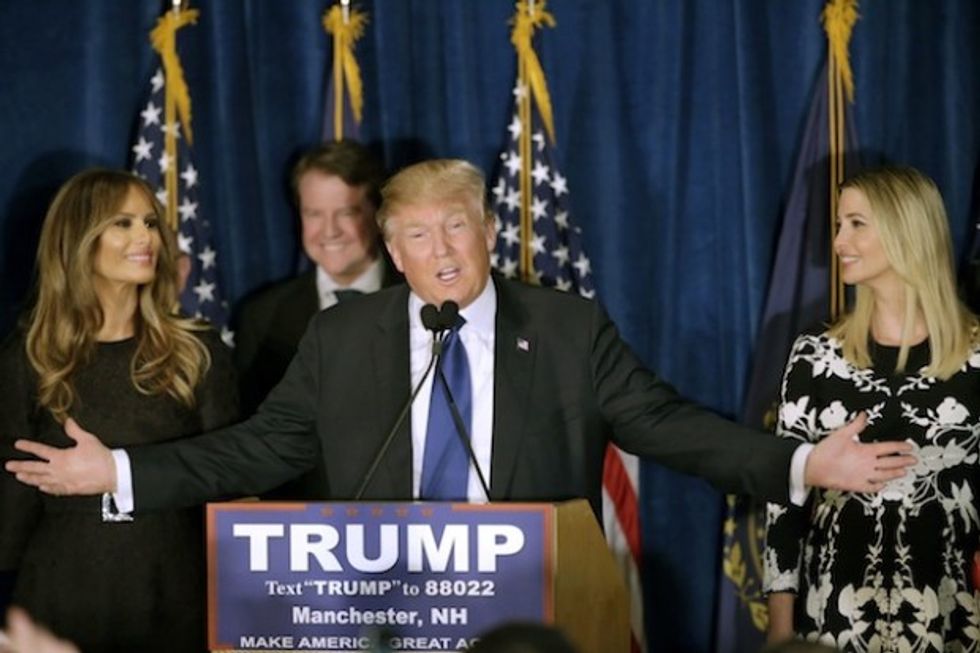 Republican presidential candidate, businessman Donald Trump speaks to supporters during a primary night rally, Tuesday, Feb. 9, 2016, in Manchester, N.H. At his side are his wife Melania Trump, left, and daughter Ivanka Trump, right. (AP Photo/David Goldman)
The magazine noted that the interview was conducted a week before the Iowa caucuses; however, given Trump's big win Tuesday in New Hampshire, his quotes won the attention of the European media hours after the Granite State's results were announced.
Trump appeared to credit French gun control laws for the high death toll at the Bataclan concert hall in November when concertgoers were gunned down by Islamic State militants, with no armed civilians able to push back the offensive.
Had he been there, this is what Trump said he believes he would have done: "I always have a gun with me. Had I been at the Bataclan, I can tell you I would have opened fire," he reportedly said.
Trump also reiterated his positive regard for Russian President Vladimir Putin and suggested that if elected, relations between the superpowers could improve.
"He (Putin) said I was brilliant. That proves a certain smartness," Trump said, according to Reuters.
Immediately following the Paris attacks, Trump blasted France's "toughest gun laws" which prevented civilians from protecting themselves.
"When you look at Paris -- you know the toughest gun laws in the world, Paris -- nobody had guns but the bad guys. Nobody had guns. Nobody," Trump said at a Texas rally in November.
"They were just shooting them one by one and then they [security forces] broke in and had a big shootout and ultimately killed the terrorists," Trump said then. "You can say what you want, but if they had guns, if our people had guns, if they were allowed to carry … it would've been a much, much different situation."
A note about Trump's quotes published Wednesday: the Republican front-runner's words, which were presumably translated by the magazine to French, were then translated by Reuters back to English.
---