MANCHESTER, N.H. — Donald Trump has notched his first first-place finish of 2016.
After coming in second in Iowa, the Republican businessman, 2016 frontrunner and self-described winner has proven for the first time this cycle that strong support in polls can translate a victory on Election Day.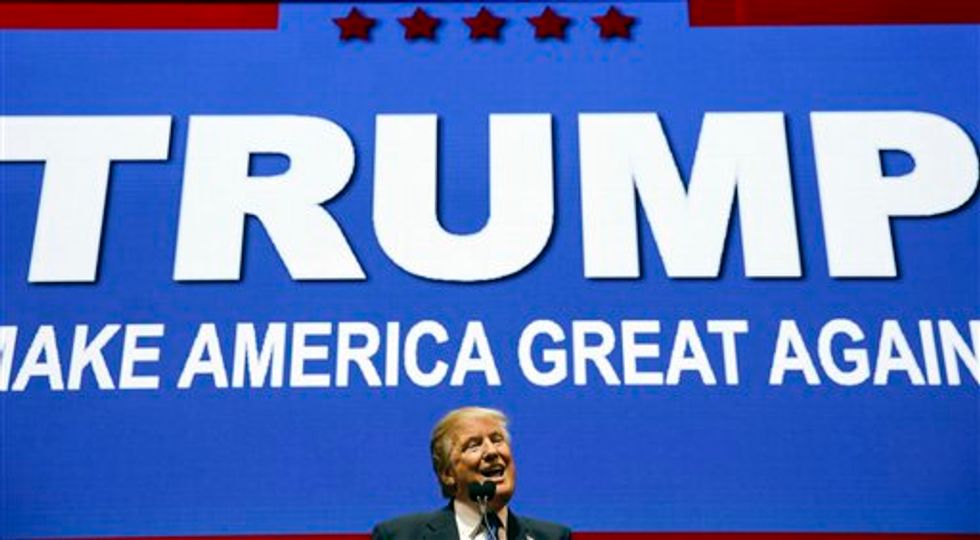 Donald Trump addresses a crowd during a campaign rally Monday. (AP/David Goldman)
Tuesday's results in the nation's first primary largely followed poll projections, with Trump and Vermont Sen. Bernie Sanders prevailing.
With 77 percent of the precincts reporting, Trump was far ahead of the rest of the Republican field with 34 percent of the vote.
Second place in New Hampshire went to Ohio Gov. John Kasich, with 16 percent of the vote. Kasich put in some of the most face time with Granite State voters, logging more than 100 town halls in the state.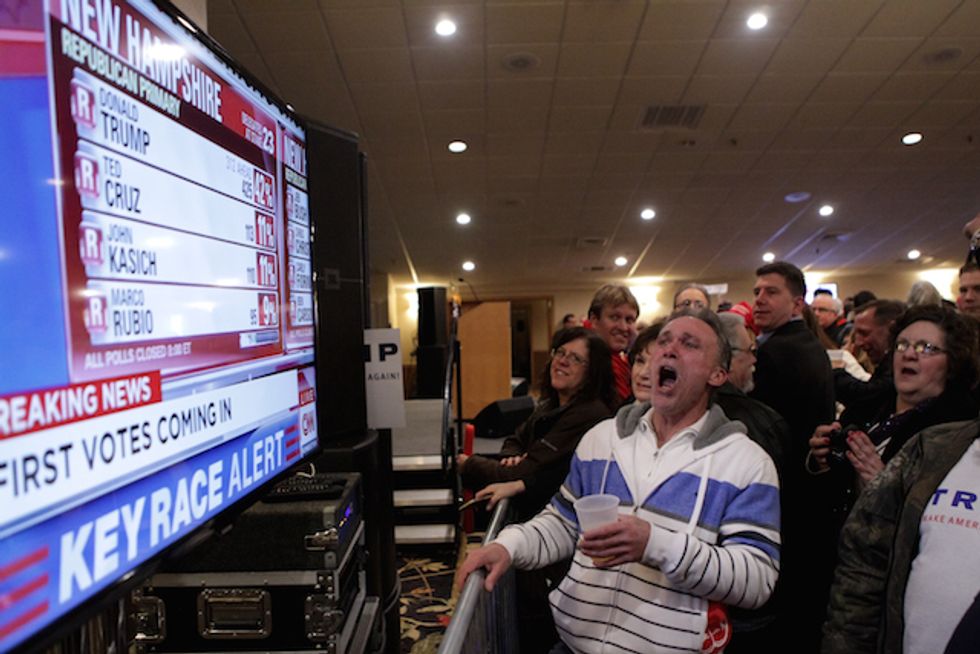 Michael Powlowsky of Hudson cheers at early poll numbers favoring republican presidential candidate Donald Trump at Trump's election night rally Tuesday. (Matthew Cavanaugh/Getty Images)
Sen. Ted Cruz followed with 12 percent of returns, then former Florida Gov. Jeb Bush with 11 percent and Sen. Marco Rubio with 11 percent.
New Jersey Gov. Chris Christie, who put a good amount of effort into New Hampshire's retail politics, was at 8 percent of the vote. Christie bragged today about the time he spent in the state, arguing that he had done more town halls here even than Kasich.
"We let John feel the way he feels, but we spent more days here," Christie said. Which is true, Christie spent 72 days in New Hampshire compared to Kasich's 69. Bush spent 54 days here, according to CBS News.
Christie was followed by former Hewlett-Packard chief executive Carly Fiorina with 4 percent and finally Ben Carson at 1 percent.
Cheers broke out at Trump's watch party in Manchester when the call was made, and more than a hundred people were still in line to enter the Executive Court Banquet Facility — which was expected to have a record crowd.
—
Follow the author of this story on Twitter and Facebook:
[facebook //www.facebook.com/plugins/like.php?href=