GREENVILLE, S.C. — In a few days, the South Carolina primary will be finished and Sen. Marco Rubio (R-Fla) will leave, but on Friday the GOP presidential hopeful promised South Carolinians he will take a piece of their state with him — all the way to the White House.
Following remarks at the Faith and Family Presidential Forum, Rubio rallied his supporters with his usual stump speech in a chilly airport hanger in Greenville, South Carolina but had nothing but warm words regarding the Palmetto State's economy and job growth. As he listed through his promises should he be the next commander in chief, Rubio said that as president he would "embrace free enterprise."
"We're going to do what you've done here in South Carolina," Rubio said. "Look at South Carolina and look at the rest of the country. This is a state where manufacturing is growing. We have to be an economy that makes sense again."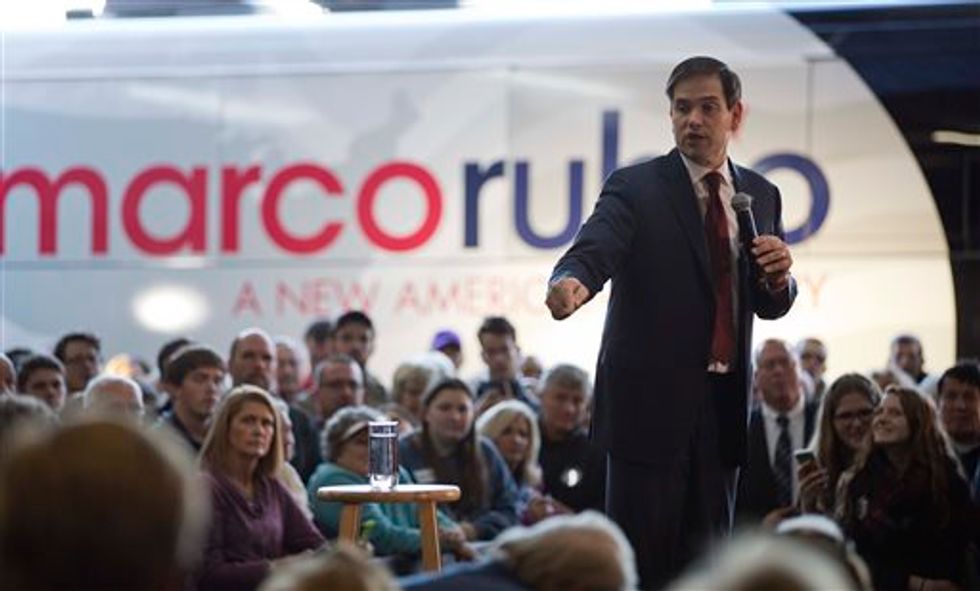 Republican presidential candidate Sen. Marco Rubio, R-Fla., speaks during a rally at Greenville Downtown Airport Friday, Feb. 12, 2016, in Greenville, S.C. (AP Photo/John Bazemore)
"So why are things being made in South Carolina, and they're not in other parts of the country? It wasn't because you raised taxes; it's because you kept them low," Rubio said. "It's not because you increased regulations; it's because you diminished regulations. What you have done here in South Carolina, when I am president, we will do for America, and we are bringing manufacturing back to this country."
Some supporters in the audience who spoke to TheBlaze following his remarks noted that Rubio's comments seemed to be a nod of appreciation toward South Carolina Gov. Nikki Haley (R) especially as companies such as Boeing continue to expand in the state.
Emily Hall, 26, told TheBlaze that Rubio's comments on South Carolina's economy were "absolutely" a reference to the work Haley has done in the state
"'It's a great day to be in South Carolina' is always Gov. Haley's tagline, and any day that we can get any national or international company to come in and want to put roots here is always a good thing for South Carolinians and a good thing for America as well," the Clemson graduate said.
Hall also said that, as a young professional, her generation is "tired of being pushed around" and appreciated that Rubio "worked hard" to get where he is — despite a "less than glamorous" background.
Another rally attendee, who asked only to be identified as Dave, told TheBlaze that as Haley had done "such a wonderful job" as governor, Rubio would "do wise" to pick her as his vice president.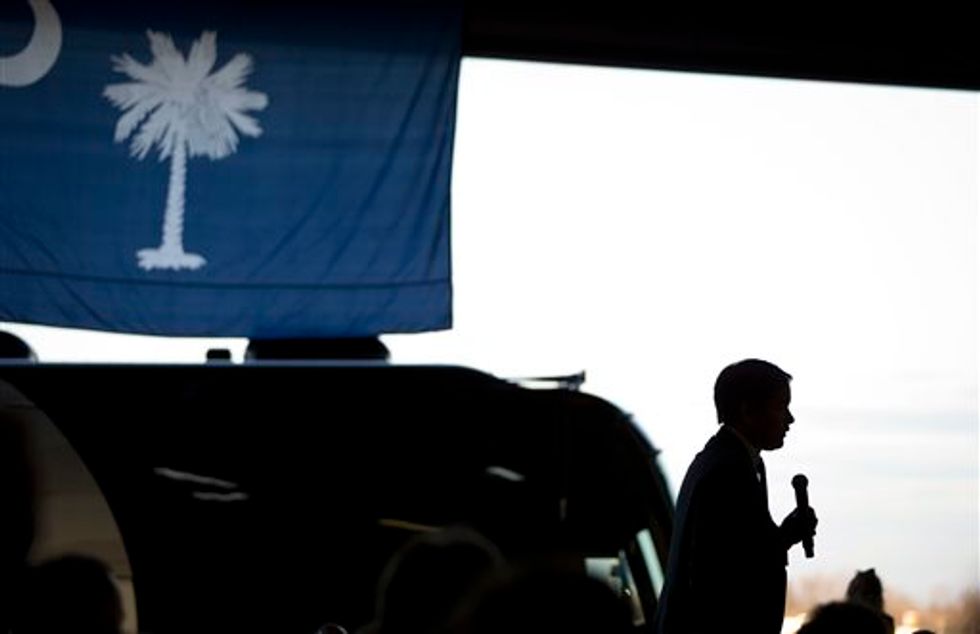 Republican presidential candidate Sen. Marco Rubio, R-Fla., speaks during a rally at Greenville Downtown Airport Friday, Feb. 12, 2016, in Greenville, S.C. (AP Photo/John Bazemore)
Michael Orozco, a Greenville resident and Marine Corps veteran, told TheBlaze that the economy was an important issue to him as he goes to cast his vote in the primary. 
"There are so many people who are out of work, and I struggle. I mean, I'm a computer programmer, and I'm struggling and it's hard to get by," he said.
Orozco continued, saying that he'd "like to see some extreme changes in the government," adding that while he likes Rubio, he would like to see someone a little more seasoned than both Rubio and Haley serve as the Florida senator's running mate. He says that would strike a semblance of "balance."
"I like him because he has a vision for our country," Diane Pugh, another Greenville resident who attended his rally, told TheBlaze after the Floridian finished speaking. Pugh added that while she personally has never worried about the economy, she does worry about others, including her loved ones, in the future with the current economic climate.
Rubio was joined at the rally by South Carolina Sen. Tim Scott (R) and Greenville's Mayor Knox White, who endorsed the candidate at the rally.
"He understands what freedom is about and that we are a beacon of freedom, and that we are a beacon of freedom in a hostile world," Knox said. "He understand that, and that is why, among many reasons, he will make a great president of the United States."
According to Real Clear Politics' aggregated polling data, Rubio is in third place among South Carolina voters at 14.0 percent, trailing only billionaire businessman Donald Trump and Texas Sen. Ted Cruz.
—
Follow Kaitlyn Schallhorn (@K_Schallhorn) on Twitter