As Democratic presidential contender Bernie Sanders appeared on "Fox News Sunday," the network attempted to reel in his support for a Fox News Democratic debate — and he wasn't totally opposed.
"Finally, sir, the Republicans have held debates on all the networks, but the Democrats so far have refused to hold a debate on Fox," host Chris Wallace said. "You are coming on here tonight. We are very grateful. I hope you feel that you haven't been mistreated. Would you be willing to participate in a Democratic debate on Fox News?"
"If we were clear to understand what the guidelines were, what the rules were and to make sure that they were fair and the [Democratic National Committee] was in favor of it, I would have no objection," Sanders said on his first major interview on Fox as a candidate.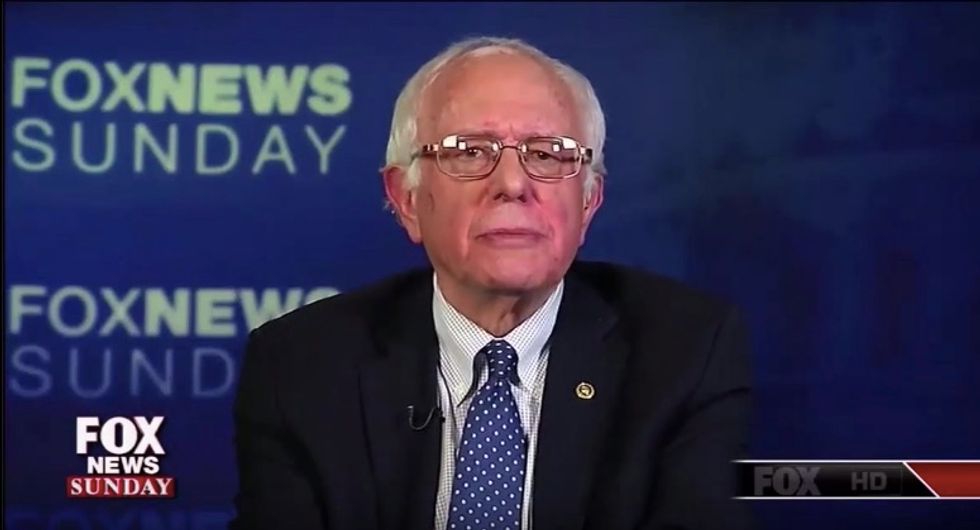 Image source: YouTube
Wallace touted his interview on "Fox News Sunday" with Sanders as he tried to use it as a selling point for a future debate, but Sanders said he has "seen other interviews" conducted on the network.
"So if I could have a guarantee and knew who the questioners were and if the framework for the debate was fair, I would have no objection," the Vermont senator said.
Many Democrats have expressed their displeasure with the DNC's debate schedule this year which included only a handful of debates between candidates and at inopportune times that led to lackluster viewership. Earlier this month, DNC chairwoman Debbie Wasserman Schultz eventually gave in to demands for more debates — especially in New Hampshire — and added more contests to the schedule.
Of the Democratic presidential candidates, former Maryland Gov. Martin O'Malley was perhaps the most vocal in the call for more debates before he ended his campaign following a poor performance in the Iowa Caucus.
Watch Sanders' full interview on "Fox News Sunday" below.
—
Follow Kaitlyn Schallhorn (@K_Schallhorn) on Twitter