Last week, it was Bernie's turn. But anyone who watches "Saturday Night Live" knows that no one is ever safe, especially if you're running for president.
SNL's Kate McKinnon opened this week's episode with a "special" musical number featuring herself as as Hillary Clinton following the Democratic presidential candidate's loss at the New Hampshire primary Tuesday.
The scene depicted a small group of 20-somethings discussing the 2016 race while out to eat at a nice restaurant. As they began to weigh the merits of Vermont Sen. Sanders against Clinton, they reached the consensus that though Clinton is "the most qualified candidate in history," the fact is, "she's no Bernie."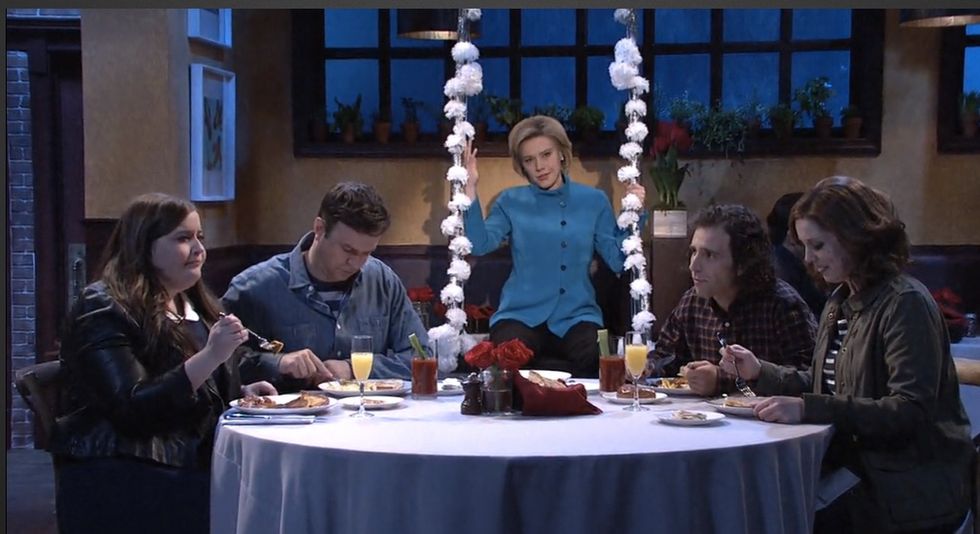 Image source: SNL
McKinnon's Clinton then stormed onto the set via a floral garden swing, singing "I Can't Make You Love Me" by Bonnie Raitt, as the group carried on with their discussion. After the serenade, during which Bill Clinton (Darrell Hammond) pretended to play piano, the group still decided that they prefer Bernie's "whole vibe."
"Did anyone else get so cold for a minute?" asked Vanessa Bayer.
After ruling out Clinton, the group agreed that she is still "way better than any of those Republican candidates."
Enter Jeb Bush (Beck Bennett), picking up where Clinton's serenade ended. Only this time, the group cut him off.
"Wait, you can see me?" he asked.
"But I was just — I was doing what Hillary did, because we're both big losers," he continued.
Cecily Strong then rebuked Bush, telling him that though both he and Clinton lost in New Hampshire, Clinton has a way better chance at winning in the South.
Enter Clinton playing a red electric guitar.
"Hillary's going nowhere!" she says.
Watch: