The near daily effort by Palestinians to attack Israelis continued over the weekend, as did the appearance of misleading media headlines and tweets that appeared to cast doubt on the intentions of would-be attackers.
Five Palestinians were killed Sunday while trying to attack Israelis, three armed with guns and one with a knife, according to Israeli police and military reports.
But some prominent media outlets, including Newsweek, presented the story with headlines containing scare quotes and ignoring the fact that the Palestinians were armed:

Image source: Newsweek
Amichai Stein, deputy news editor of the Israel Broadcasting Authority's Channel 1 news observed of the Newsweek headline, "Quotation mark war: because two terrorists with guns shooting at police at Damascus Gate are not terrorists."
מלחמת המרכאות | כי שני המחבלים עם נשק שיורים בשוטרים בשער שכם זה לא מחבלים https://t.co/p8vcJ5lo0W

— Amichai Stein (@Amichai Stein) 1455524802.0
The BBC also utilized quotes for the words "after attacking Israelis."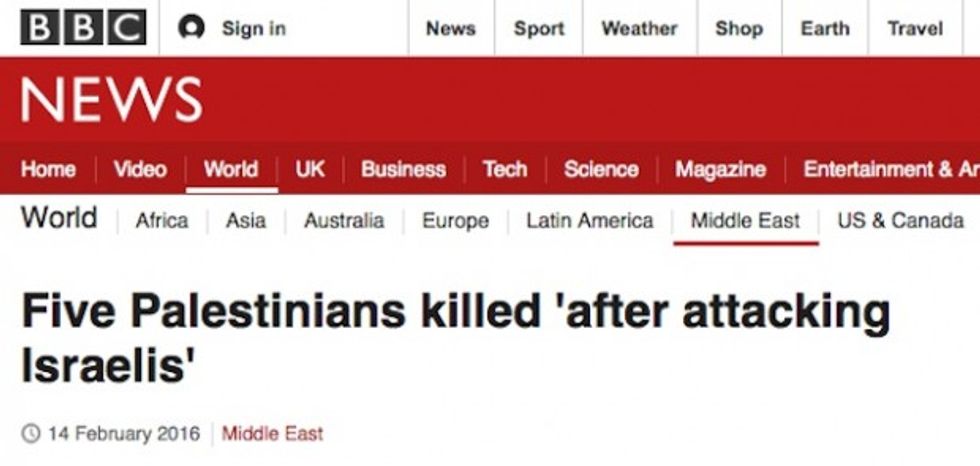 Image source: BBC
Sky News Australia's headline didn't even bother with quotation marks, instead dropping any reference that the Palestinian teenagers might have been armed and trying to harm Israelis:

Image source: SkyNews.com.au
Gidon Shaviv, a senior research analyst with the pro-Israel media watchdog CAMERA, had a cynical observation about a CNN tweet that glossed over who the assailants were:
2 men shot dead after opening fire outside the Damascus Gate of Jerusalem's Old City, Israeli police spokesman says. https://t.co/dDNyxV5V15

— CNN Breaking News (@CNN Breaking News) 1455489244.0
Shaviv also tracked the evolution of the New York Times' international edition headline on the story, which changed from "Israeli Soldiers Kill 3 Palestinians in Separate Incidents" that morning to "Israel: 3 Palestinian Attackers Killed in Separate Incidents."
Britain's Guardian made a point of noting that no Israeli soldiers had been hurt.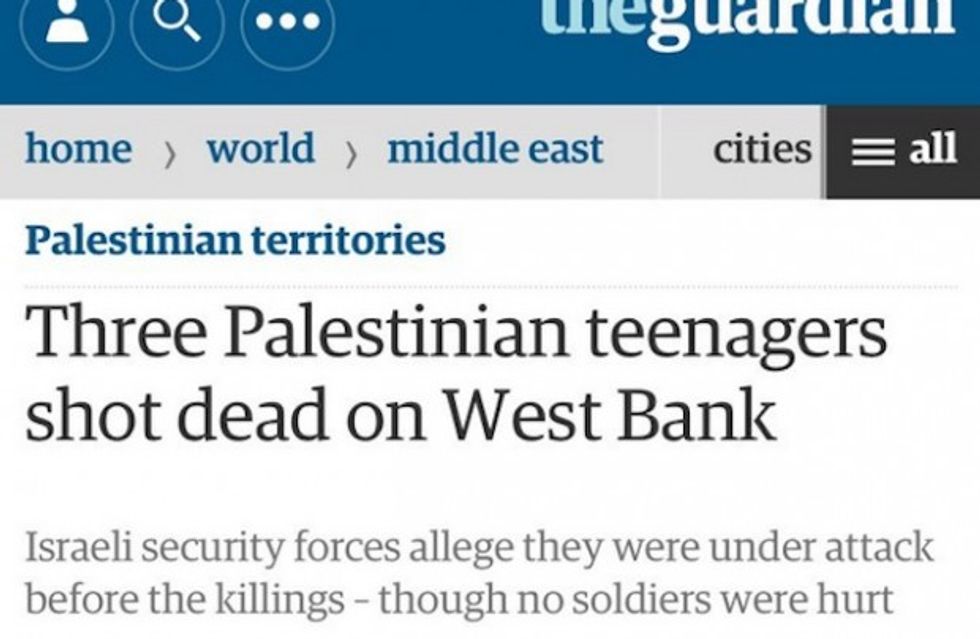 Image source: The Guardian
Just because Israelis were not killed does not mean the Palestinians armed with deadly weapons did not intend to murder, one observer noted on Twitter.
@yiftahc @AmichaiStein1 It seems as if the Guardian has no concept of 'attempted murder' For them, only "successful" terror is real terror.

— elihustone (@elihustone) 1455526086.0
According to Israeli police and media reports, here's what happened in three separate incidents Sunday:
Two 15-year-olds threw rocks at cars near the West Bank city of Jenin. When Israeli soldiers arrived on the scene, one of the youths fired his rifle at the soldier, the Israeli army said. The Israeli soldiers responded with fire, killing the assailants.
Result of Palestinian incitement:2 Palestinian 15 year olds (!) opened this AM fire on IDF soldiers using this rifle https://t.co/NmK509BQoZ

— Ofir Gendelman (@Ofir Gendelman) 1455449199.0
A second attack involved a 17-year-old Palestinian who tried to stab an Israeli policeman near Jerusalem and was shot dead, Israeli police said.
A police spokeswoman said that in the third attack, two Palestinians opened fire with automatic weapons on Israeli police outside Jerusalem's Old City where an Israeli policewoman was killed earlier this month. Those two assailants were killed as well.
The Israel Defense Forces tweeted photos of the weapons it said the Palestinians used.
Last night, 2 assailants fired at security forces near Damascus Gate in Jerusalem. Forces responded & shot attackers https://t.co/Msueja0WMV

— Israel Defense Forces (@Israel Defense Forces) 1455512443.0
That Palestinians armed with either knives or guns were aiming to attack Israelis is not just an Israeli claim as months of misleading headlines might suggest.
Palestinian Authority President Mahmoud Abbas has lauded various assailants as "martyrs" and honored their families with praise and financial assistance.
Some Palestinian teens before heading out to attack Jews have posted farewell notes on Facebook expressing their desire to be martyrs, something those covering the conflict closely would likely know.
Others have skipped school with knives stuffed into their backpacks.
Numerous videos and photos have been widely shared on Palestinian social media promoting what has been described as the "knife intifada," or uprising. Hamas has even called to escalate the violence to inserting suicide bombers on Israeli buses, as seen in a music video released last week.
Israel has faced five months of Palestinian stabbing, shooting and car-ramming attacks.