The Israel Defense Forces' head of military intelligence, Maj. Gen. Herzl Halevi, said Sunday that Israel is working to help rebuild Gaza by delivering hundreds of trucks of goods there every day so that Palestinians "should have something to lose."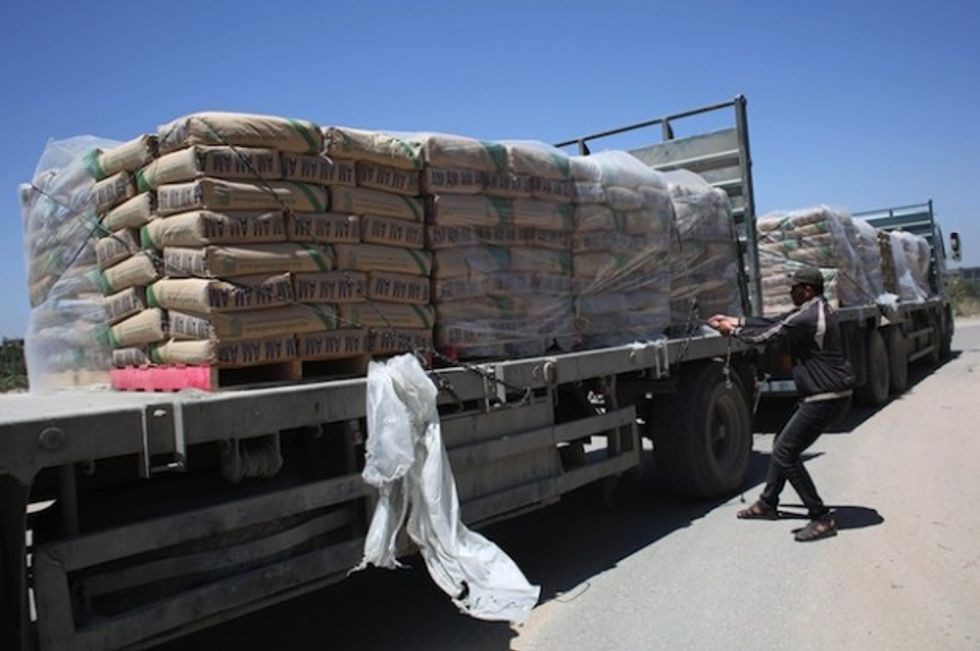 A Palestinian worker adjusts bags of cement loaded onto a truck after it entered the southern Gaza Strip from Israel through the Kerem Shalom crossing in Rafah on April 29, 2015. (Said Khatib/AFP/Getty Images)
According to a report Monday by Israel's Army Radio, Halevi said during a private meeting with a visiting American Jewish group that Israel delivers on a daily basis hundreds of "huge trucks" filled with items including construction materials — even though Israel is sure that Hamas will use some of those materials to build attack tunnels and rockets.
The thinking apparently is that if Palestinians feel they have nothing to lose, they are more motivated to attack Israel.
"We try to rebuild Gaza, because we understand that they should have something to lose in the future," Halevi said.
"Every day we bring more than 900 huge trucks into Gaza with materials although we know that some of the cement goes to the tunnels and some of the metal materials goes to rocket production process," Halevi said, referring to Hamas' weapons of choice for violent attacks against Israel.
Halevi also revealed that Iran has been offering money to the families of Palestinians who have launched stabbing attacks on Israelis during the wave of nearly daily stabbing, car-ramming and shooting attacks underway since September.
"During the last few months with this situation in Judea and Samaria, we see that Iran is ready to give money for every family of a terrorist who stabbed an Israeli in order to make more and more incidents of stabbing Israelis," the military intelligence chief said.
Halevi spoke to a closed session of the Conference of Presidents of Major American Jewish Organizations' gathering in Jerusalem this week, Army Radio reported.
The Israeli military's COGAT branch (Coordinator of Government Activities in the Territories) coordinates humanitarian aid to Palestinians in the West Bank and Gaza, which includes transporting Palestinians needing medical treatment in Israeli hospitals, facilitating religious visits to Jerusalem and the delivering of food aid and humanitarian goods. The IDF unit regularly posts on social media the numbers of trucks entering Gaza.
124,559 tons of goods, in 3,692 trucks, entered #Gaza through #Israel last week #GazaDailyActivity #KeremShalom

— COGAT (@COGAT) 1455480917.0
More information on the aid, including medical assistance, can be seen here and here.