GREENVILLE, S.C. — While stumping for Democratic presidential hopeful Hillary Clinton in South Carolina, former president Bill Clinton said the San Bernardino terrorists had never been to the Middle East.
There's only one problem — both of them had.
"Keep in mind, the people that perpetrated that travesty in San Bernardino had never been to the Middle East," Clinton claimed at a rally at the West End Community Development Center in downtown Greenville. "They were converted over the social media."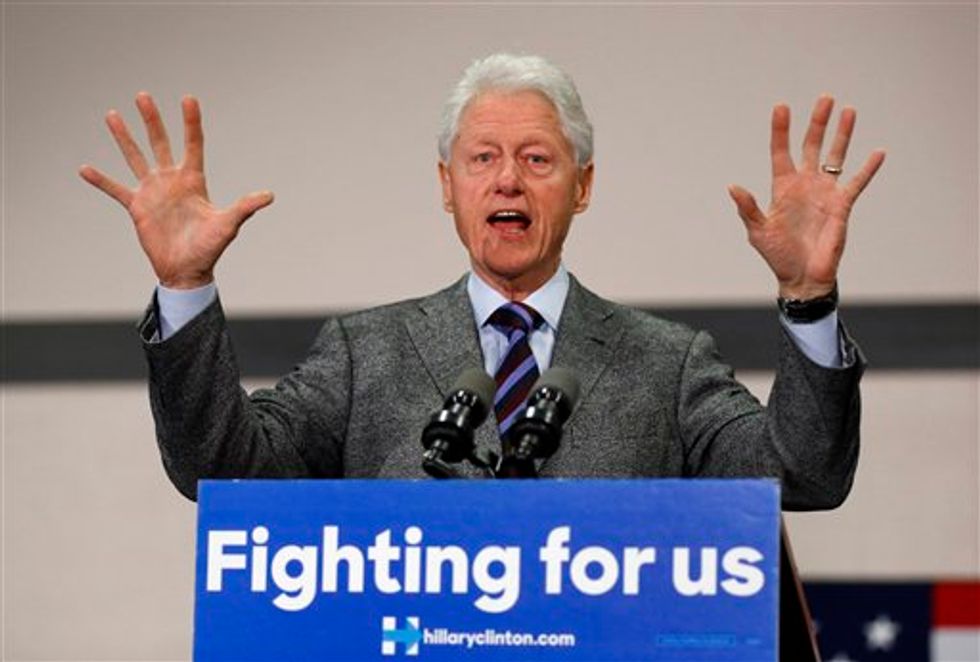 Former President Bill Clinton speaks during a campaign stop for his wife, Democratic presidential candidate Hillary Clinton, Tuesday at the West End Community Development Center in Greenville, South Carolina. (AP Photo/Paul Sancya)
But Tashfeen Malik, the wife in the duo that killed 14 on Dec. 2 in California, was born in Pakistan and lived most of her life in Saudi Arabia. She met her husband, Syed Rizwan Farook, in person in Saudi Arabia after the pair corresponded online. Malik came to the U.S. in July 2014 on a fiancée visa.
A spokesman for the former president confirmed to TheBlaze that Clinton's claim was inaccurate.
"President Clinton simply misspoke," said the spokesman, who asked not to be named. "His point, though, was that they were converted over the social media. So we have a world where we've got to make more partners and fewer enemies. That we've got to win the argument for what a civilized world looks like."
The husband, Farook, was born in the U.S., but he had travelled to Saudi Arabia for several weeks in 2013 on an annual pilgrimage to Mecca, CNN reported after the attack. It was on that trip that he met Malik. Farook returned to Saudi Arabia in 2014 for nine days — his "last recorded" trip to that country.
Both Malik and Farook reportedly used private online messages to communicate their support for Islamic extremism.
"We can see from our investigation that in late 2013, before there is a physical meeting of these two people resulting in their engagement and then journey to the United States, they are communicating online, showing signs in that communication of their joint commitment to jihad and to martyrdom," FBI Director James B. Comey said in December. "Those communications are direct, private messages. So far, in this investigation, we have found no evidence of posting on social media."
On Dec. 2, the pair walked into a social services center in San Bernardino where they fatally shot 14 people and seriously injured 22 others. Both were eventually killed during a shootout with police hours after the attack. The shooting was defined by President Barack Obama as an "act of terror."
Malik's admittance to the U.S. on a fiancée visa sparked some Republican calls for a moratorium on immigrants from areas with strong ties to Islamic terrorism and other calls for a full ban on Muslim immigrants. Other lawmakers have called for the federal government to screen the social media accounts of those wishing to obtain a visa application.
Hillary Clinton has criticized GOP presidential candidates such as Texas Sen. Ted Cruz and businessman Donald Trump for advocating policies that allegedly discriminate against potential immigrants solely on the basis of country of origin or religion.
Bill Clinton repeated that criticism Tuesday: "We need to be kept safe at home and around the world in a way that advances, not undermines our values."
During the event, Bill Clinton also touted Hillary Clinton's education proposals — particularly her plans to reduce college debt and increase college affordability — and efforts to bring about affordable health care.
—
Follow Kaitlyn Schallhorn (@K_Schallhorn) on Twitter