A lawyer was fatally shot by police Tuesday after he brutally attacked his family, leaving his wife and one child with critical injuries.
According to police, Christopher Andrews, 51, viciously attacked his wife and three children with a knife and a baseball bat. The Hartford Courant reported that Andrews' wife, Kathleen, suffered stab wounds and blunt force trauma to her head. The children — a 12-year-old son, a 13-year-old daughter and a 15-year-old son — all suffered a range of other injuries, including stabbing and slicing wounds.
Police said that when they arrived at the home, after receiving a call from the daughter, they found Andrews and his oldest son in the front yard. Andrews held a weapon, and the son held a bat. When officers ordered the two to drop their weapons, the 15-year-old complied and explained that he had taken the bat away from his father, who had used it during his attack on his family.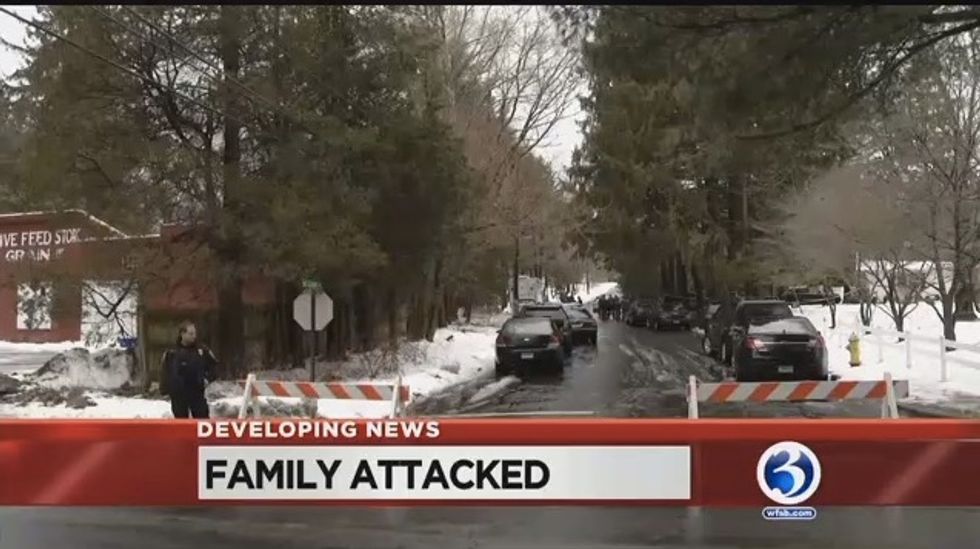 Image source: WFSB-TV
According to police, Andrews did not comply with officers' orders and advanced toward the law enforcement officials — leading them to shoot. He was taken to a nearby hospital where he was pronounced dead.
"We actually came to the home and one of our officers was immediately confronted by an individual who would not comply with any demands to stay where he was," Lt. James Perez of the Fairfield police told WFSB-TV. "That individual made a lunge at our officer, our officer, in self-defense, fired."
One child was taken to Yale-New Haven Hospital in critical condition by LifeStar air transport. The other children were taken to St. Vincent's Medical Center. Kathleen Andrews was taken to Bridgeport Hospital for treatment.
The officer involved in the shooting was also transported to a nearby hospital. He is said to be a "20-plus-year veteran" of the force.
"Our concern right now is for the family members who are injured," Chief Gary MacNamara told the Courant.
Neighbors have described the Andrews family as "nice" and "quiet" and have expressed shock at the incident.
"It's unbelievable, hard to believe. It's impossible to believe. They're very nice people, kids are great," Steve Bogan, a family friend, told WFSB. "I was just with him a couple of days ago, and they were as happy as could be."
"It's awful, just awful," Jeff Vogt, a neighbor, told the Courant. "They were the quietest, nicest neighbors."
According to the Daily Mail, Andrews was a partner at the law firm Andrews and Andrews in New York, and his brother reportedly died on 9/11.
Perez said that there had been no prior history at that home with that family.
"But you don't have to have a history for an incident like this to happen," he added.