Republican front-runner Donald Trump has reached a new height in national polling, the latest Quinnipiac University national poll reveals.
According to the poll, Trump has 39 percent of support nationally. Florida Sen. Marco Rubio registered second in the poll with 19 percent of support. Iowa caucus winner Texas Sen. Ted Cruz was third with 18 percent.
Ohio Gov. John Kasich, who had a strong second-place showing in New Hampshire, was a distant fourth with 6 percent of support. Former Florida Gov. Jeb Bush and retired neurosurgeon Ben Carson tied for fifth, each garnering 4 percent of support.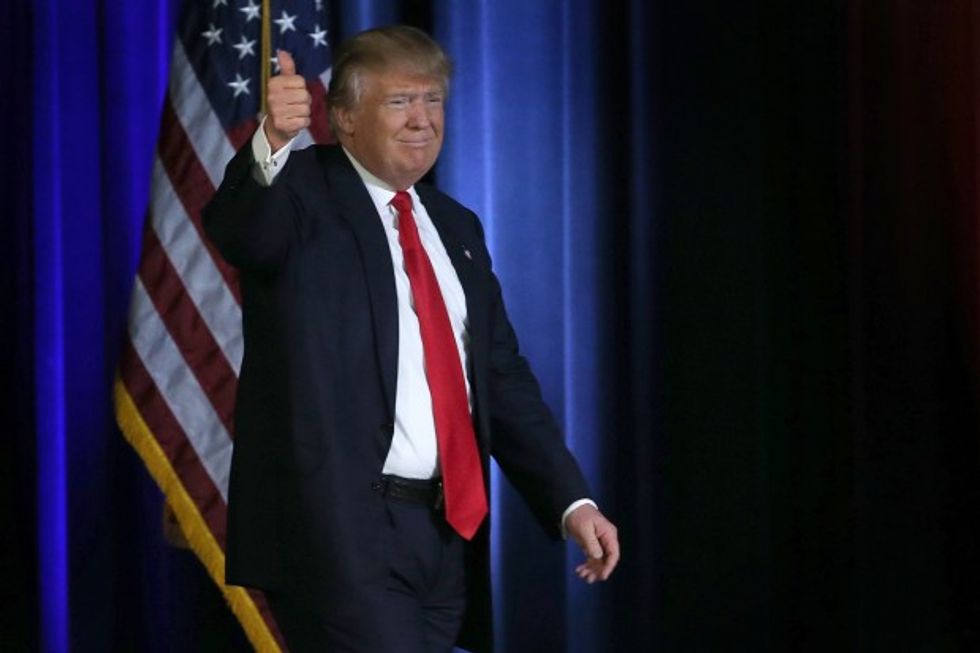 Donald Trump arrives on stage to speak to voters in South Carolina on Wednesday. (Getty Images/Win McNamee)
Trump's support has skyrocketed in comparison to the same poll released earlier this month, which had Trump at 31 percent, Cruz at 22 percent, and Rubio unchanged at 19 percent.
"Reports of Donald Trump's imminent demise as a candidate are clearly and greatly exaggerated," Tim Malloy, assistant director of the Quinnipiac University Poll, said in the poll's press release. "Like a freight train barreling through signals with his horn on full blast, Trump heads down the track towards a possible nomination."
When broken down into categories, Trump is dominating overall among women, men and moderate/liberal Republicans. Cruz, however, is dominating with those who consider themselves to be very conservative and members of the Tea Party. Trump leads Cruz only narrowly among evangelicals.
However, supporters of both Cruz and Trump generally have their minds made on their respective candidates. Two-thirds of each candidate's supporters said their minds are "made-up" in who they will vote for. Only one-third said they are open to switching alliances. Rubio supporters, the poll found, are more likely to jump ship, as two-thirds said they are open to switching their preferred candidate.
Wednesday's poll comes as the candidates are gearing up for Saturday's Republican primary in South Carolina, which is the first primary of the 2016 election cycle in the South.
The survey of 602 Republicans was conducted between Feb. 10-15. It has a margin of error of +/- 4.1 percent.
—
Follow the author of this story on Twitter and Facebook:
[facebook //www.facebook.com/plugins/like.php?href=