A Houston woman is opting for a lawyer after she recently awoke from a surgery to find that she no longer had a belly button.
Lori Jones, 45, told KTRK-TV that when she finally had enough money, she wanted to go under the knife to remove the "baby pooch" from her stomach, which was a result of multiple cesarean sections. So Jones did her research in order to find the best plastic surgeon in her area.
After multiple consultations, Jones decided to go with Dr. Younan Nowzaradan, a world renown plastic surgeon, who is best known for his gastric bypass surgeries on severely obese patients. He is also a doctor on the reality television show "My 600 Pound Life."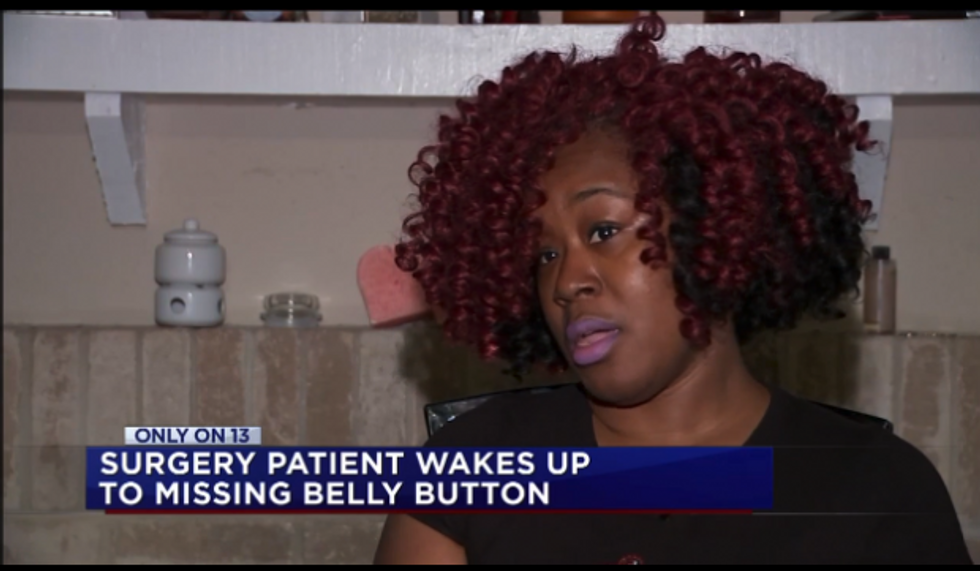 Image source: KTRK-TV
Dr. Nowzaradan then performed an umbilical hernia removal and tummy tuck surgery on Jones in December 2015. Jones said the tummy tuck turned out great, but the hernia removal: not so much.
"I went in with the belly button and I'd like to know what you did with it?" Jones told KTRK. "What happened to it? Did you throw it in the trash? Where is it?"
But it took weeks before Jones realized she was without a belly button following her surgery.
"Because the surgical tape and the gauze that's underneath I couldn't see the incision so the whole time I'm thinking my belly button is there," she said.
Jones claims Dr. Nowzaradan never told her that she may lose her belly button, and instead, he just said the belly button would be "re-positioned" following the hernia removal.
However, Dr. Nowzaradan vehemently disagrees with Jones.
"We did tell her before and she had a previous surgery and she had a scar and there's no way you can save that area," he told KTRK. "I told her that before surgery and after surgery."
Dr. Nowzaradan said he would be able to recreate Jones' belly button after at least six months and after everything has healed. But Jones said she wants to settle the dispute in court and she already has a lawyer at the ready.
"I don't like it and for them to act like it's nothing that's what's really bothering me," she said.
(H/T: KTRK-TV)
—
Follow the author of this story on Twitter and Facebook:
[facebook //www.facebook.com/plugins/like.php?href=