When asked by a voter during Wednesday's CNN town hall in South Carolina how he reconciles the traditional Christian principle of caring for the poor with the GOP's stances on welfare, Ben Carson delivered a two-minute answer that was akin to a history lesson.
"Dr. Carson, how do you reconcile the differences between tradition Christian values, specifically caring for the least of these, and current GOP stances on issues such as welfare and subsidies for the poor?" Jessica Fuller asked the retired neurosurgeon.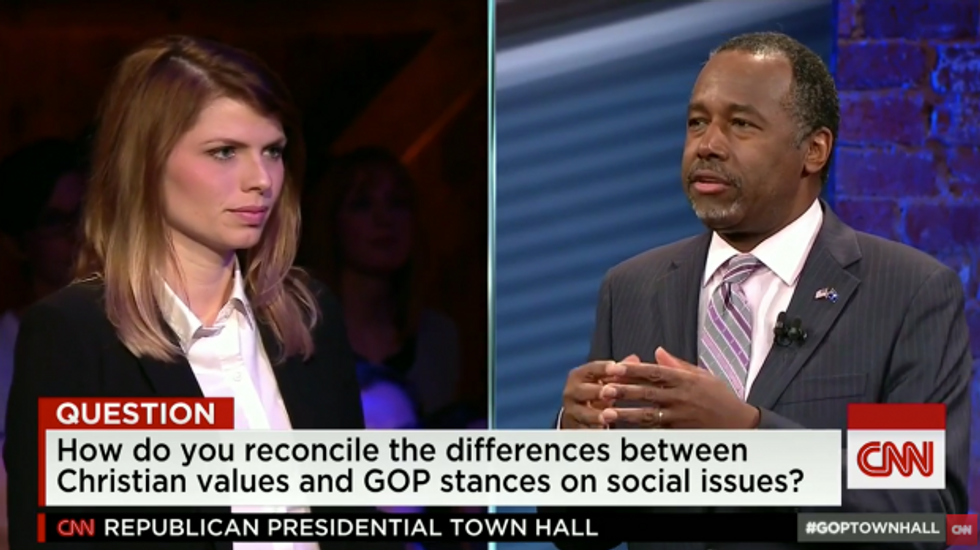 Image source: Youtube/CNN
Carson, in his reply, said that the responsibility to care for the poor and the indigent falls on the shoulders of "We the People" — not the government.
"It's not the government's job," Carson said. "You can read the Constitution all you want, it never says that it is the government's job and I think where we've gotten confused."
Carson went on to anecdotally explain that "in the old days," communities would often gather around a person or family if they were in a time of need. He used the example of a farmer who breaks his leg when attempting to harvest apples. In that situation, Carson said that an entire community would come together to help the farmer finish his harvest.
According to Carson, that sense of community began to wither in the early 20th century during the rise of progressivism.
"Now for some strange reason, starting sort of in the '20s with Woodrow Wilson, the government started getting involved in everything," Carson remarked. "It kept growing, metastasizing. By the time we got to the '60s, [President Lyndon Johnson] was saying, 'We, the government, are going to eliminate poverty.'"
Poverty became a much larger and complex problem because government intervened, Carson went on to say. To fix the problem, Carson suggested that the government read the Constitution.
However, Carson, at the end of his long answer, did admit that the government does play some role in facilitating what its citizens do.
Watch Carson's full answer below:
—
Follow the author of this story on Twitter and Facebook:
[facebook //www.facebook.com/plugins/like.php?href=
(H/T: IJR)