Kanye West allegedly had a meltdown backstage before his performance on "Saturday Night Live" last weekend — and now leaked audio purportedly of the tirade has the Internet buzzing.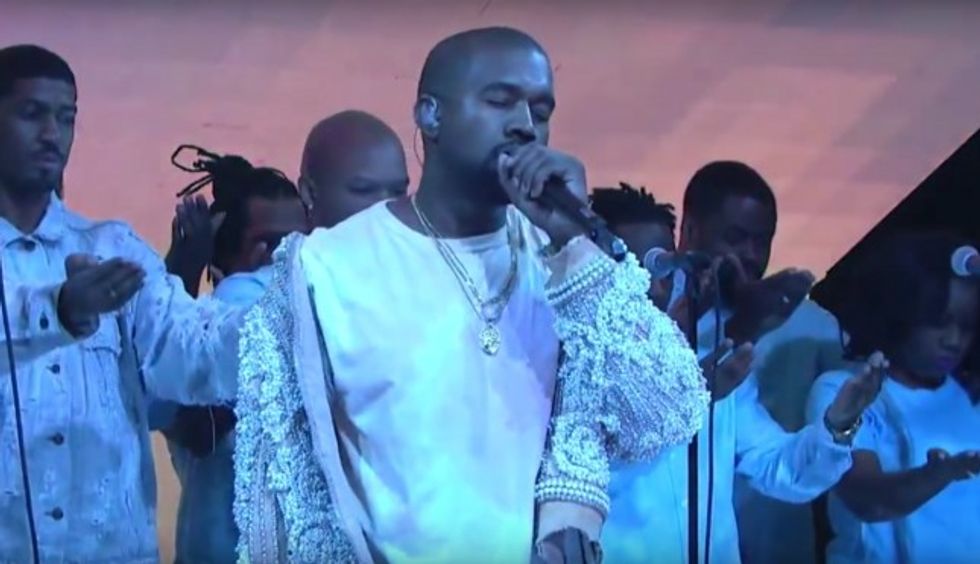 Image source: YouTube
The clip obtained by Page Six has West initially going off about his stage getting changed before his performance: "Look at that s**t. They took my f***ing stage offa 'SNL' without asking me. Now I'm bummed."
Then he apparently compared the move to pop icon Taylor Swift, with whom he's feuding: "That and Taylor Swift, fake ass."
"Now I ain't gonna do this," West allegedly added. "We breakin' the motherf***ing Internet. I been through six years of this motherf***ing s**t. Let's get to it, bro. Let's get to it, bro!"
West saved the most eye-opening segment of his tirade for last, allegedly boasting that he's way more influential than legendary artists such as filmmaker Stanley Kubrick, painter Pablo Picasso — and even the Apostle Paul.
"Are they f***ing crazy? Bro! By 50 percent. Stanley Kubrick, Picasso, Apostle Paul, f***ing Picasso and Escobar. By 50 percent more influential than any other human being," West allegedly said. "Don't f*** with me! Don't f*** with me! Don't f*** with me! By 50 percent, dead or alive. By 50 percent for the next thousand years. Stanley Kubrick, 'Ye."
West and Swift have been trading public barbs of late. West claimed on his new album that he "made the b***h famous." In return Swift seemingly referred to West in her Grammy acceptance speech Monday: "There are going to be people along the way who will try to undercut your success or take credit for your accomplishments or your fame."
Page Six reported that "SNL" creator Lorne Michaels had to do some fast talking to convince West to stay and perform. A source close to West told HollywoodLife that the rapper went on the rant with his team, not with "SNL" staff.
"He found out his stage design was changed and taken apart under the direction of the show's lighting director without anyone's approval. He had spent an entire day rehearsing and a lot of hard work into the performance. Dramatic set changes were made 30 minutes before going live. It should be understandable why he was upset after being completely blindsided," the source said. "Later in the evening, after everything was fixed and following his performance, Kanye was seen hugging Lorne Michaels just before the goodnights and he stayed afterwards to chat with the staff and the cast, and thanked the producers on his way out the door."
Here's the audio clip from Page Six. (Content warning: Profanity):
This story has been updated.