Hollywood star Tim Allen revealed to Megyn Kelly on Fox News Thursday night which Republican candidate he supports in the run-up to the 2016 election.
Allen, who plays a very politically conservative character on the hit-TV show "Last Man Standing," initially said that the character he plays would have been a Donald Trump supporter. But because his character has a wife and a daughter, he wouldn't have been able to get past Trump's heavy criticism of Kelly and other women.
His character would probably be supporting Rubio at this point, he said.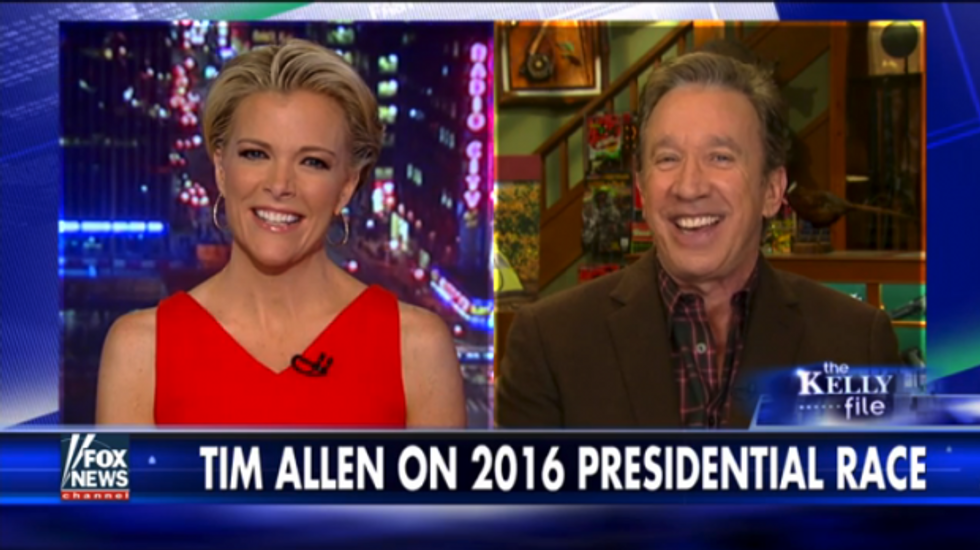 Image source: Fox News
However, in Allen's personal life, he said he likes Ohio Gov. John Kasich.
"Well if it was just a resume oriented thing, then it would be Kasich," Allen said.
But he also joked that Kasich gets a bad mark in his book for being from Ohio and being an Ohio State fan because, as Allen explained, he's from Michigan and only cheers for Michigan sports teams.
"I know this may be the kiss of death for him, but he's almost a Republican that the Democrats would like," Allen added. "Which is a great thing if you want to win an election. But he's really got a great resume — the guy's got a good heart."
But when asked about Democratic front-runner Hillary Clinton, Allen was literally left speechless. Finally, though, he mustered up some words for Clinton.
Allen said that when he once asked the women who write his show about Clinton, they all told him that "it's about time" for a women to be president. But Allen, being the comedian he is, said he flipped the script on his staff.
"So one of us said, 'If it was Sarah Palin, would it still be about time?' And boy, it looked like they all ate bad fish," he said.
He also recalled an interaction he once had with former President Bill Clinton. Watch below:
(H/T: Fox News Insider)
—
Follow the author of this story on Twitter and Facebook:
[facebook //www.facebook.com/plugins/like.php?href=