Students at the University of Arizona reported that a man sexually harassed female students last Thursday while campus police stood by.
Ali Cummings, a student at the university, captured the incident on her phone. The photo, which Cummings later uploaded to Facebook but has since removed, went viral.
"Walking to class with two of my friends and a grown man dressed as a boy scout yells, 'close your legs and stop dressing like a whore' (I'm in leggings and a big t-shirt) he then proceeded to tell us we are poisoning the world and murdering children," Cummings' Facebook post read.
"Alongside this guy was a camera man wearing a t-shirt that says 'YOU DESERVE RAPE'. For some odd reason, this is allowed and several police officers stood by while we were sexually harassed," she continued. "I have never felt so offended and unsafe in my life."
Since the reported incident, over 1,600 have shared Cummings' post on Facebook.
Ali's mother, Susan Dalton Cummings, later posted a photo of the man dressed as a Boy Scout.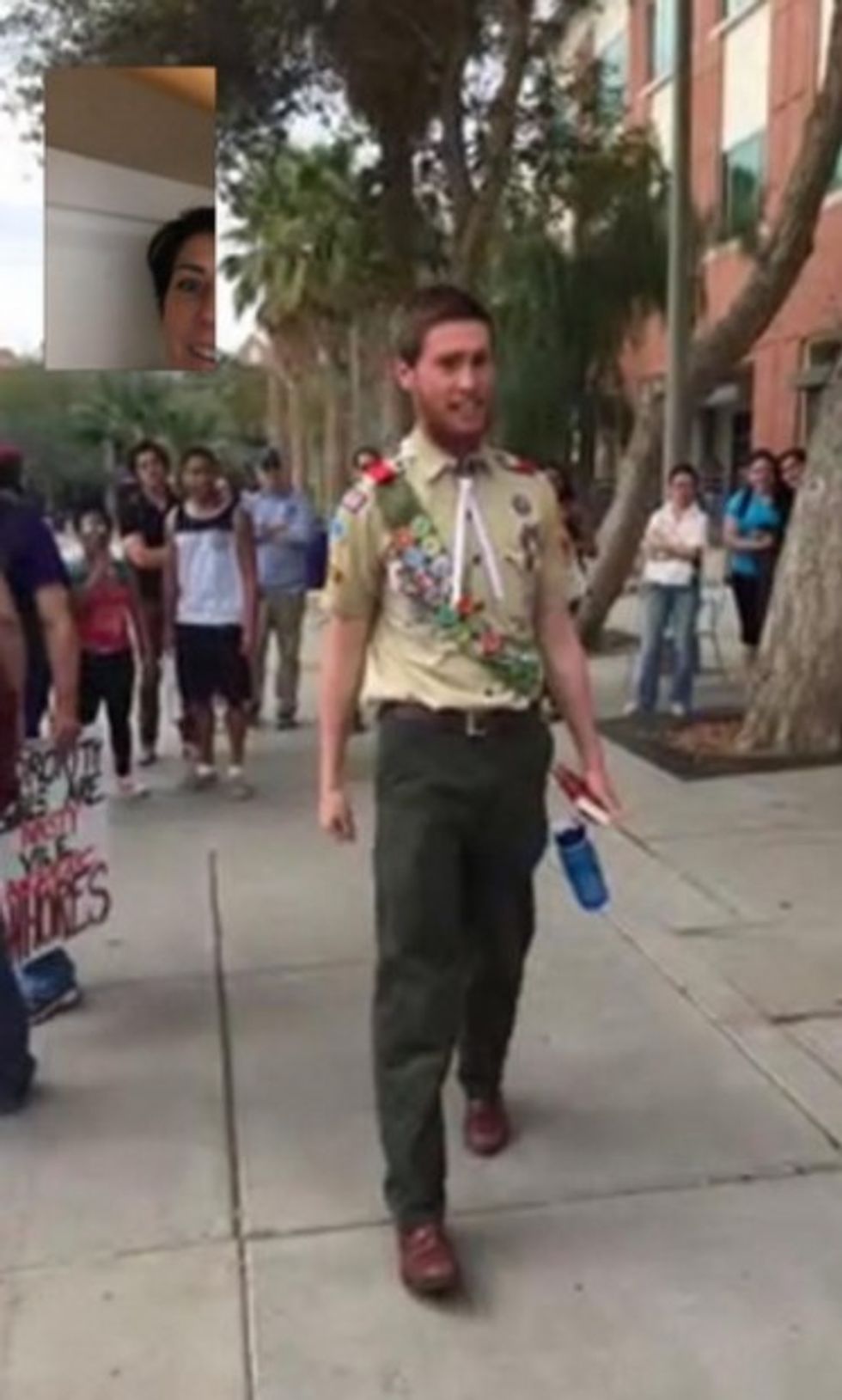 Image via Facebok/Susan Dalton Cummings
"Campus police are clearly in the wrong," one commenter wrote on Ali's post. "The minute these creeps start addressing individual women, they have crossed the line from protected speech into threats and hate speech."
Shortly after her first post, Ali Cummings wrote a follow-up post, expressing her disbelief at the lack of action taken by campus police and school officials.
"This guy tells me I deserve rape in front of police officers and faculty members, but thats fine?" the post read. "Right, makes sense! Glad to be in such a safe environment."
This is not the first time an incident like this has occurred on UA's campus. In April 2013, a student named Dean Saxton stood on campus donning a "Virgin Pride" t-shirt and holding a sign that read "You Deserve Rape," the Huffington Post Reported.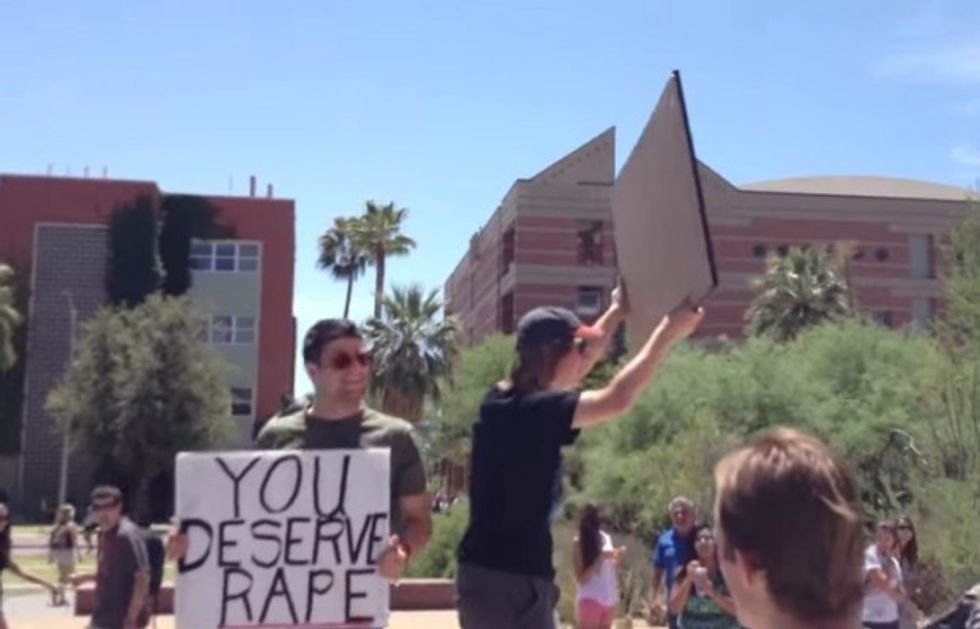 Dean "Brother Dean" Saxton stood on University of Arizona's campus in April 2013 holding a "You Deserve Rape" sign similar to the one used in Thursday's spectacle. (Image source: YouTube/JSXS)
Saxton, known on the campus as "Brother Dean," drew a crowd of onlookers by holding the sign and preaching that women who wear short shorts in 90-degree weather are asking to be raped.
Saxton had other signs, which read "Rapists Deserve The Death Penalty," "Frat Boys Are The Rapists" and "Sorority Girls Are Whores," according to a video posted on YouTube.
(H/T: Seventeen)