The Islamic State group posted a video showing how a Syrian father helped his teenage son prepare for a suicide mission that he believes will land his son in "paradise."
According to excerpts translated by the Middle East Media Research Institute, the video showed how 15-year-old Abu Ammarah Al-Omari and his father got ready for the teen's suicide mission.
Al-Omari said that his father had encouraged him to volunteer to drive the explosives-packed vehicle.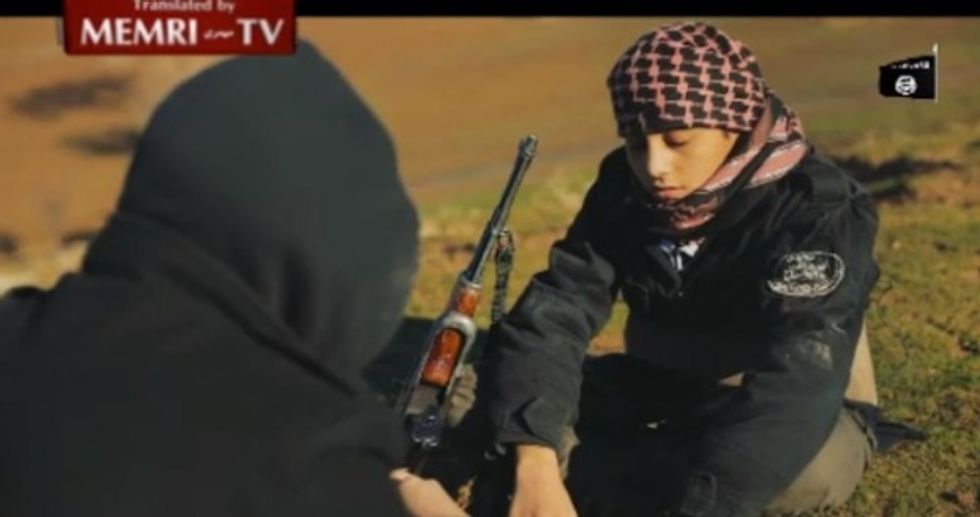 Asked how it felt to volunteer for a suicide mission, the 15-year-old Islamic State group member said, "It was the best feeling ever." (Image source: MEMRI)
Asked how he felt signing up for mission, the teen said, "It was the best feeling ever, but I hope that the martyrdom operation itself will top that."
"My wish is to be in paradise with the Prophet Muhammad and for Allah to accept me as a martyr," he said.
As they prepared for the bomber to depart, the father examined the vehicle to make sure his son "will reach Paradise safely."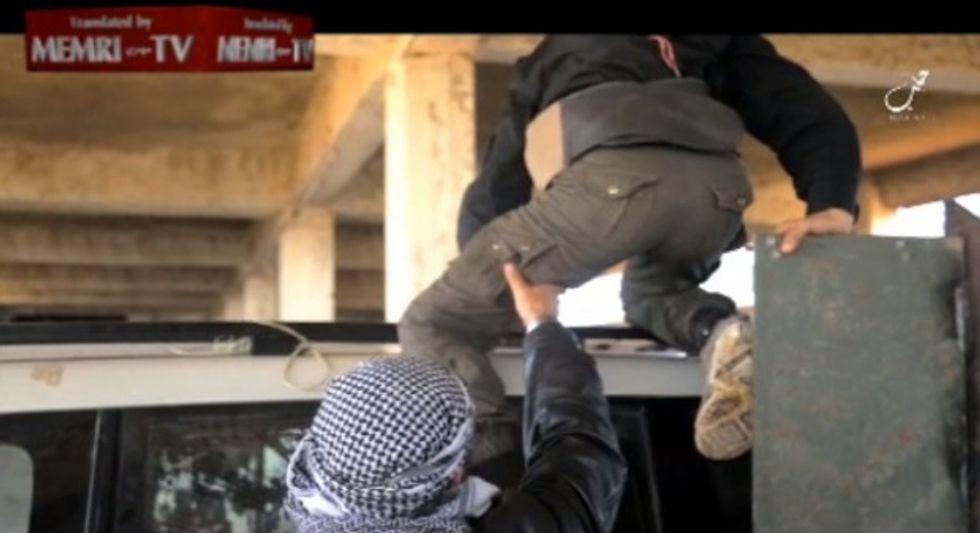 While this photo in itself was not gruesome by Islamic State standards, the image of a father hoisting his son onto the explosives-packed vehicle he would drive to his death was one of the more chilling scenes to emerge from the jihadist group. (Image source: MEMRI)
The most chilling moment in the propaganda video — aimed at highlighting the jihadist group's use of child fighters — showed the father hoisting his son onto the vehicle.
The narrator of the video said the teen's father helped Abu Ammarah mount his "steed" that is, the car, then showed him how to steer it.
The end of the video purports to show the vehicle exploding into a ball of fire in the distance, which MEMRI reported occurred in Aleppo.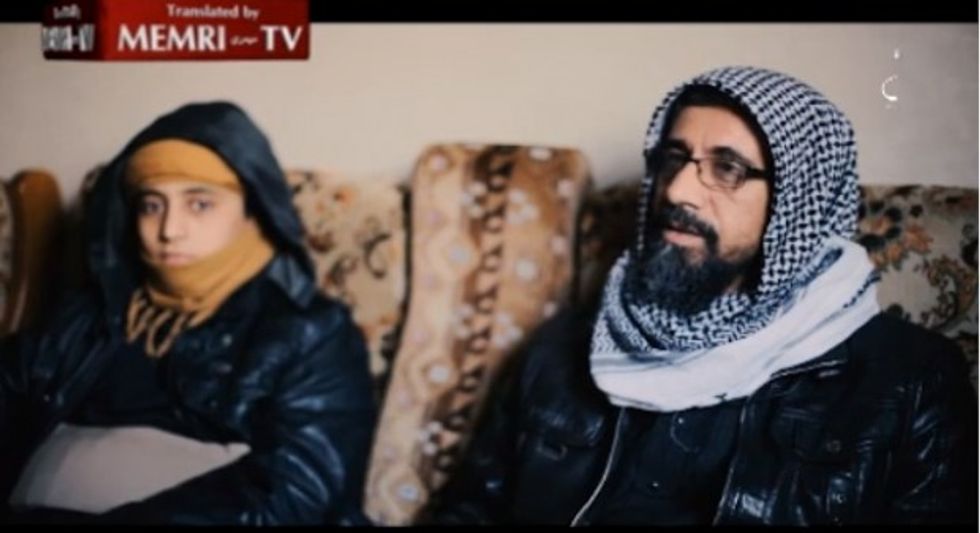 This father said he wants all of his sons to follow in their "martyr" brother's footsteps. (Image source: MEMRI)
In an interview surrounded by his sons, the father said that he was encouraging all of his sons to follow in their brother's footsteps.
The video showed the jihadist elder son teaching his little brothers the Koran while they wore Islamic State logo ski caps.
Asked what he would say to the "crusaders," the teen said, "Repent, because if you don't, we shall send you men who love death as much as you love life."
MEMRI posted the translated excerpts of the video — which was originally put online Friday by the Islamic State — at this link.