During remarks at a town hall in Fairfax, Virginia, today, Republican presidential candidate Ohio Gov. John Kasich reflected on his first political campaign: a 1978 run for state Senate in Ohio.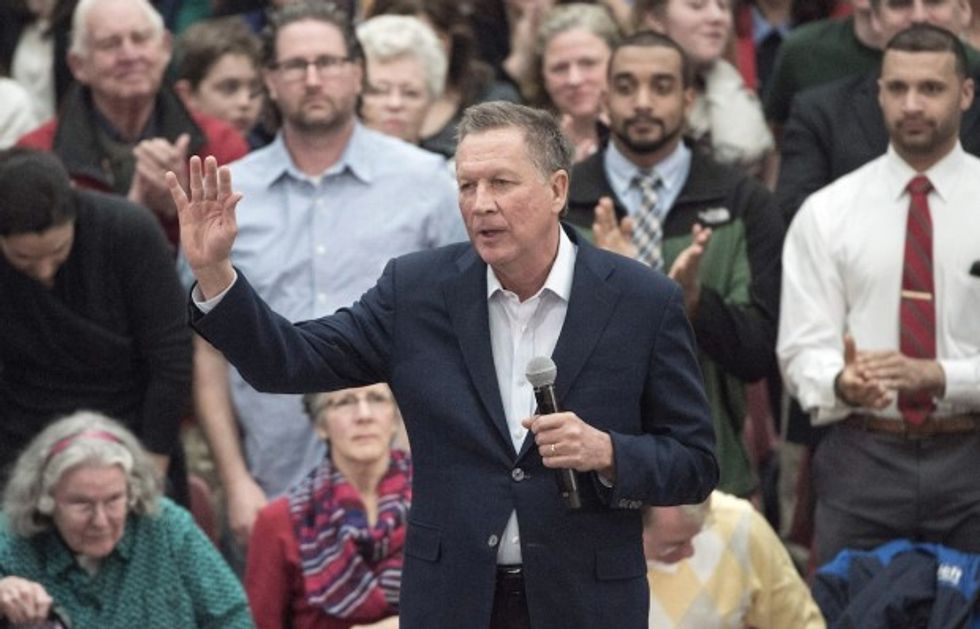 Republican presidential hopeful Ohio Gov. John Kasich delivers campaign remarks to supporters Monday at George Mason University in Fairfax, Virginia. (Paul J. Richards/AFP/Getty Images)
"How did I get elected?" Kasich said. "Nobody was — I didn't have anybody for me. We just got an army of people, who, and many women, who left their kitchens to go out and go door to door and to put yard signs up for me. All the way back, when — you know things were different. Now, you call homes and everybody's out working. But at that time, early days, it was an army of the women that really helped me get elected to the state Senate."
An attendee who asked the governor about his decision to cut state funding for abortion providers such as Planned Parenthood later teased Kasich for the remark.
"Your comment earlier about the women coming out of the kitchen to support you — I'll come support you, but I won't be coming out of the kitchen," she told him.
"I gotcha, I gotcha," Kasich said.
After multiple media outlets reported on Kasich's remarks about women who "left their kitchens" to campaign for him, Kasich's spokesman, Chris Schrimpf, told NBC News that "John Kasich's campaigns have always been homegrown affairs."
"They've literally been run out of his friends' kitchens and many of his early campaign teams were made up of stay-at-home moms who believed deeply in the changes he wanted to bring to them and their families," Schrimpf said. "That's real grassroots campaigning, and he's proud of that authentic support. To try and twist his comments into anything else is just desperate politics."