Marco Rubio's communication's director Alex Conant is accusing Ted Cruz's campaign of more "dirty campaign tricks" after a video surfaced of Marco Rubio allegedly saying the Bible isn't filled with many answers — although, as it turns out, Rubio actually said the opposite.
The controversy arose after Cruz's communications man, Rick Tyler, shared a story that centered around the video that incorrectly transcribed Rubio's comments in South Carolina on Saturday.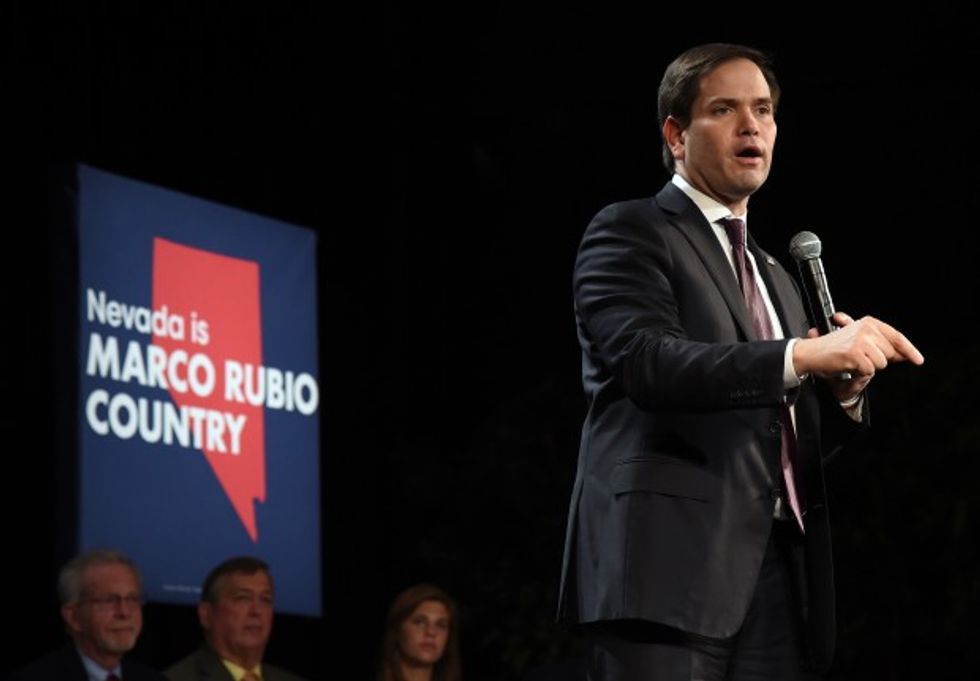 Marco Rubio speaks at a rally at the Texas Station Gambling Hall & Hotel on Sunday. (Getty Images/Ethan Miller)
In the 21 second video, Rubio is seen walking through a hotel lobby surrounded by staffers, acknowledging a Cruz staffer and Cruz's father, Rafael, sitting at a table. When Rubio notices their Bible, he says, "Got a good book there. All of the answers are in there, especially in that one."
Conant tweeted a video that had the correct transcription:
This video has correct transcript; any other is another dirty trick by Cruz camp. How do I know? I'm in the video!! https://t.co/llZGimU5Jp

— Alex Conant (@Alex Conant) 1456089739.0
The incorrect version of Rubio's comments were first reported by the Daily Pennsylvanian blog and then The Right Scoop, according to Breitbart. Although, the Right Scoop later updated their story with a pseudo correction.
However, once the corrected version of the video surfaced, Tyler posted an apology to his Facebook page for sharing the original story that contained the incorrect information.
"I want to apologize to Senator Marco Rubio for posting an inaccurate story about him here earlier today," Tyler said. "Since the audio was unclear, I should not have assumed the story was correct. I've deleted the post because I would not knowingly post a false story. But the fact remains that I did post it when I should have checked its accuracy first. I regret the mistake."
The controversy comes after Rubio narrowly defeated Cruz in the South Carolina Republican primary, amid calls from the campaigns of Rubio and front-runner Donald Trump that Cruz is running a dishonest and "dirty" campaign.
—
Follow the author of this story on Twitter and Facebook:
[facebook //www.facebook.com/plugins/like.php?href=