The small town of Kalamazoo, Michigan, was rattled Saturday night when an Uber driver later identified as Jason Dalton allegedly went on a shooting rampage, killing six people and gravely injuring two more at three separate locations in Richland Township, Kalamazoo and Texas Township.
Several of Dalton's passengers recalled their interactions with in, including one man who says he actually asked him, "You're not the shooter, are you?"
Matt Mellen and a man who wished to be identified only as "Derek" had Dalton as their Uber driver Saturday evening, before the shooting. After realizing that their driver was the shooter, the two shared their separate accounts with local news stations.
"It was pretty scary ordeal, especially to be so closely involved with it," Mellen told WWMT-TV. "I'm just happy I'm safe."
Mellen recalled that something seemed off with Dalton's behavior. He said the gunman introduced himself by a different name and had his dog riding along in the back seat of his vehicle.
As the ride proceeded, Mellen started to worry.
"We got a mile from my house and then he got a telephone call, and after that telephone call he started driving really erratically," Mellen said. "We were running stop signs."
Dalton allegedly sped up to 80 mph down a busy avenue while sideswiping cars.
"We were driving through medians, thriving through the lawn, speeding along, and when we came to a stop, I jumped out of the car and ran away," Mellen said.
After this, Mellen called the police at around 4:30 p.m. Saturday.
"He wouldn't stop," Mellen recalled. "He just kind of kept looking at me like, 'Don't you want to get to your friend's house?' and I'm like, 'I want to get there alive.'"
Once Mellen got to his friend's house, he explained the events to his fiance, who posted a warning on Facebook with Dalton's Uber photo.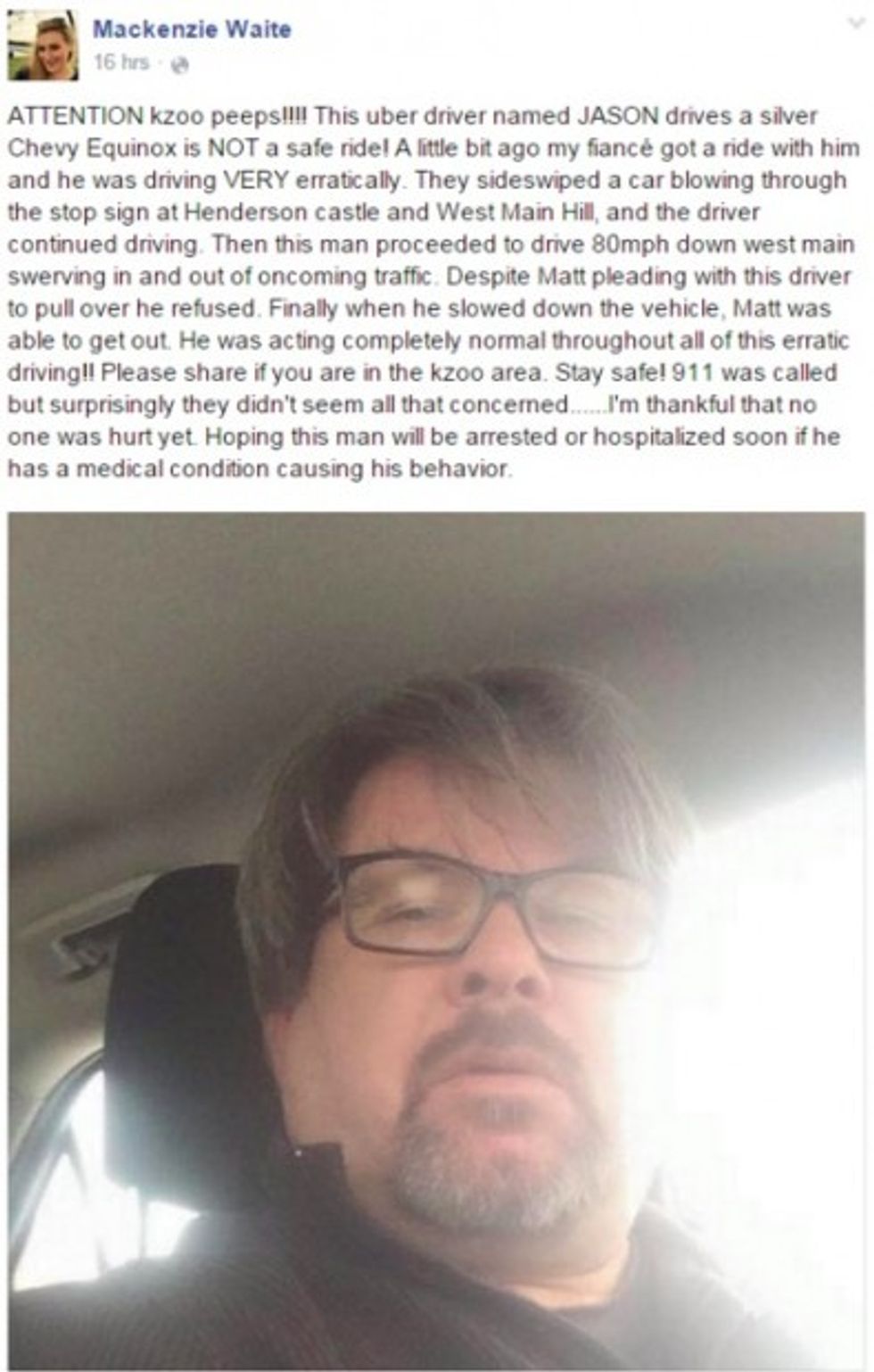 Jason Dalton (Image source: WOOD-TV)
"We posted the picture on Facebook just so our friends wouldn't get in the car with him if they had to take an Uber that night," Mellen said.
This all took place before Dalton reportedly actually began shooting. Police believe that at around 6 p.m. that evening, Dalton opened fire at The Meadows townhomes. He would go on to allegedly shoot seven more people between 10 p.m. and 10:30 p.m.
Later that night, a woman reported that she received a notification saying she was scheduled for an Uber pick-up by Dalton at 11:19 p.m., after the shootings had occurred.
An Indianapolis-area man named Derek who was visiting Kalamazoo Saturday night with his family told WOOD-TV he ordered an Uber ride just minutes before Dalton was arrested.
After hearing reports of a man shooting people at random, Derek reasoned that it would be safer to drive back to the Radisson Hotel. At this time, six people were dead.
Dalton picked up Derek's family at Bell's Eccentric Cafe on Porter Street. Derek sat next to Dalton in the front seat with his wife and in-laws in the back seat.
"My father mentioned from the back seat, you know, the situation with the shooter," Derek told WOOD-TV in a phone interview. "I kind of jokingly said to the driver, 'You're not the shooter, are you?'"
Derek said Dalton gave him "some sort of 'no' response" and shook his head.
"I said, 'Are you sure?' And he said, 'No, I'm not, I'm just tired,'" Derek continued. "And we proceeded to have a pretty normal conversation after that."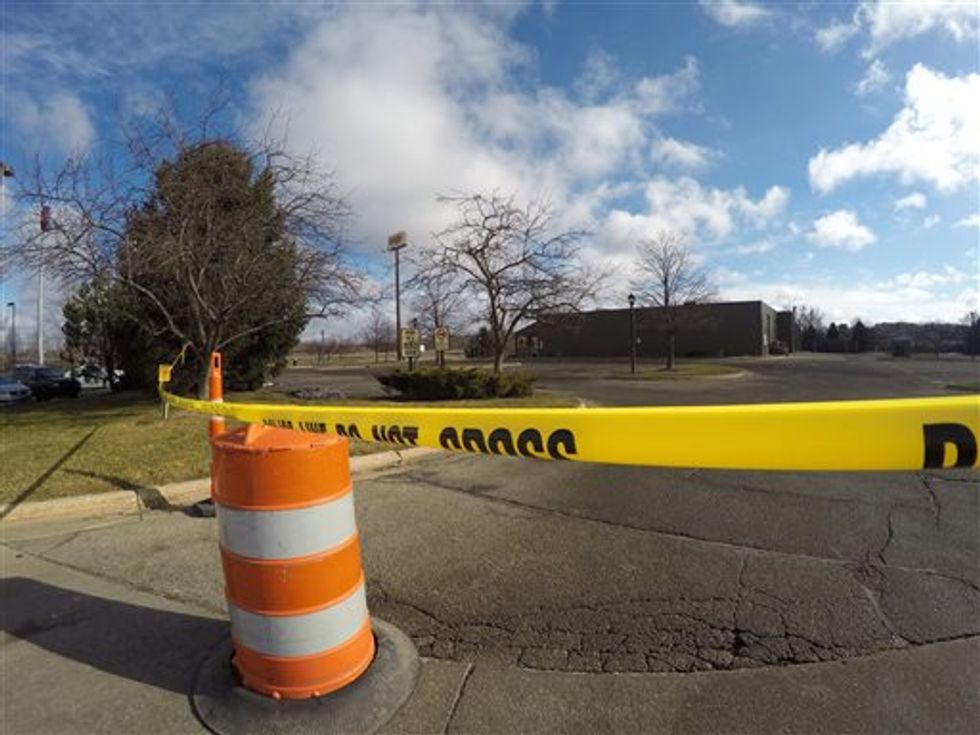 Police tape surrounds the area of a random shooting on Sunday in Kalamazoo, Michigan. Jason Dalton of Kalamazoo County was arrested early Sunday in downtown Kalamazoo following a massive manhunt after several victims were shot at random. (AP Photo/Mike Householder)
The ride to the hotel was only about a mile and a half and lasted a total of 7 minutes. Derek said he didn't smell gunpowder and didn't notice any weapons or stains. According to him, Dalton appeared calm and quiet.
When Dalton pulled up to the hotel, two police officers were standing in the lobby, their cruisers plainly visible in the pull-through drive.
"There's no way he would have not seen the presence of police," Derek said.
Derek said the driver let them out and calmly drove away at 12:19 a.m.
At around 12:30 a.m. Sunday morning, police arrested Dalton in downtown Kalamazoo.
After speaking with detectives, Derek provided WOOD-TV with his Uber receipt, which confirmed that Dalton was his driver Saturday night.
Looking back, Derek said that Dalton's response to his joke about being the killer was peculiar. He and his family didn't consider the possibility that their driver could've been the suspected killer until they returned to their hotel room, turned on the news and saw the suspect's vehicle description.
"I'm upset because I tried contacting Uber after I had talked to the police, saying that we needed to get this guy off the road," Mellen told WWMT-TV.
Mellen said there needs to be a faster response when Uber drivers display suspicious or erratic behavior.
"It's a little jarring. I don't think that it's really set in yet," Derek said.
Dalton's court hearing is scheduled for Monday where he is expected to be formally charged with murder.