© 2023 Blaze Media LLC. All rights reserved.
It's Your Fault': University Celebrates 'Diversity' by Placing These 'Privilege' Footprints Around Engineering Buildings
"It's not your fault if you experience privilege; it's your fault if you deny it."
The University of Oklahoma's Gallogly College of Engineering is celebrating 2016 as its "year of diversity" by attempting to shame its white male students into admitting and accepting their "privilege."
Claiming that it is taking the time to "celebrate diversity" in 2016, the Gallogly College of Engineering is asking the community to participate in recognizing "the individual cultural richness that GCoE students, faculty and staff bring to all aspects of our college," according to its website. In its efforts to include members of various races, ethnicities, orientations and genders into the community, GCoE aims to "enhance awareness of the issues faced by underrepresented members of our engineering community and promote GCoE's inclusive climate that is welcoming of all differences."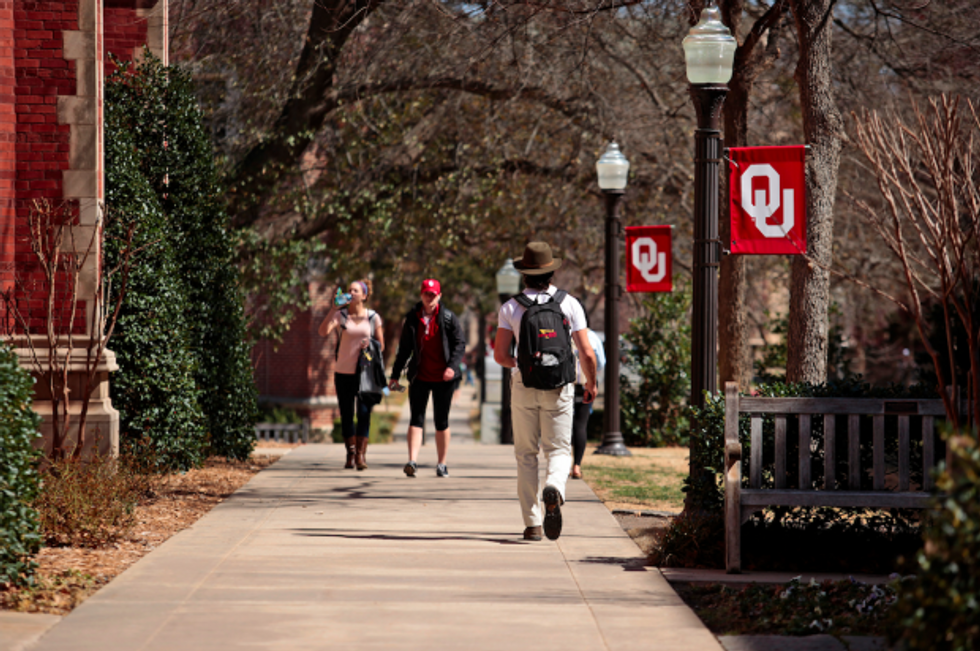 Students walk between classes at the University of Oklahoma in Norman, Oklahoma. (Brett Deering/Getty Images)
In order to advance this agenda, GCoE allegedly decided to place red "footprints" around the Carson Engineering Center, Felgar Hall and the Devon Energy Hall. Each footprint is inscribed with various thoughts and pieces of data intended to cause non-minority students to contemplate their "privilege," according to MRCTV. One footprint says, "It's not your fault if you experience privilege; it's your fault if you deny it," whereas another one states, "Only 1.5% of all engineering Ph.D [sic.] awarded went to African Americans in the U.S. last year."
The texts inscribed upon the red footprints appear to have been taken from the American Society for Engineering Education's online pamphlet titled "Year of Action on Diversity," according to MRCTV. The pamphlet, which claims to offer "short, thought-provoking messages about diversity," was crowd-sourced from researchers, members of the ASEE Diversity Committee and the public at large with the intent of being displayed on footprints placed outside the 2015 ASEE Annual Conference and Exposition. Some other messages listed on the pamphlet include, "What unique contributions do first-generation college students make in your classroom?" "Yes, that young woman can succeed as an engineer. Quit making it harder for her by saying she can't," "The father of computer science, Alan Turing, was a gay man," "Diversity among students and faculty is crucially important to the intellectual and social development of all students" and "Diversity = the future belongs to everyone!"
GCoE plans on hosting multiple events this year to celebrate diversity, and one of its most recent events was Jan. 22 "Spring Festival of Diversity," according to its webpage.
(H/T: MRCTV)
—
Follow Kathryn Blackhurst (@kablackhurst) on Twitter
—
Front-page image via Shutterstock
Want to leave a tip?
We answer to you. Help keep our content free of advertisers and big tech censorship by leaving a tip today.
more stories
Sign up for the Blaze newsletter
By signing up, you agree to our
Privacy Policy
and
Terms of Use
, and agree to receive content that may sometimes include advertisements. You may opt out at any time.