President Barack Obama wants to move some terror suspects from the Guantanamo Bay prison to U.S. maximum-security prisons or military prisons, and to their homelands and third party countries.
"This is about closing a chapter in our history," said Obama Tuesday, flanked by Vice President Joe Biden and Defense Secretary Ash Carter in the Roosevelt Room of the White House. "It reflects the lessons we've learned since 9/11—lessons that must guide our nation going forward."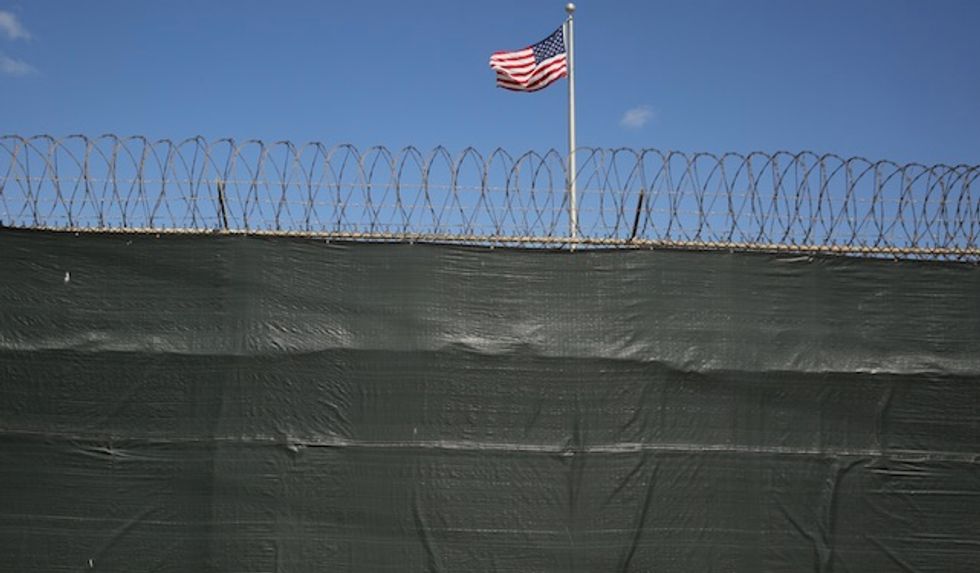 (AP)
The plan, if implemented, would wrap up a pledge that Obama made from his first day in office in January 2009 – closing the controversial prison for terror suspects long derided by Democrats and some Republicans. Obama pointed out that his predecessor George W. Bush and his 2008 opponent, Republican Arizona Sen. John McCain, favored closing the detention center.
"For many years, it has been clear that the detention facility at Guantanamo Bay does not advance our national security—it undermines it," Obama said.
Only 91 detainees are held in Guantanamo. Under the plan, almost 60 could be moved to the United States. Obama stressed that terror suspects are already being held in American prisons.
"We're going to work with Congress to find a secure location in the U.S. to hold remaining detainees," Obama said. "We can capture terrorists, protect the American people and when done right, put them in maximum security prisons, and we're just fine."
According to a report to Congress last year from the Office of the Director of National Intelligence, as of July 15, 2015, about 18 percent, 117 of 653, of detainees were confirmed to have reengaged in combatant activity. Meanwhile, another 12.1 percent, or 79 of 653, were suspected of reengaging in combatant activity. Combined this makes up about 30 percent, or almost one-third of those released.
The Obama adminsistration's plan is not likely to win support from congressional Republicans.
"After seven years, President Obama has yet to convince the American people that moving Guantanamo terrorists to our homeland is smart or safe. And he doesn't seem interested in continuing to try," House Speaker Paul Ryan (R-Wisc.) said in a statement. "His proposal fails to provide taxpayers with critical details required by law, including the exact cost and location of an alternate detention facility. Congress has left no room for confusion. It is against the law—and it will stay against the law—to transfer terrorist detainees to American soil. We will not jeopardize our national security over a campaign promise."
The plan would reportedly require about $475 million in construction costs, but the administration contends it would save $180 million in operating costs. Obama stressed the fiscal benefit.
"The plan we're submitting today is not only the right thing to do for our security, it will save money," Obama said. He added, "We can ensure our security, uphold our values around the world and save the taxpayers a lot of money."
Obama also pointed out that "we'll continue to securely and responsibly transfer to other countries the 35 of 91 detainees already approved for transfer," to make it clear not every detainee will be moved to the United States.
The plan was delivered to Congress on Tuesday. U.S. officials said they are considering 13 different locations to hold the prisoners, including seven existing prisons in Colorado, South Carolina and Kansas, as well as six other locations on current military bases. Congress, with bipartisan majorities, has already prohibited the administration from moving prisoners to the United States.
The administration contends the U.S. facilities would cost between $265 million to $305 million to operate each year, less than the $445 million to operate Gitmo. However, construction costs at U.S. sites could cost between $290 million and $475 million to house the terror suspects.
---