SALT LAKE CITY (TheBlaze/AP) -- Several top leaders from Warren Jeffs' polygamous sect were arrested Tuesday on federal accusations of food stamp fraud and money laundering - marking one of the biggest blows to the group in years.
Prosecutors say the sect based on the Utah-Arizona border diverted funds from Utah's nutrition assistance program for inappropriate use by its leaders.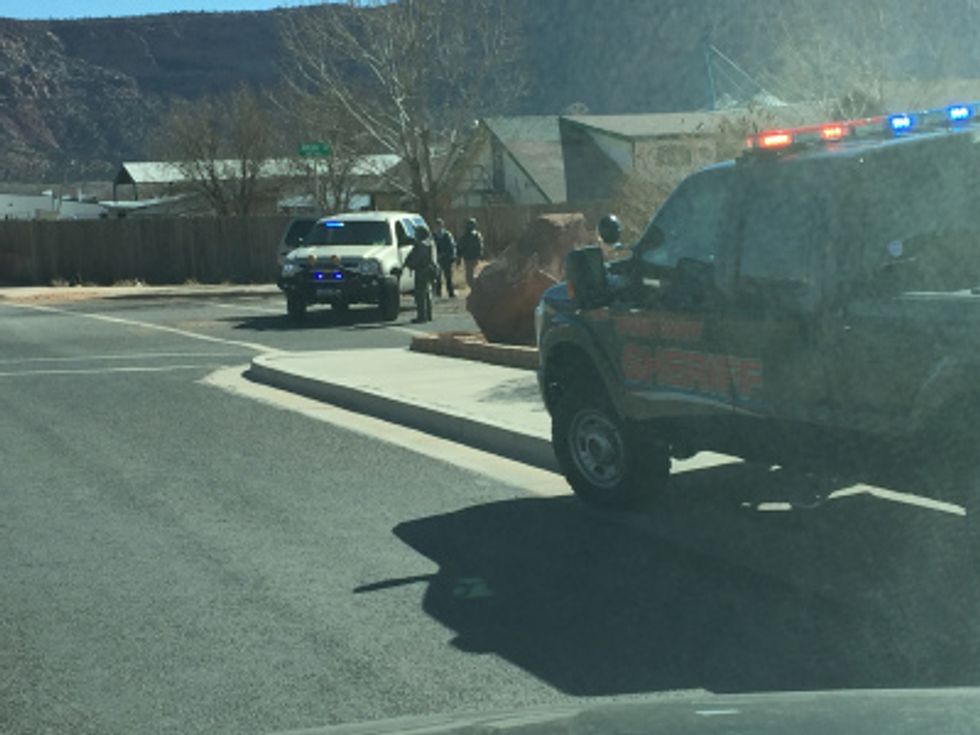 Image source: KSTU-TV
A total of 11 people were charged in the scheme, including Lyle Jeffs and Seth Jeffs, top-ranking leaders of the Fundamentalist Church of Jesus Christ of Latter Day Saints and brothers of imprisoned sect leader Warren Jeffs.
The 11 people who were indicted range in age from 41-56 and live in three different states – Utah, Arizona and South Dakota, according to KSTU-TV:
– Lyle Steed Jeffs, age 56

– John Clifton Wayman, age 56

– Kimball Dee Barlow, age 51

– Winford Johnson Barlow, age 50

– Rulon Mormon Barlow, age 45

– Ruth Peine Barlow, age 41

– Preston Yates Barlow, age 41

Custer, South Dakota

– Seth Steed Jeffs, age 42

Colorado City, Arizona

– Nephi Steed Allred, age 55

– Hyrum Bygnal Dutson, age 55

– Kristal Meldrum Dutson, age 55
Warren Jeffs is serving a life sentence in Texas for sexually assaulting his 12- and 15-year-old child brides at a secretive church compound in that state.
Lyle Jeffs runs the day-to-day operations in the polygamous community of Hildale, while Seth Jeffs leads a branch of the group in South Dakota.
"This indictment is not about religion. This indictment is about fraud," U.S. Attorney John Huber said in a statement.
Federal, state and local police served search warrants and made arrests Tuesday in Hildale, Salt Lake City and Custer County, South Dakota.
Hildale resident Andrew Chatwin said officers went into five businesses Tuesday, including a dairy store, produce store and a contractor.
"I'm watching them break in doors," Chatwin said.
The raids were the federal government's latest front in targeting church leaders. A civil rights trial against the twin polygamous towns of Hildale and Colorado City, Arizona, is underway in Phoenix, in which prosecutors say they discriminated against nonbelievers by denying them housing, water services and police protection.
The communities deny the allegations.
Private investigator Sam Brower, who has spent years investigating the group, says the case targets a new hierarchy in the group.
"This is a huge blow," Brower said. "Combined with everything else, it's incredible."
Lyle Jeffs is expected to make his initial court appearance Wednesday in a federal courtroom in Salt Lake City.
–