Former Yelp employee Talia Jane was fired Friday, just hours after she posted an open letter of complaint to the company's CEO, Jeremy Stoppelman, on Medium.
Four days later, a different company had a message for the now-unemployed 25-year-old: "We're hiring."
The marketing director at a Dallas startup company called Fdbak addressed Jane directly in a letter posted on Fdbak's Facebook page Tuesday.
Dear Talia Jane,I commend you for standing up for yourself, and your coworkers. Communicating directly with your CEO...

Posted by Fdbak on Tuesday, February 23, 2016
"Dear Talia Jane," marketing director Robert Cowlishaw wrote, "I commend you for standing up for yourself, and your coworkers. Communicating directly with your CEO takes a lot of courage, especially when the subject matter is negative."
"We'd love to have you on our team, helping us build a professional environment where you can speak freely and safely to anyone," the letter concluded.
When TheBlaze first reported on Jane's heated letter to Stoppelman, many stood by Yelp in its decision to fire the 25-year-old.
@theblaze @Yelp

So sick of these weak-minded, brainwashed fools. Make your own way. Be smart. Work hard. Set goals. Go get 'em!!!!

— PlainTalkRepublican (@PlainTalkGOP) February 23, 2016
@theblaze @Yelp if only this kind of karma could be for everyone who writes "open letters."

— Bryan Thomas (@advocadoesq) February 23, 2016
@theblaze it's called being a grownup

— Trey(Davis)Sivaad (@treson003) February 22, 2016
Jane's letter prompted a second letter, this one written by a 29-year-old writer in New York. In "An Open Letter to Millennials Like Talia," also posted to Medium, Stephanie Williams brutally criticized Jane's seemingly entitled attitude:
It sounds like you've hit some real post Haitian earthquake style hard times, so maybe some advice will help while you drink the incredibly expensive bourbon you posted on your Instagram account and eat that bag of rice, which was the only other thing you could afford!
Though Jane's letter prompted much outrage, the executives at Fdbak have said that the world needs more Talia Janes.
Fdbak founder Sean Minter spoke with TheBlaze Wednesday and explained why he believes this sort of "feedback" is exactly what employers need to hear from their workers.
"In our view, what happened to her was she ... posted some simple and factual information about her situation on social media, and in return, Yelp fired her," Minter said.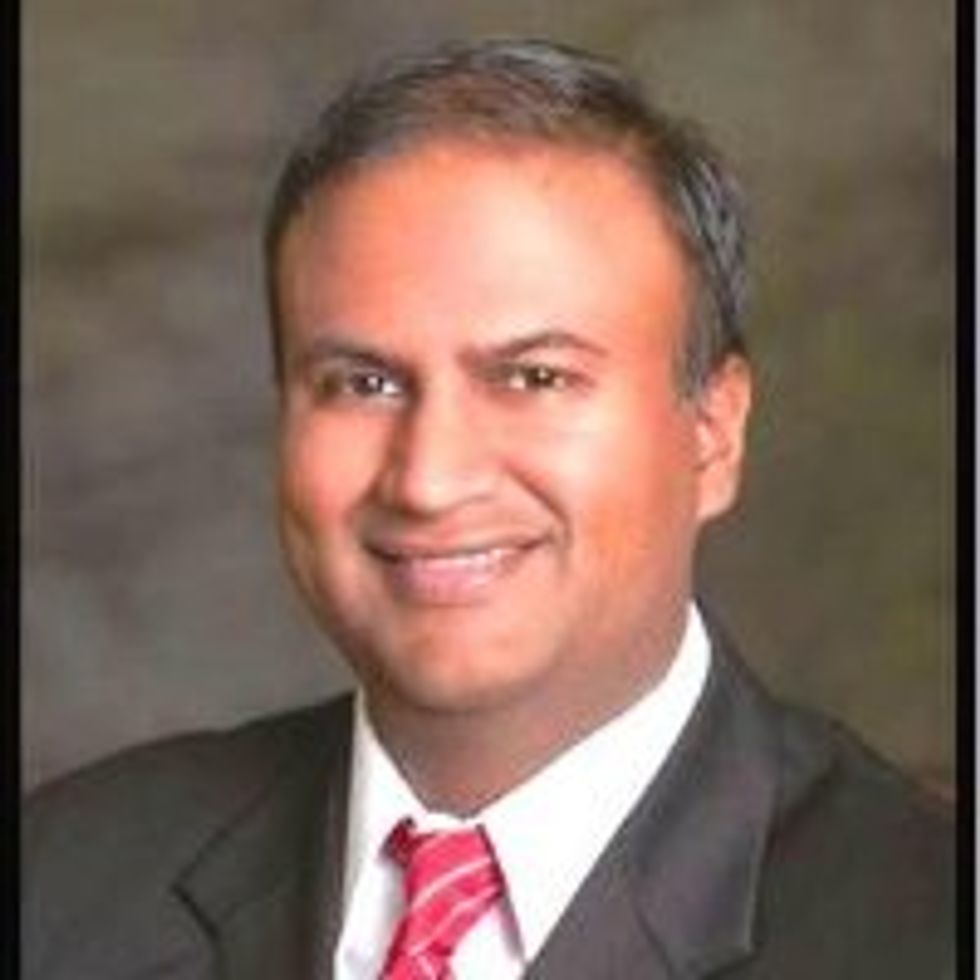 Sean Minter (Image source: LinkedIn)
Minter said that employers should be open to receiving valuable feedback from their employees, and he explained that the purpose of Fdbak is to create a safe, anonymous way for such exchanges to occur without an employee fearing that he or she will be fired.
"When we saw [the letter], we saw that this person was being persecuted by a company that didn't really have a culture where they listened to their employees," Minter said.
When asked if he thought the letter was out of line in any way, Minter said he did not.
"I mean, I think people have opinions, and people have a right to express those opinions," he said. "And if the company doesn't allow them to express that to their managers, their internal organizations, or anybody else, what are they supposed to do?"
Minter said that as long as the person is stating factual information, he sees no problem with an employee speaking her mind.
Fdbak is a multi-purpose app intended to serve colleges and universities, businesses, employees and customers. The private messaging forum is completely anonymous, allowing students to voice complaints to professors, customers to businesses and employees to employers without fear of reprimand.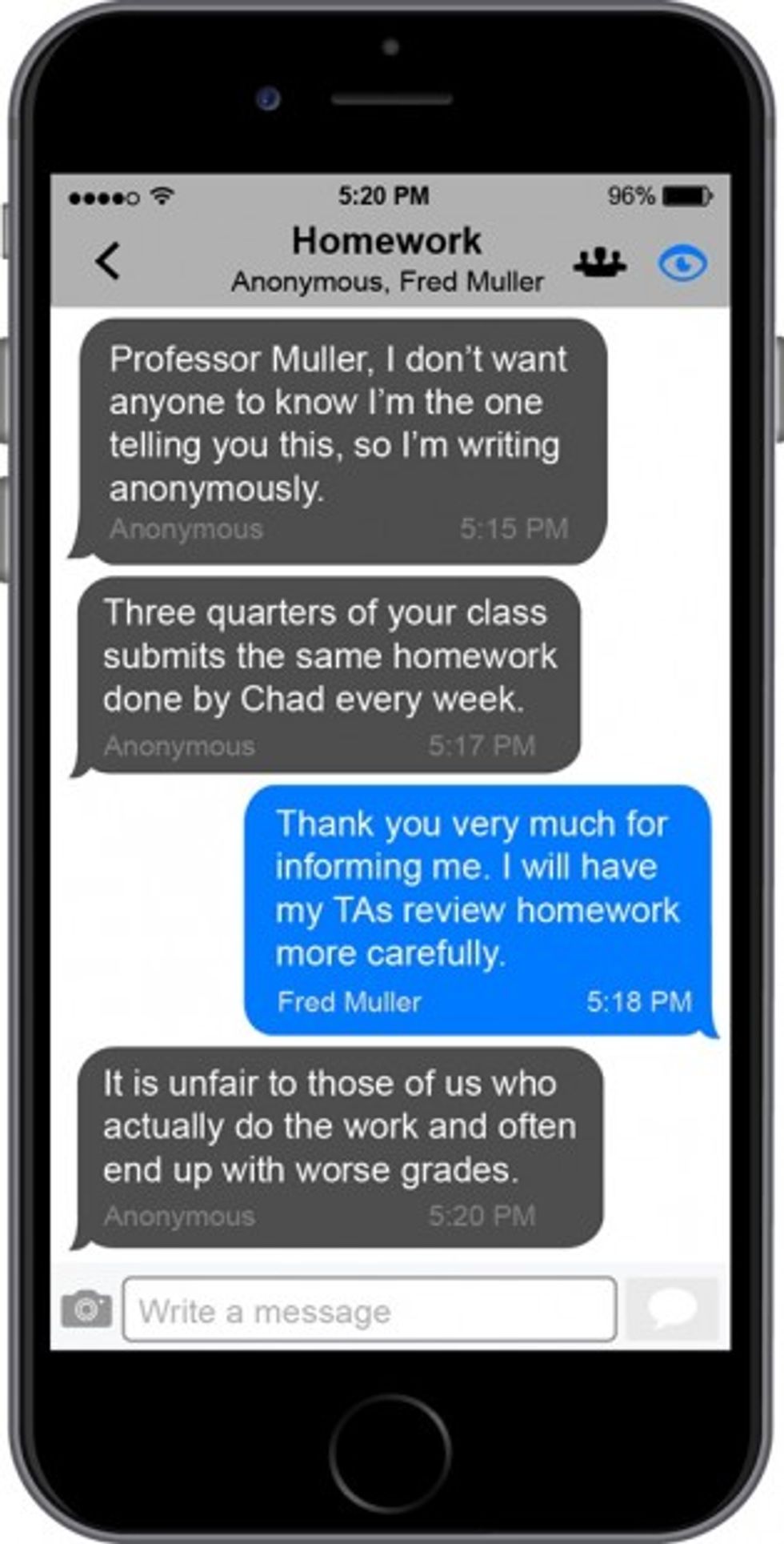 Image via Facebook/Fdbak
This obviously creates room for abuse, such as harassment and blackmail. But according to Minter, the benefits of honest dialogue outweigh any potential costs.
"We've built in the feature where anybody that gets a message from somebody and decides that they don't want any more messages from that person can block them," Minter said.
Minter, who once ran a company with about 10,000 employees, added that the private nature of Fdbak guards against abuse and encourages one-to-one communication. In other words, an attention-seeking employee who was not truly interested in improving work conditions would likely opt to voice his or her concerns on a public forum.
"Every employee has a right to ... express their view in the world to the people above them," Minter said. "People above them, just because they're executives, don't have the right to ignore them."
As far as hiring Jane goes, Minter said that her position has not been secured by any means. She will have to go through Fbak's interview process, during which the company will determine if she has the skills they're looking for.
Minter, however, does not hold Jane's Medium opus against her.
"If you look at her history, she'd never complained about a previous employer," he said. "I can imagine, putting myself in her shoes, in the situation that existed, she might've tried to talk to her manager who either didn't have the authority or didn't care ... so she decided to just go out their publicly and talk about the situation because there was no internal forum to allow for it."
"We're not just going to hire her because Yelp fired her," Minter said. "We saw her as a potential employee, and we put an offer out for her to contact us, and we're working through that process."