The University of Missouri voted Thursday to fire professor Melissa Click after her infamous run-ins with student journalists and a videotaped encounter with a police officer during campus protests last year brought the professor into the national spotlight.
Click, who had been an assistant mass media communications professor at the University of Missouri, received public backlash when she called for "some muscle" to remove a student journalist during protests that occurred Nov. 9 in an encounter that was caught on camera and quickly became viral, according to the Associated Press. During another incident in October during a homecoming parade, police bodycam footage showed Click's confrontation with police in which she shouted "get your hands off the children" and cursed at an officer who had grabbed her by the shoulder. For these confrontations, Click was charged with assault in January before being suspended from her post at the university.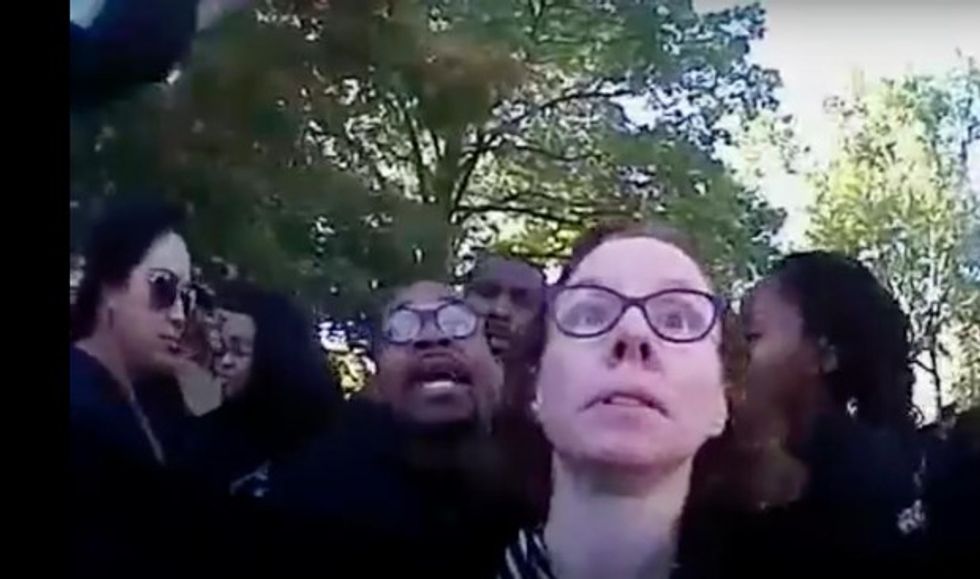 Image source: YouTube
In a statement that was released on Thursday, the university's board voted 4-2 in favor of firing Click, according to the Columbia Daily Tribune.
"The board respects Dr. Click's right to express her views and does not base this decision on her support for students engaged in protest or their views," Chairwoman Pam Henrickson said in the prepared statement, according to the Columbia Daily Tribune. "However, Dr. Click was not entitled to interfere with the rights of others, to confront members of law enforcement or to encourage potential physical intimidation against a student."
Interim Chancellor Hank Foley had said earlier this month that the body camera footage from the homecoming parade showed a "pattern of misconduct."
"Her conduct and behavior are appalling, and I am not only disappointed, I am angry, that a member of our faculty acted this way," Foley said, according to the AP.
"These have been extraordinary times in our university's history, and I am in complete agreement with the board that the termination of Dr. Click is in the best interest of our university," Foley added, according to the Tribune. "Her actions in October and November are those that directly violate the core values of our university."
—
Follow Kathryn Blackhurst (@kablackhurst) on Twitter