Newly released body cam footage shows the heated exchange between University of Missouri communications professor Melissa Click and police — a month before she made her now-infamous "muscle" comment, for which she was suspended.
The university's interim chancellor, Hank Foley, called Click's behavior in the footage "appalling," adding that he is both "disappointed" and "angry" that someone on the university's faculty would act that way.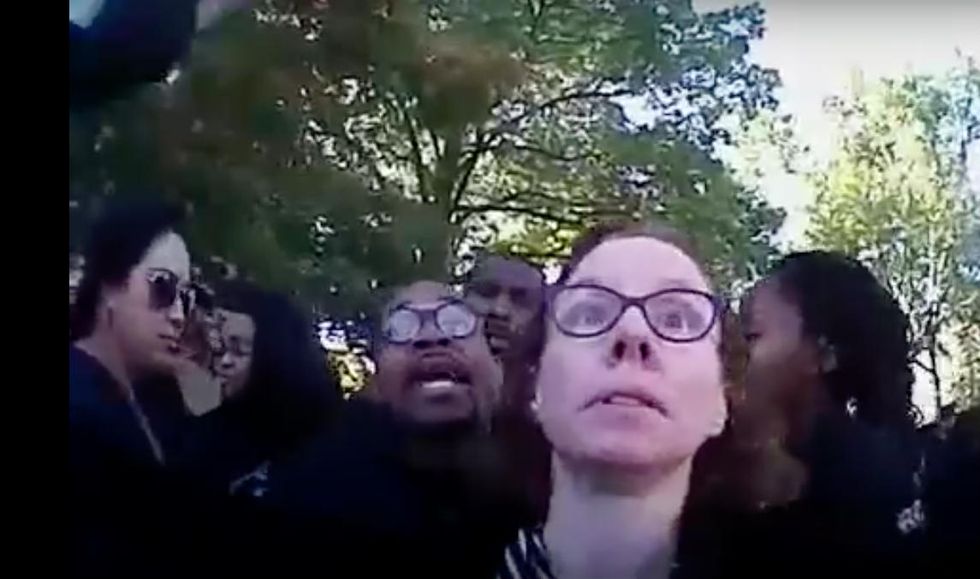 Image source: YouTube
"Last night, like many in our community, I watched newly released footage of Dr. Melissa Click directing a verbal assault against members of the Columbia Police Department during the homecoming parade in October 2015," Foley said, the Kansas City Star reported.
"Her actions caught on camera last October, are just another example of a pattern of misconduct by Dr. Click — most notably, her assault on one of our students while seeking 'muscle' during a highly volatile situation on Carnahan Quadrangle in November," Foley added.
Foley was referring to a comment Click made while calling for more "muscle" to remove student journalists during racially charged campus protests back in November — one month after her confrontation with police in October.
Click was charged with assault in January. She was eventually suspended from her post at the university.
"We must have high expectations of members of our community, and I will address these new revelations with the Board of Curators as they work to complete their own review of the matter," Foley said.
Click has apologized for her actions and has vowed to "fight to be treated fairly" and to regain her job," according to the Columbia Missourian.
(H/T: Kansas City Star)