Responding to a shooting the day before in Kansas, President Barack Obama said the public and news media "cannot become numb" to gun violence, and insisted that the country needs a Congress that won't shy away from new gun control laws.
En route to Jacksonville, Florida, aboard Air Force One, Obama spoke to Hesston, Kansas, Mayor David Kauffman. A gunman murdered three people and injured 14 others in the Kansas town.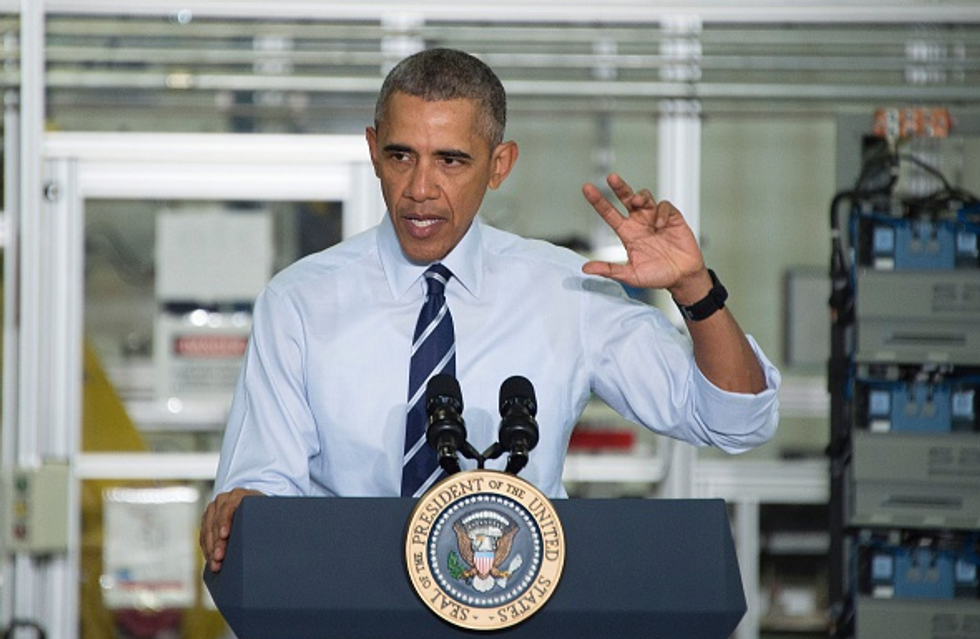 President Barack Obama speaks after touring Saft America Advanced Batteries Plant in Jacksonville, Florida February 26, 2016.  (JIM WATSON/AFP/Getty Images)
Speaking at the Saft America Advanced Batteries Plant in Jacksonville, Obama noted that this shooting followed one last week in Kalamazoo, Michigan, that killed six people.
"These acts may not dominate the news today, but these are two more communities in America torn apart by grief," Obama said. "I thought it was important for me to say something today because somehow these sorts of shootings become routine. We cannot become numb to this."
Obama has long sought stricter gun control laws, but has been unable to get his plans through Congress. In lieu of that, he has invoked executive action to make it more difficult to buy firearms at a gun show. Still in Florida, the president criticized Congress for failing to act.
"Anybody who says they want to keep the American people safe has to care about this because it's happening in far too many towns and affecting far too many Americans," Obama said. "There are some things we can do about it. Right now this Congress might not have any appetite to do something about it, but we need one that does. As long as I hold office I'm going to keep bringing this up. It's not getting the same attention that it should."
According to the White House, during the phone call with the Hesston mayor, Obama offered his condolences to the loved ones of those who were killed and his gratitude to first responders who acted quickly to save lives.
But Obama said he does not want to continue making phone calls.
"Lord knows I wish I didn't have to make these phone calls and comfort families," Obama said. "The real tragedy is the degree to which this has become routine. I hope all of you pay attention to this. I hope the media pays attention to this. Once a week we have these shootings, and it doesn't dominate the news."