Over the past several days, 2012 Republican presidential nominee Mitt Romney has been very critical of GOP front-runner Donald Trump and the fact that he has yet to release his tax information. Conservative radio host Rush Limbaugh said Thursday that he believes Romney's move is very calculated.
According to Limbaugh, many Republicans are on the verge of endorsing the Manhattan mogul's candidacy, in turn making the GOP establishment very worried. But with Romney's open attacks on Trump, Limbaugh says that will "freeze" or stop many Republicans from continuing forward with their potential endorsements.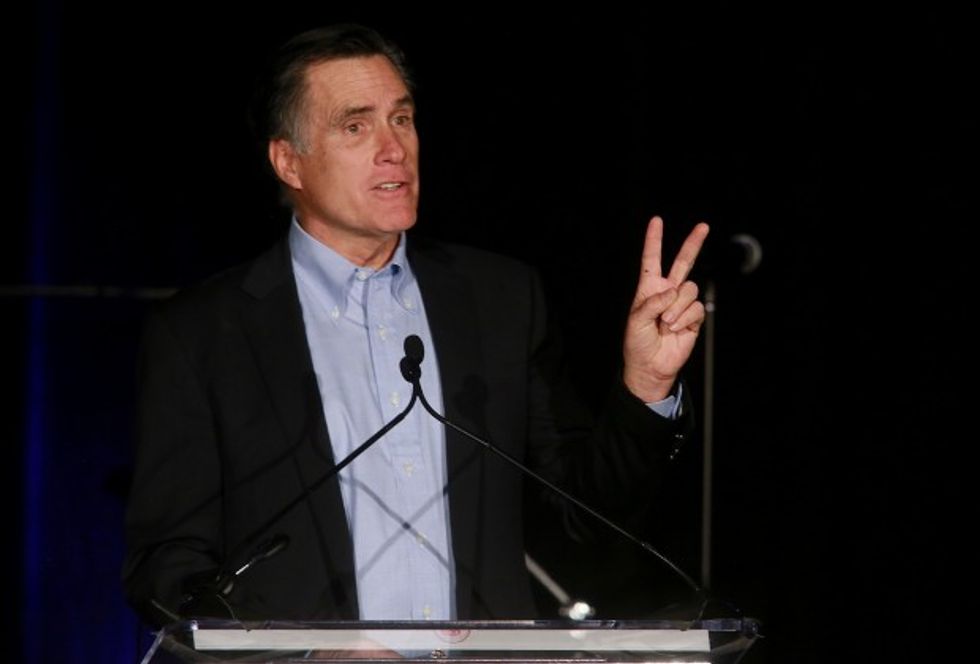 Mitt Romney speaks to fellow Republicans at a dinner during the Republican National Committee's Annual Winter Meeting aboard the USS Midway Jan. 16. (Getty Images/Sandy Huffaker)
"Romney's trying to make it look like he's seen Trump's taxes, and he's trying to make it look like Trump's taxes are not the taxes of a billionaire.  I mean, he's not paying very much," Limbaugh said on his show Thursday afternoon. "This is what is being insinuated. It's what being implied."
He added, "And you're supposed to infer that, 'Well, he's not paying nearly enough taxes for a billionaire, so either he's not a billionaire or he's cheating or maybe he's not donating all that money to charity that he says he is.'"
Limbaugh went on to compare was Romney is doing to what then-Senate Majority Leader Harry Reid (D-Nev.) did to Romney during the 2012 presidential election.
"This is exactly what Dingy Harry did to him, and Romney didn't exactly handle it very well when it happened to him," Limbaugh said. "So I think maybe it's just an attempt — I think he's trying to freeze Trump where he is on this possibility there might be Republican establishment types on the verge of endorsing Trump."
Reid made headlines in 2012 when he preached from the Senate floor that Romney hadn't paid his taxes for 10 years — a claim he had no evidence to prove. During that speech, Reid said it's up to Romney to prove he paid the taxes, but otherwise, the American people should assume he didn't.
Reid later admitted during an interview in 2015 with CNN's Dana Bash that he flat-out lied.
(H/T: Daily Rushbo)
—
Follow the author of this story on Twitter and Facebook:
[facebook //www.facebook.com/plugins/like.php?href=