During a campaign rally in Dallas Friday morning, GOP hopeful Marco Rubio mocked front-runner Donald Trump, jokingly accusing the businessman of wetting his pants during Thursday's tense debate. He also bashed Trump for his Friday morning Twitter tirade.
"What does Donald Trump do when things go wrong?" Rubio rhetorically asked his crowd. "He takes to Twitter. I have them right here — lets read some. You'll have fun!"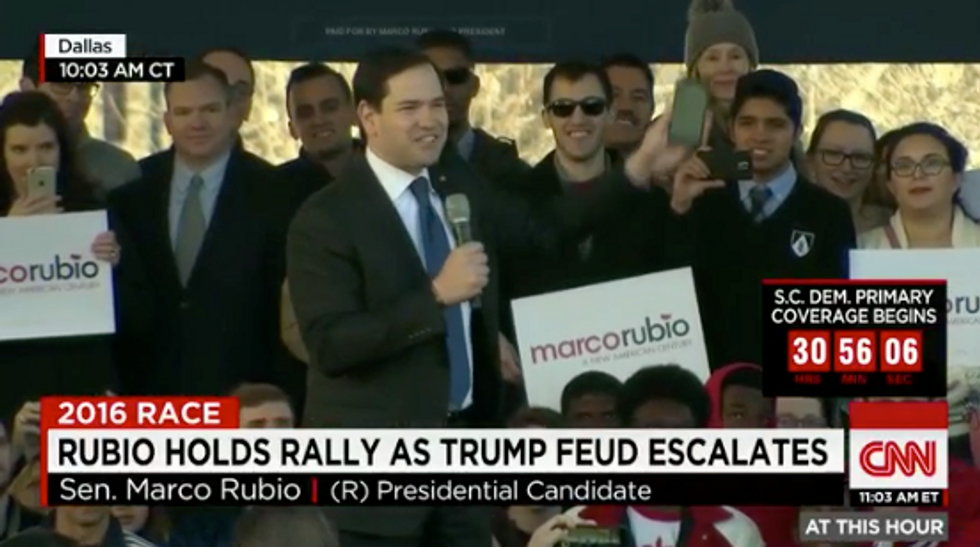 Image via Twitter/RachaelBL
Rubio went on to read Trump's tweets, which were widely reported Friday morning because they were riddled with egregious spelling errors — an common trait of the businessman's Twitter feed. The tweets were mostly aimed at Rubio.
"He called me 'Mr. Meltdown." Let me tell you something. Last night in the debate during one of the breaks — two of the breaks — he went backstage. He was having a meltdown," Rubio said. "First, he had make-up applied around his mustache, because he had one of those sweat mustaches."
"Then, then he asked for a full-length mirror. I don't know why because the because the podium goes up to here," he continued, raising his hand to his chest, "but he wanted a full-length mirror — maybe to make sure his pants weren't wet."
Rubio and Trump sparred many times during Thursday's debate, and many analysts believe the Florida senator got the best of Trump.
Marco!!! Rubio accuses Trump of wetting his pants. https://t.co/WAJfN11G7m

— Rachael Larimore (@RachaelBL) February 26, 2016
—
Follow the author of this story on Twitter and Facebook:
[facebook //www.facebook.com/plugins/like.php?href=