DALLAS, Texas — Ted Cruz makes his final pitch in his home state today, telling Republican Super Tuesday voters that if they don't want Donald Trump as their nominee, they have to choose him.
"Super Tuesday I believe is the most important day of the entire primary," Cruz told reporters following a rally at Gilley's honky tonk in Dallas. The Texas senator called it a "decision point" in the primary cycle between him and the 2016 front-runner.
"Donald Trump is telling us that he can go to Washington and cut deals with Harry Reid and the Democrats," Cruz said. "It's what he's done his whole life — he's supported liberal Democrats."
Cruz repeated his argument that he's the only candidate who's proven he can beat Trump by winning the Iowa caucuses at the beginning of the month.
But three primaries have happened since then, and Trump has won them all. On Tuesday, Cruz will need to remind voters that he can win — and there's no better place than in Texas, where there are 155 delegates up for grabs, the most of any SEC Primary state.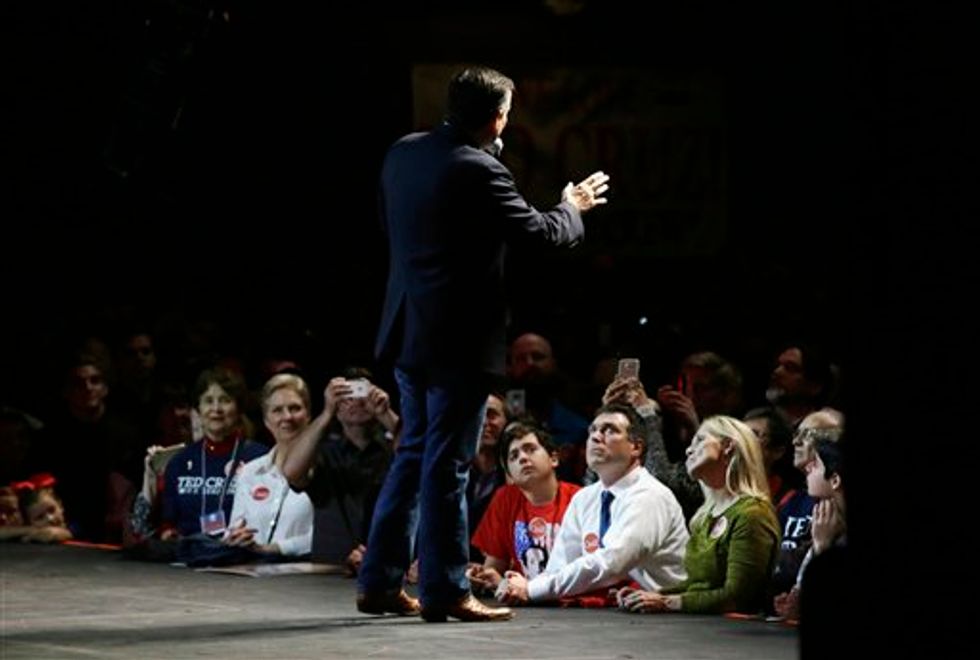 Texas Republican Sen. Ted Cruz speaks at Gilley's in Dallas on Monday. (AP/LM Otero)

"I am confident we are going to have a very good day in Texas tomorrow," Cruz said. "We have tremendous support here."
Cruz was joined Monday by former Texas Gov. Rick Perry and current Gov. Greg Abbott, top-of-the-line endorsements in the Lone Star State. And Texas started early voting weeks ago, before Trump's most recent wins, a fact that could play in Cruz's favor.
On Monday, Cruz hammered Trump on his electability versus former Secretary of State Hillary Clinton if she is the Democratic nominee. The stakes are too great this election — with a Supreme Court vacancy and the threat of foreign and domestic terrorism — for conservatives not to coalesce around a single Trump alternative, he said.
"If we nominate Donald Trump, in all likelihood, Hillary Clinton wins and we lose the Supreme Court for a generation," he said. "If you're one of the 65 percent of Republicans who recognizes that Donald Trump is not the right candidate to go head-to-head with Hillary, there is only one campaign that has beaten Donald Trump and that can beat Donald Trump and that is us."
Cruz listed Democrats that Trump has donated to — arguing that he's supported liberal candidates and causes for decades.
"We don't want the general election to be two rich New York liberals — a Democrat and a Republican — who agree on a whole host of issues," he said. "Instead, we want a principled constitutionalist."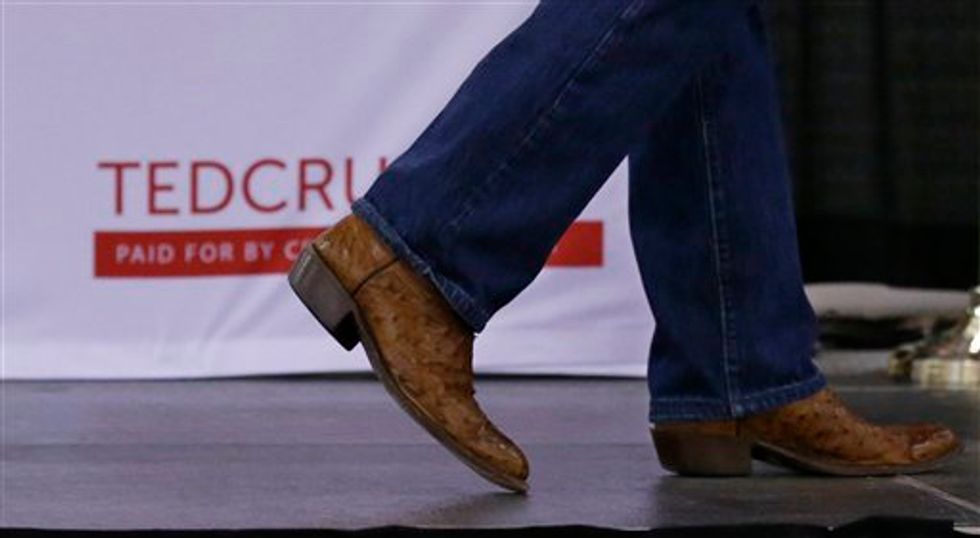 Texas GOP Sen. Ted Cruz walks across the stage during a rally in Tulsa, Oklahoma, Sunday. (AP/Sue Ogrocki)
Cruz didn't name fellow GOP presidential candidates Florida Sen. Marco Rubio, Ohio Gov. John Kasich or neurosurgeon Ben Carson, but pointed out that after Super Tuesday, it should be clear to the other candidates that they're helping Trump with their continued presence in the race.
"Here's what's likely to happen," Cruz said. "At the end of tomorrow, Donald Trump is in all likelihood going to have a good chunk of delegates. And we are, I believe, going to have a big chunk of delegates. And I think everyone else will be way, way behind. At that point, it will become abundantly clear this is a two-man race. It takes delegates to win the nomination — if you can't win states, if you can't win delegates, you're not going to be the nominee."
Rubio especially has been challenging Cruz for the anti-Trump vote. In the days since Thursday's debate the two candidates have played nice with each other, focusing their energies on attacking Trump instead. Cruz hinted that the delegate scoreboard after Super Tuesday should give a good picture of who should stay in the race.
"What's going to matter starting Wednesday morning is delegates, how many delegates you have, and I believe we're going to do well tomorrow," he said.
Cruz asked Super Tuesday voters to send a message to the other Republicans in the field who they choose to challenge Trump.
"We are neck and neck with Donald Trump in Super Tuesday states all over the country," he said. "So if you're in any of the Super Tuesday states and you're looking for candidates ... if you don't want to see Donald Trump as our nominee and you don't want to see Hillary Clinton win the general, then I ask us to come together."
—
Follow the author of this story on Twitter and Facebook:
[facebook //www.facebook.com/plugins/like.php?href=