The New York Times has in its possession a tape of Donald Trump revealing his true beliefs on immigration during an off the record meeting he had with the newspaper, according to a BuzzFeed report published Monday.
BuzzFeed Editor-In-Chief Ben Smith reported that some staffers at the Times think the audio tape of the conversation "could deal a serious blow to Donald Trump, who, in an off-the-record meeting with the newspaper, called into question whether he would stand by his own immigration views."
Sources told BuzzFeed that the transcript of the audio tape had reached "mythical status at the Times" and contained a comment where Trump said something about the flexibility of his immigration stance.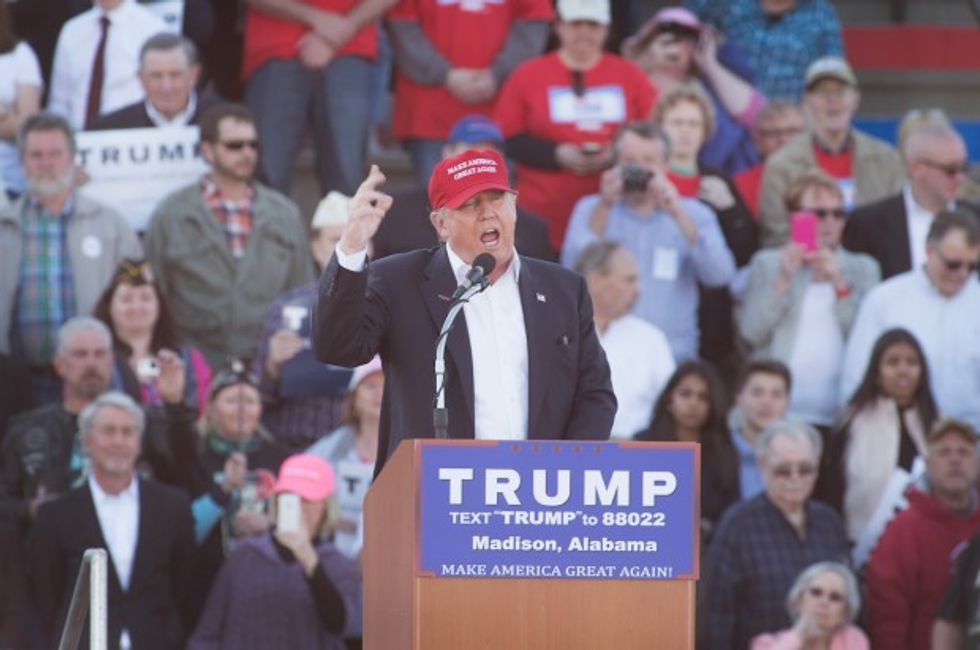 Scott Olson/Getty Images
The Times said it could not release the transcript of the meeting without permission from Trump, since it was an off-the-record meeting.
"If [Trump] wants to call up and ask us to release this transcript, he's free to do that and then we can decide what we would do," the newspaper's editorial page editor told BuzzFeed.
Since the report, Trump's 2016 rivals have called on the billionaire to grant the Times permission to release the transcript of the meeting.
Marco Rubio said Trump should release the tape "so we can see exactly what it is he truly believes."
In an interview with radio host Hugh Hewitt, Ted Cruz echoed the call.
"I have read the story, and Donald needs to release the tape," Cruz said.
The Texas senator added, "The New York Times has a tape of this. Donald needs to call and allow the New York Times to release that tape. They've said they won't release it without Donald's permission. So the voters on Super Tuesday need to know. Is Donald Trump telling the New York Times that he still supports amnesty?"
—
Follow the author of this story on Twitter and Facebook: