Israeli Prime Minister Benjamin Netanyahu says arguing that despair fuels Palestinian terrorism is incorrect; rather, it's an "appetite for destruction" that has motivated violent attacks by Palestinians for nearly 100 years.
Terror attacks "don't come because of their despair and the frustration over the inability to build. They come because of their despair and the frustration over inability to destroy," Netanyahu said in a speech Sunday night commemorating the late Prime Minister Yitzhak Shamir, the Times of Israel reported.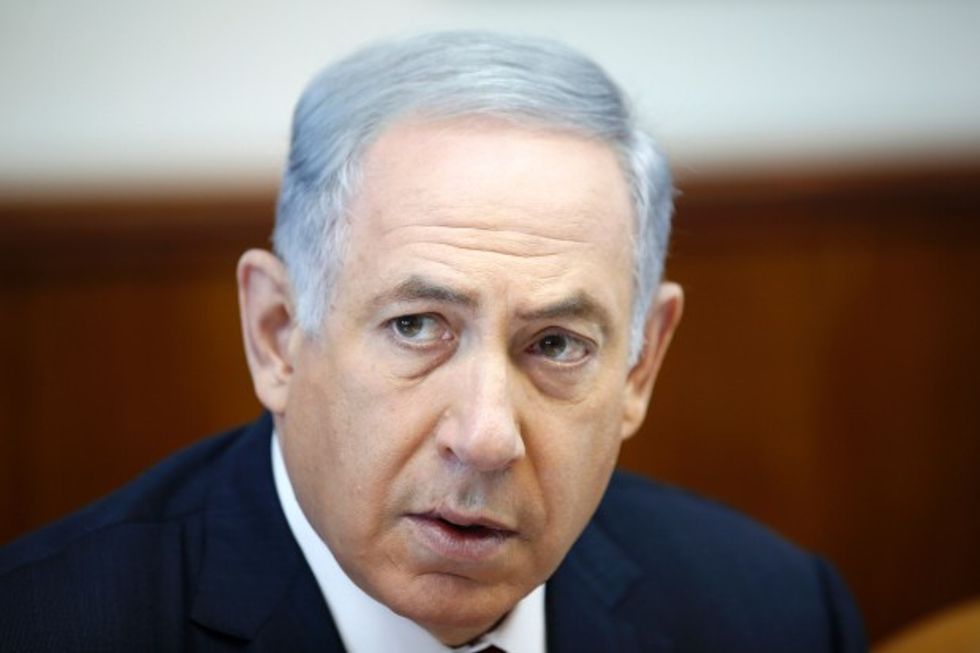 Israeli Prime Minister Benjamin Netanyahu chairs the weekly cabinet meeting at his office in Jerusalem Sunday. (Ronen Zvulun/AFP/Getty Images)
Netanyahu asserted that explaining away terrorism as a function of desperation "exonerates the Palestinians from being responsible for their actions."
Arab attacks on Jews occurred "before the state was founded and afterwards, before there were territories and settlements and afterwards, when there was a peace process and when there wasn't one."
The international media as well as western diplomats including the Obama administration regularly attribute Palestinian violence to a frustration with Israeli construction of West Bank settlements and the lack of any progress in the peace process.
Quoting the late Israeli leader Shamir, also from Netanyahu's Likud party, Netanyahu said that Palestinian violence is fueled by an "appetite for destruction."
"The first wave of terrorism in the 1920s, when my grandfather immigrated to Israel, was nourished by the claim of Mufti Haj Amin al-Hussein that the Jews were going to destroy the Al-Aqsa Mosque and build a third temple in its place," Netanyahu said, according to the Jerusalem Post.
The prime minister asked if that "sounds familiar."
Husseini was the Palestinian Muslim leader during the 1920s and 1930s known notoriously for collaborating with the Nazis.
"The incitement continues and the waves of terrorism come and go, come and go," Netanyahu said.
Israel has since September faced a wave of nearly daily violent Palestinian attacks, including stabbings, ax attacks, vehicular assaults and shootings.