The nanny accused of beheading a disabled child in her care reportedly led law enforcement officials back to the scene of the crime and pointed out the exact location where she carried out the heinous act.
The 38-year-old nanny, Gyulchekhra Bobokulova, is believed to be cooperating with police, according to the Daily Mail. After officers took her back to the flat in Moscow, Bobokulova reportedly admitted to them that she strangled 4-year-old Nastya Meshcheryakova before she cut her head off with a kitchen knife. The child's remains were found in her cot.
Bobokulova garnered attention when she paced in front of a metro center in Moscow wearing a burqa and hoisting the head of the child. Witnesses said she shouted "Allahu Akbar" and warned that she would "blow everyone up."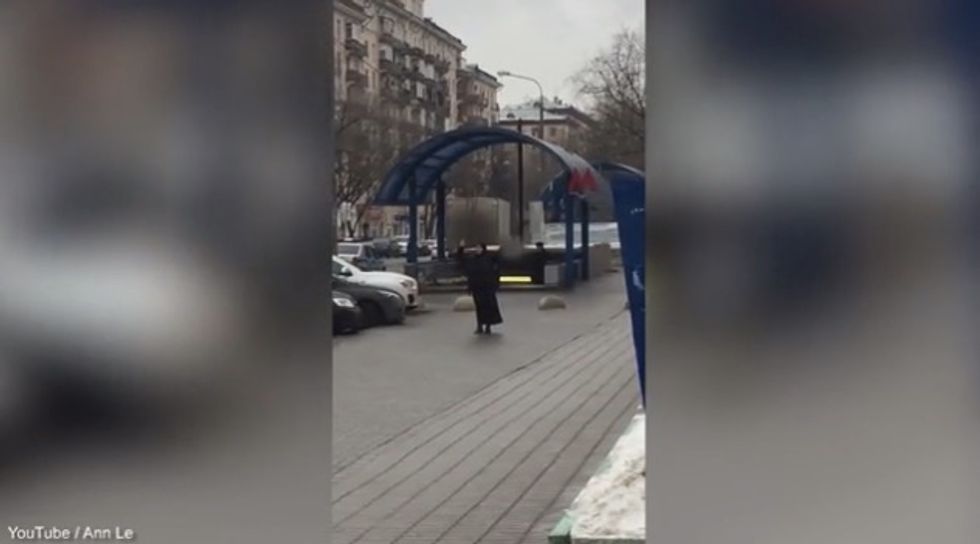 Image source: Daily Mail
However, despite her threats that she was a terrorist, the Daily Mail reported that police have not yet found a link between her and any extremist organization. Bobokulova told police that she was "haunted by voices" and was driven mad with anger when she discovered that her husband in Uzbekistan had began a new family after she went to work in Russia. She reportedly denied his request to become his second wife.
The Daily Mail reported that another theory for Bobokulova's snapping was that she was angered by a Tajik boyfriend who she had met while she worked in Moscow. A source told the Daily Mail that, "All of a sudden, she found out he was actually married. It was a shock for her. She came back to Moscow in shock."
A police source told the Daily Mail that while "initially she seemed insane," Bobokulova later "agreed to the investigative experiment" and accompanied officers back to the flat.
"She was brought to the apartment where the murder was committed. She pointed to the block, the entrance and the apartment by herself," the police source said.
"I came here and took off my skirt, threw it in a rubbish bin. Got changed into what we wear to have prayer. A voice told me to wear so," Bobokulova allegedly told police.
According to the Associated Press, Russian TV has not carried any reports about Bobokulova and her arrest.
Russian President Vladimir Putin's spokesman on Tuesday denied that the news was withheld at the request of the Kremlin or out of concerns that the brutal killing could stoke ethnic tensions in a country with many Muslims.
Police said Bobokulova set a fire in the apartment after she beheaded the child. The Daily Mail reported that the Nastya's parents are inconsolable.
The Associated Press contributed to this report.
This story has been updated.