A woman in Russia reportedly decapitated a little girl who was in her care and paced in the street as she shouted "Allahu Akbar."
According to the Daily Mail, the woman, who is seen in a burka, paraded in front of a metro station in Moscow hours after police said they found the headless body of a 4-year-old girl who is only identified as Nastya M. The Daily Mail reported that the woman is Gyulchehra Bobokulova, 38, a nanny from Uzbekistan.
Investigators said Bobokulova started a fire in the apartment where she worked after the parents of an older child had left. It was then that she murdered the young girl. When firefighters arrived at the scene, they discovered the headless body.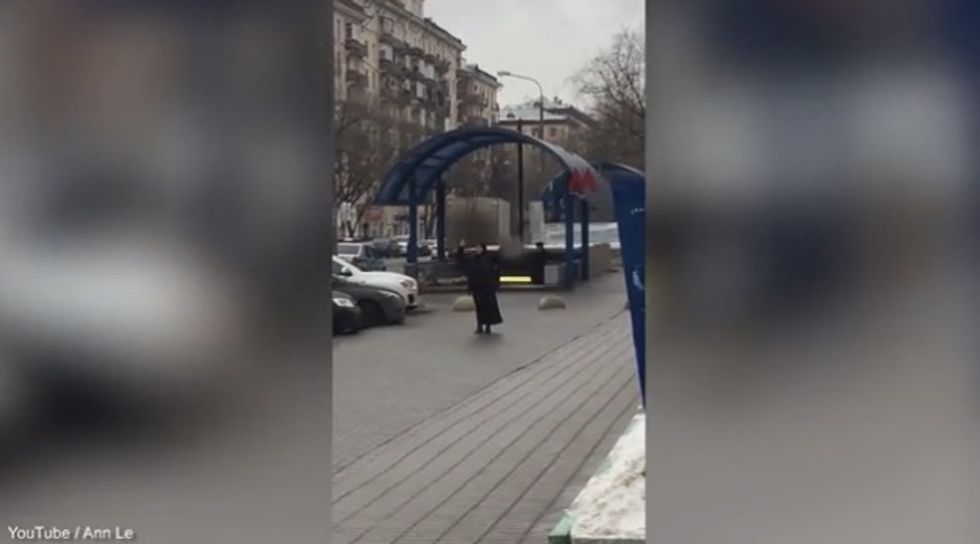 Image source: Daily Mail
"She waited until the parents with the elder child left the flat, then for unknown reasons she killed the child, set fire to the apartment and left the scene," a source involved in the investigation said, according to the Daily Mail.
The girl reportedly had learning disabilities and could not walk. Her parents rented the apartment where they lived along with her 15-year-old brother.
"I was on my way to the metro station from home," Polina Nikolskaya, a reporter who witnessed the scene, said.
"She was standing near the metro entrance and caught my attention because she was screaming 'Allahu Akbar.' I saw that she had a bloodied head in her arms, but I thought it was not real," she said. "People in the crowd said it was real."
Another witness said the woman shouted, "My child was killed ... I will blow up everyone" and "I hate democracy."
The Daily Mail reported that Bobokulova told police that she wanted them — and the girl's parents — to know what she had done. She allegedly told police that she committed the crimes because of her husband's infidelity.
Bobokulova was allowed to be in Russia but was working illegally as she did not have a work permit.
According to the Daily Mail, police are not treating the incident as terrorism.
(H/T: Daily Mail)