Three Democratic politicians and one Republican governor have said already that they aren't interested in being nominated for a Supreme Court vacancy that has a shaky chance of confirmation, but White House press secretary Josh Earnest told TheBlaze it will be a nomination worth having.
TheBlaze asked, given the sometimes brutal confirmation process Supreme Court nominees have to go through, if it would be difficult to recruit a nominee if the chance of confirmation is less than 50 percent. Earnest answered, "It absolutely is."
"I do not anticipate having any trouble choosing the right person for the job and having that person accept the opportunity to go through the nomination process. The nomination process, as you point out, is rigorous, and it should be," Earnest told TheBlaze. "We're talking about a lifetime appointment to the highest court in America. It should a rigorous process."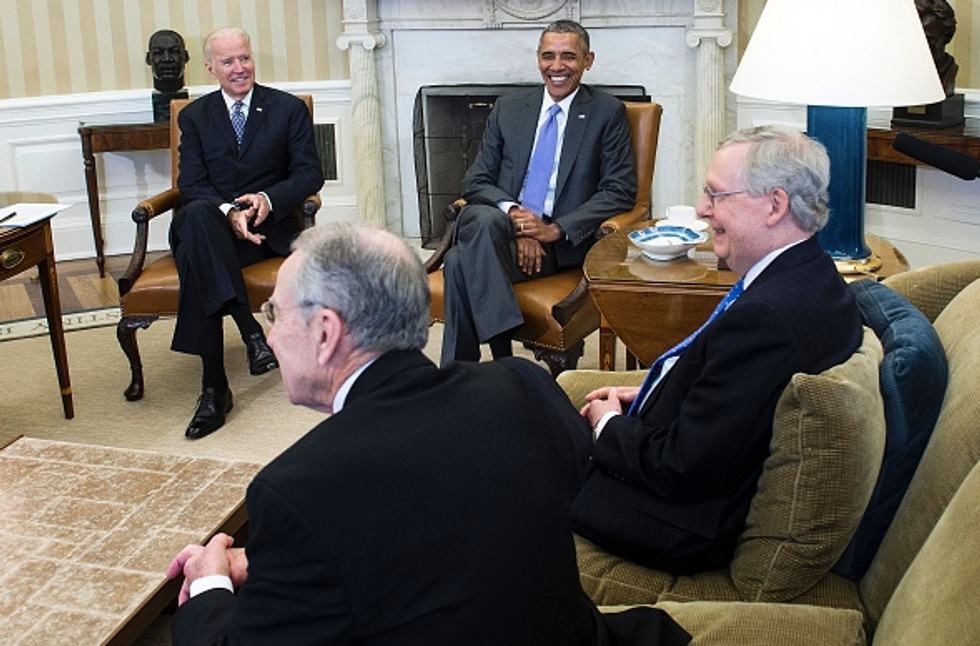 Vice President Joe Biden, Senate Judiciary Chairman Chuck Grassley (R-Iowa), President Barack Obama and Senate Majority Leader Senator Mitch McConnell (R-Ky.) wait for a meeting about the Supreme Court vacancy to begin in the Oval Office of the White House Tuesday. (Brendan Smialowski/AFP/Getty Images)
Nevada's Republican Gov. Brian Sandoval ruled it out, while Democrats such as New Jersey Sen. Cory Booker, California Attorney General Kamala Harris and Minnesota Sen. Amy Klobuchar all said they would pass on the opportunity.
U.S. Attorney General Loretta Lynch recently dodged questions on accepting a nomination.
"There should be a lot of meetings private and public. There should be days of hearings under oath where Democrats and Republicans ask tough questions and the nominee is in front of the American people under oath. That should be part of the process," Earnest continued. "What's also true is that the process shouldn't unnecessarily be drawn out. You can have a rigorous intense process that isn't plagued by unnecessary delays."
Washington Post columnist Marc Thiessen wrote, "Obama will be asking someone to be the pilot of a political kamikaze mission. Who would agree to do that?"
Senate Majority Leader Mitch McConnell (R-Ky.), Senate Minority Leader Harry Reid (D-Nev.), Senate Judiciary Chairman Charles Grassley (R-Iowa) and Sen. Patrick Leahey (D-Vt.), the ranking member of the Judiciary Committee, all met with Obama and Vice President Joe Biden in the Oval Office Monday about the vacancy on the Supreme Court that occurred after the death of Justice Antonin Scalia.
"Since, I believe, the mid-70s, the average amount of time its taken for a Supreme Court justice, once nominated, to be confirmed, is 67 days," Earnest continued. "We can spend about two months questioning and probing and evaluating the candidacy of whoever is put forward. But at that point, that person should get a vote — a yes or no vote — on whether they deserve to serve on the Supreme Court."
Earnest said that it didn't seem that either McConnell or Grassley had changed their minds on not accepting any nominee to the high court submitted by Obama.
Ahead of the meeting, McConnell said he and Grassley would only reiterate their positions. He also referred to past comments by Reid and Sen. Charles Schumer (D-N.Y.), expected to be Reid's successor at the Democratic Senate leader.
"Americans also know what both the current and future Senate Democratic leaders had to say about judicial nominees when a different party was in the White House," McConnell said. "They've heard the senator from Nevada's admonishment that 'nowhere in [the Constitution] does it say the Senate has a duty to give presidential nominees a vote.' They know the senator from New York didn't even wait until the final year of President George W. Bush's term to declare that that the Senate should 'not confirm a Supreme Court nominee except in extraordinary circumstances.'"
After the meeting, the Democratic senators told reporters it was very short meeting. Reid said Republicans were "adamant" about their stance.
"There wasn't much said at the meeting," Reid said.