CNN commentators Van Jones and Jeffrey Lord met once again on the network's "New Day" show Wednesday just hours after the two engaged in a heated exchange concerning Donald Trump's recent Ku Klux Klan controversy.
On Tuesday, Jones and Lord clashed over Lord's defense of Trump's refusal to disavow David Duke and the Ku Klux Klan after former KKK leader Duke announced his support for Trump in the billionaire's bid for the 2016 republican presidential nomination. The crux of the controversy occurred after Trump, when pressed by CNN's Jake Tapper to rebuke Duke and the KKK, initially refused to condemn Duke's alleged endorsement of his candidacy.
When Chris Cuomo and Alisyn Camerota welcomed Lord and Jones back for a continuation of their clash Wednesday, Camerota jokingly referred to the event as "couples therapy." Even though Camerota noted that only 15 seconds of time remained on the clock at one point during the reprisal, Cuomo and Camerota allowed the two commentators to debate one another for more than 20 minutes and well into the 9 a.m. ET time slot, according to Mediaite.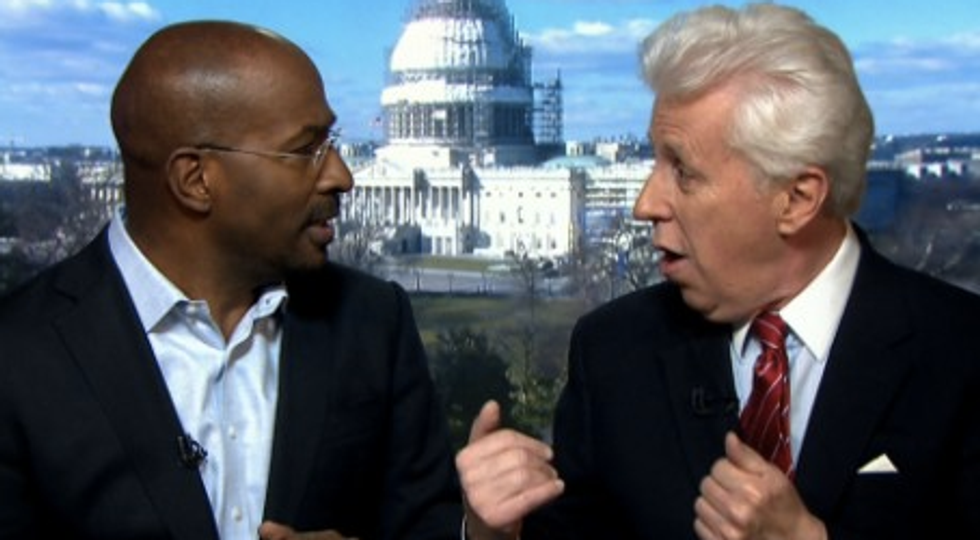 Van Jones, left, and Jeffrey Lord. (Image source: CNN)
During the second encounter, Lord reaffirmed his belief that Trump actually disavowed the Duke endorsement, even though he didn't do so outright during the original Jake Tapper interview. Jones, vehemently disagreeing with Lord, bashed Trump for his failure in "leadership" as Cuomo and Camerota moderated the exchange.
When Lord called the  KKK a "leftist terrorist organization" with historical ties to the Democratic Party, Jones argued that "we've had a reversal."
"There's this weird strain now, on the right, that likes to pretend that their hands are completely clean when it comes to race," Jones claimed. "I don't care how they voted 50 years ago, I care about who they killed. When you do not acknowledge that [Trump] did not answer that question [about disavowing the Klan] with the passion he answered with other terrorist organizations, you do yourself a disservice, you do your candidate a disservice."
When Jones brought up his concerns over black people being beat up at Trump rallies, Lord responded, saying, "Your kids are being treated this way because of the conduct of your party for 200 years! The point is you have not stopped."
"The Republican Party was the party of liberation. The Democratic Party was the party of liberty — more about property than people. That began to switch over the last century. Anybody with two eyes knows that!" Jones retaliated, before adding at the end of the debate that "the reason that we can have this conversation is because I respect [Lord]."
Jones also added that he thinks "the Trump voters have been disrespected," to some extent.
Watch the entire exchange, in two segments:
(H/T: Mediaite)
—
Follow Kathryn Blackhurst (@kablackhurst) on Twitter