No, Gov. Chris Christie (R) is not being held hostage by Donald Trump.
As GOP presidential nominee Donald Trump gave his Super Tuesday speech, it seemed that the most notable takeaway from the press conference was Christie's face. The Internet, of course, erupted with theories of what Christie's concentrated expression could mean, the results ranging from a hostage situation to regret of his endorsement of Trump.
However, Christie cleared up all rumors, speculation and concern from "armchair psychiatrists" during his own press conference in New Jersey Thursday as he said Trump's Super Tuesday speech "wasn't the kind of circumstance where I'd be jumping up and down, cheering and smiling."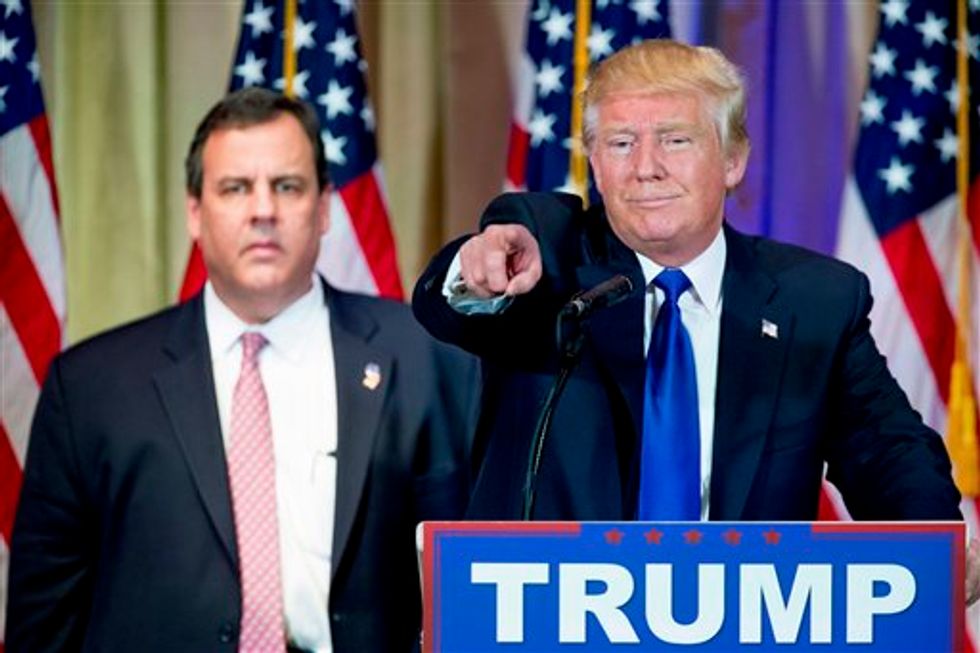 Republican presidential candidate Donald Trump, accompanied by New Jersey GOP Gov. Chris Christie, left, takes questions from members of the media during a news conference on Super Tuesday primary election night in the White and Gold Ballroom at the Mar-A-Lago Club in Palm Beach, Florida. (AP Photo/Andrew Harnik)
"No, I wasn't being held hostage. No, I wasn't sitting up there thinking, 'Oh my God, what have I done?' I was sitting up there, standing up there, supporting the person who I believe is the best person to beat Hillary Clinton of the remaining Republican candidates, and it's why I endorsed him," Christie said. "I understand everybody had a lot of fun with it. It doesn't matter to me."
Christie told reporters that he has had "a lot of fun on the Internet with people at times, too."
"He was answering questions from the national press corps, and I was listening," Christie also said. "So no, I wasn't being held hostage."
"I wasn't anything other than happy that he had done as well as he had done that night and listening to someone give a press conference in front of the national press corps," he said. "I don't think that's the appropriate time for smiling, cheering and clapping. So that's all it was."
Christie was also a 2016 Republican presidential hopeful until he ended his campaign in February. His endorsement of Trump has upset other Republicans and resulted in six New Jersey newspapers banding together to call for his resignation as governor.
The New Hampshire Union Leader, which had previously endorsed Christie's campaign, published an editorial earlier this week in which it reacted to Christie's support of Trump by poking fun at itself, saying "boy, were we wrong" about the paper's previous endorsement.
(H/T: Politico)
—
Follow Kaitlyn Schallhorn (@K_Schallhorn) on Twitter