"I love Donald Trump," nine-year-old Gabe says emphatically at the start of the video.
But it doesn't take long for the children's excitement to diminish in the Fine Brothers' new "Kids React" video, which focuses on brash Republican presidential contender Donald Trump. As the video continues, the kids seem to become more disapproving of the billionaire candidate.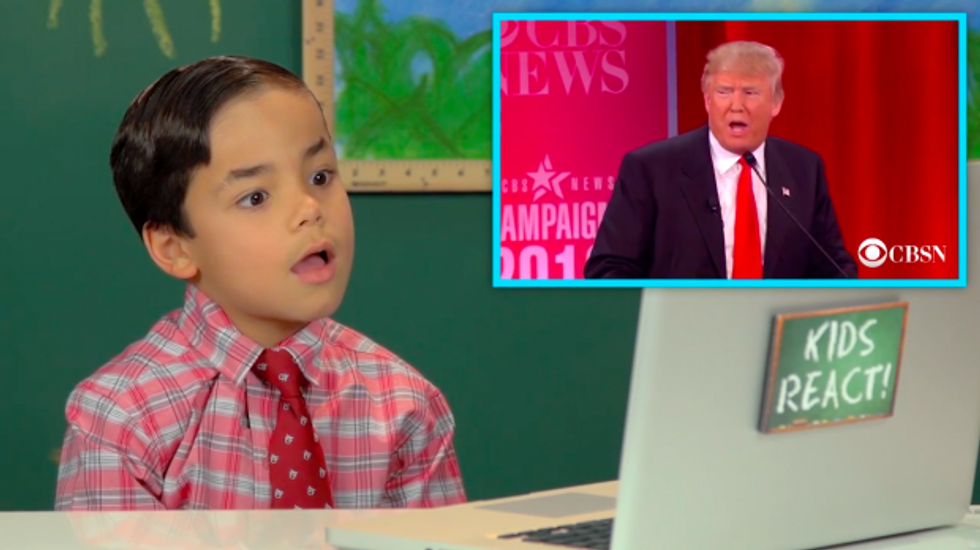 Children react to Donald Trump in Kids React video. (Image: YouTube/Fine Brothers Entertainment)
In fact, the children start to see a little bit of themselves in the GOP front-runner.
"He's like a five-year-old," Jayka, 13, says. "He throws tantrums about stupid things."
"It hasn't been easy for me, but I'm filthy rich," another child says mockingly after seeing a clip of Trump describing the "small loan of $1 million" he received from his father. "So undiplomatic," one boy says after seeing him in a debate.
Seeing Trump and GOP rival Ted Cruz argue during a Republican presidential debate leads Gabe to say, "That's kind of like me and my brother."
"Let Donald Trump talk for once! Yeesh!" another child says in defense of the real estate mogul after watching him and Cruz during a debate.
From there, the kids go on to describe Trump as "mean," "rude," "crazy" and "the worst person in the entire world."
"If you want to be president, you shouldn't be racist," 11-year-old Jackson says.
Jaxon, 12, left Trump with this bit of advice: "I get that you're speaking your mind, but say it in a way that won't hurt people."
Watch the video:
—
Follow the author of this story on Twitter: