NATIONAL HARBOR, Md. – Former New Mexico Gov. Gary Johnson, a Libertarian Party presidential candidate, called the policies advocated by Republican presidential front-runner Donald Trump "fascist" and hopes to be the alternative conservatives are looking for in November.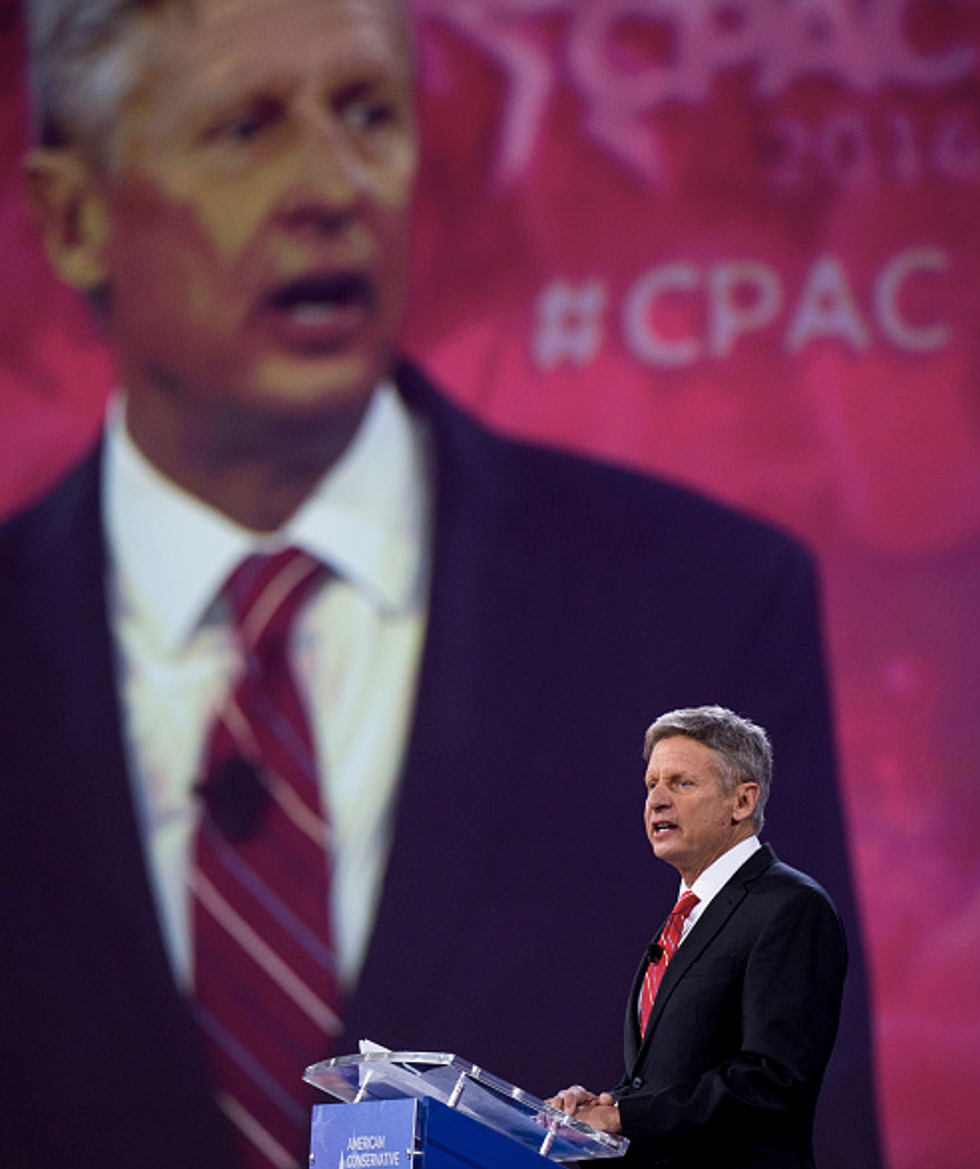 Former New Mexico Gov. Gary Johnson speaks at CPAC 2016 conference at National Harbor just outside Washington, D.C., Thursday. (Bill Clark/CQ Roll Call)
Trump is no small-government conservative, Johnson, a former Republican, said.
"He's not free trade. He's about government control. He talks expanding libel. It's fascist," Johnson told TheBlaze in an interview. "It's an erosion of the fundamental principles this country was founded on. It's why we fought wars."
When asked, Johnson stopped short of actually calling Trump a fascist.
"He would be president of the United States. He's not going to be a dictator," Johnson said after addressing the Conservative Political Action Conference. "And yet he talks about this very much from the standpoint of being a dictator, and the things he talks about is more government control not less."
The Libertarian Party will hold its national convention on Memorial Day in Orlando. Johnson has the inside track after being the 2012 nominee, winning 1 million votes, or about 1 percent, a record for the party.
Given the choice of Donald Trump for the Republicans and Hillary Clinton for the Democrats, he believes that Libertarian number can grow dramatically in 2016.
"I think Trump is going to be the nominee. I think Hillary is going to be the nominee, and I think there could be a collective head jerk, asking, "Is there another choice?'" Johnson told TheBlaze. "The other choice would be the Libertarian nominee. There is a chance that enough support exists to at least create a curiosity that people will actually hear what a real Libertarian has to say."
Johnson said comments by Sen. Ben Sasse (R-Neb.) about opposing Trump as the nominee is reflective of many across the country. And if Americans want another choice, he said Libertarians are the only national option.
"The important thing that is not getting reported right now in a way that is getting understood by the American public is that the Libertarian Party is going to be on the ballot in all 50 states, something no other third party is going to be able to lay claim to," he said. "It's just logistically not possible."
Johnson touted his strong fiscal record and 750 vetoes in the state, bringing down spending. He thinks the most pressing issue is on the national debt, but admits differences with conservatives on issues of legalized marijuana, support for abortion and for gay marriage.
"The biggest issue is the unsustainable debt that we have and government spending. Government is too big. It tries to do too much. It spends too much," Johnson said. "That's my track history. Does that jive with conservatives? I think it jives with conservatives 100 percent."
He added that Democrats who were disenfranchised by Clinton would also have a choice.
"Our military interventions are not the cause of the problems we've had with Islamic terrorism, but they have made things worse," Johnson said. "Since 1999, I've been for legalizing marijuana. I advocate for marriage equality and a woman's right to choose. I'm reluctant to support that given that's a decision that would be horrible to make, but I don't want to make it for the woman."