Donald Trump touted a CNN poll that shows him beating Hillary Clinton during the Republican presidential debate on Fox News on Thursday.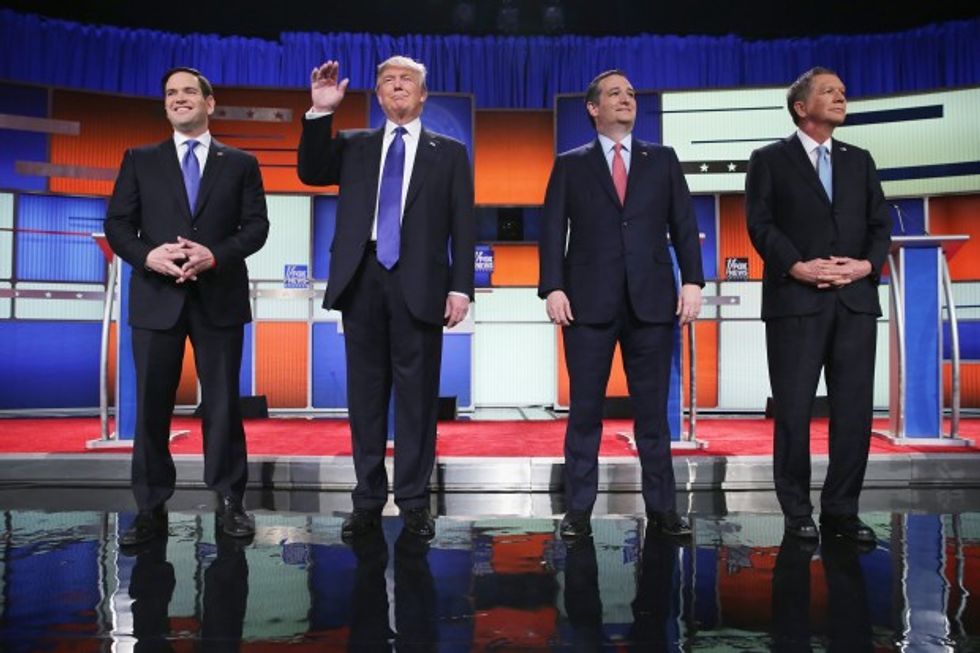 DETROIT, MI - MARCH 03: Republican presidential candidates (Lto R) Sen. Marco Rubio (R-FL), Donald Trump, Sen. Ted Cruz (R-TX), and Ohio Gov. John Kasich, participates in a debate sponsored by Fox News on March 3, 2016 in Detroit, Michigan. (Photo: Chip Somodevilla/Getty Images)
The only problem? The very poll Trump cited shows him losing to Clinton by eight points.
Rubio countered that the former secretary of state "will wipe you out" in a head-to-head matchup — but Trump said he was "wrong."
At #GOPDebate, Trump and Cruz each cite findings of CNN poll. Here's more on the poll: https://t.co/YgCk28QANq pic.twitter.com/M5p0iY7YIu

— CNN Breaking News (@cnnbrk) March 4, 2016
The same poll shows Rubio and Sen. Ted Cruz (R-Texas) defeating Clinton, and shows Trump losing to Vermont Sen. Bernie Sanders in a hypothetical general election.
Cruz's Twitter account also rebutted Trump's claim:
The very CNN poll Donald Trump said to look at shows him losing to Hillary Clinton and me beating her #GOPDebate https://t.co/P71S1WEhrY

— Ted Cruz (@tedcruz) March 4, 2016