Businessman Donald Trump, who during Thursday's Fox News Republican presidential debate was very adamant that a candidate must be flexible and compromise in order to make a deal, was challenged several times by his GOP rivals and debate moderator Megyn Kelly on positions where he has either flipped completely or, at least, softened on.
One of the more memorable flips from the debate is when Trump seemingly completely changed his position on awarding H1-B visas to highly skilled foreign workers. According to the Trump campaign's website during the debate, offering more visas for highly skilled foreigners would "decimate American workers."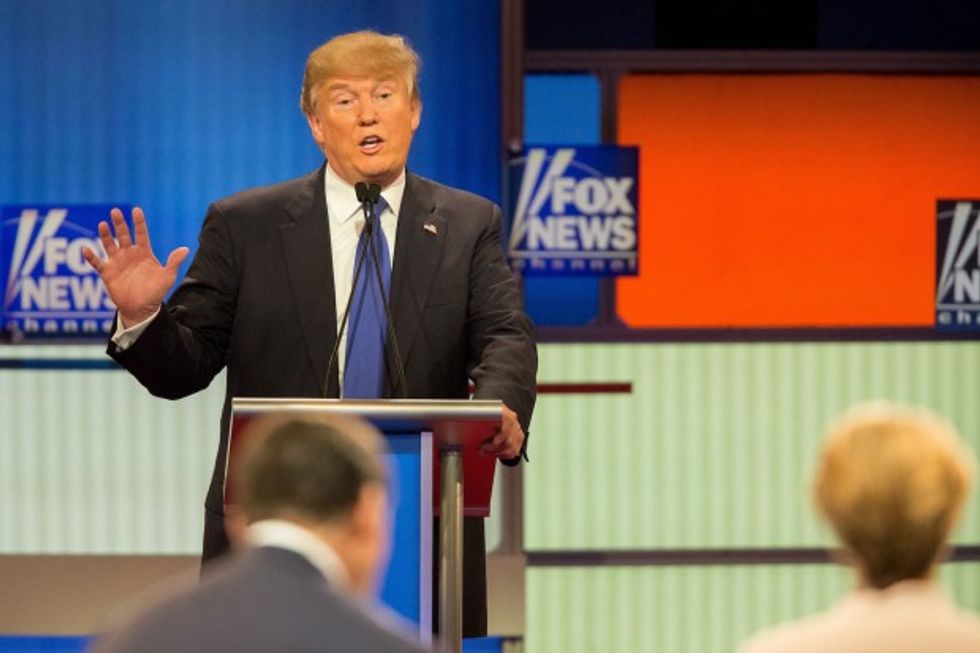 Donald Trump speaks during the Republican presidential debate in Detroit Thursday. (Getty Images/Geoff Robins/AFP)
But when asked by Kelly, who noted that Trump said at the CNBC debate that he was in-favor of H1-B visas, about his position on the issue, Trump simply said he was "changing."
"I'm changing," he said. "We need highly skilled people in this country. If we can't do it, we will get them in."
"One of the biggest problems we have is people go to the best colleges … as soon as they're finished, they get shoved out. They want to stay in this country," the GOP front-runner added. "They want to stay here desperately. They're not able to stay here. For that purpose, we absolutely have to be able to keep the brainpower in this country."
Despite what his campaign website said, Trump confirmed that he is softening his position on H1-B visas.
"I'm changing it and I'm softening the position because we have to have talented people in this country," Trump told Kelly. However, after the debate, Trump issued a statement and denied that he's changed his position:
Megyn Kelly asked about highly-skilled immigration. The H-1B program is neither high-skilled nor immigration: these are temporary foreign workers, imported from abroad, for the explicit purpose of substituting for American workers at lower pay. I remain totally committed to eliminating rampant, widespread H-1B abuse and ending outrageous practices such as those that occurred at Disney in Florida when Americans were forced to train their foreign replacements. I will end forever the use of the H-1B as a cheap labor program, and institute an absolute requirement to hire American workers first for every visa and immigration program. No exceptions.
During the debate, Trump was also pressed on his flip-flop on the European refugee crisis and the Second Amendment. Previously, Trump was a supporter of an "assault weapons" ban.
"I don't support it anymore. I do not support the ban on assault," Trump said. "I'm a big defender of the Second Amendment."