A scuba diver is suing Florida Power and Light after he became the second person to be sucked into an intake pipe at the St. Lucie Nuclear Power Plant.
On July 12, 2015, scuba diver Christopher Le Cun survived an encounter with the nuclear power plant's intake pipe system while exploring near Hutchinson Island, located off the coast of Martin and St. Lucie counties in Florida, according to WPTV-TV. Le Cun said that he and his best friend from high school, Robert Blake, were scuba diving with family and friends when the two men saw a yellow buoy and decided to investigate it. As it turns out, the buoy marked three massive submerged structures connected to the nuclear power plant. Blake and Le Cun claim that they had no idea what the structures were when they swam over to investigate and left their families behind on a boat.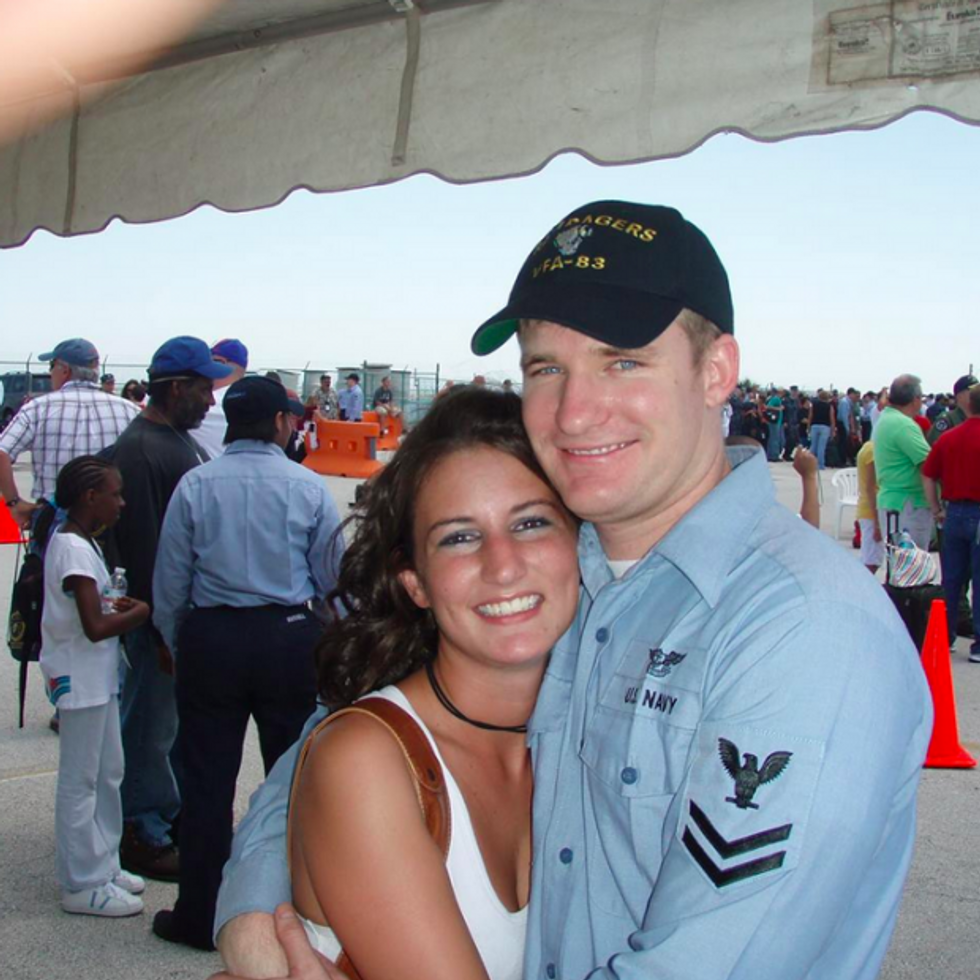 Chrisopher and Brittany Le Cun (Image source: Christopher Le Cun's Facebook page)
"Were there any warnings posted anywhere?" NewsChannel 5's Jared Werksma asked Le Cun.
"Nowhere, there was no warnings whatsoever," Le Cun responded, although FPL disputed his claim, stating that the buoy has always read, "stay back 100 feet."
"I swam right up to this big structure and it looks like a building underwater. I felt a little bit of current. All of a sudden it got a little quicker and I said, 'this ain't right, this ain't right,'" Le Cun told WPTV.
Before he fully could realize what was going on, Le Cun was pulled into the current.
"He got sucked in like a wet noodle. He just, poof, gone," Blake told WPTV."Instant death. I saw my friend die."
Blake immediately began screaming as he returned to the boat and told Le Cun's wife, Brittany, what had happened. Although she initially though Blake was joking, Brittany soon realized by the look on his face that he wasn't.
"All I remember doing was grabbing my son, holding him, crying and praying out loud," Brittany told WPTV.
Le Cun went on to explain to WPTV what he felt during those few minutes of sheer terror.
"I kind of felt like I got sucked over a waterfall and just instantly complete darkness. I was getting tumbled around and around. I'm trying to hold onto my mask and my regulator. I finally get ahold of my light and I'm trying to look around. As far as you can see, it's just black," Le Cun said. "It's about a 4-1/2 to 5 minute ride. You get to do a lot of thinking ... I knew something was drawing all this water. All I could think about was these horror movies you know, this big turbine coming and I'm coming for it. You know, it's going to chop me up and kill me."
Le Cun admits that he though about committing suicide rather than face the possibility of a turbine.
"I contemplated, you know, do I just pull the regulator out of my mouth and just die?" Le Cun said, adding that "I started thinking about my family, you know, how are they going to survive without me?"
But Le Cun's deliberations suddenly were cut short when his harrowing underwater journey came to a surprising conclusion.
"All of a sudden it looks like a match, out in the distance, just the littlest bit of what you've ever seen. When it gets a little bigger, then a little bigger. Then all of a sudden just, poof, daylight. Fish everywhere, crystal-clear water the sun is shining and I'm like, 'is this heaven?'" Le Cun said.
Le Cun found himself released into a reservoir, where he soon found a nuclear plant employee and asked for a phone to call his wife.
"I'm yelling help, help and he says, 'how did you get in here?' And I said, 'I came through the pipe' and he says...'what?'" Le Cun recalled.
In response to Le Cun's story, FPL issued this statement to WPTV: "Nothing is more important safety at our St. Lucie Nuclear Power Plants, which is a reason that we have a protective over the intake piping. The diver intentionally swam into one of the intake pipes after bypassing a piece of equipment to minimize the entry of objects," adding no further comments regarding the pending litigation claiming that the company exhibited shocking negligence and inadequate safety precautions.
The first pipe scare occurred in 1989, and Le Cun hopes that his suit will lead to more appropriate safety improvements to ensure that this situation will not occur a third time.
(H/T: Daily Mail)
—
Follow Kathryn Blackhurst (@kablackhurst) on Twitter